U.S.: As The Storms Clear, The Expansion Is Chugging Along
by
The economic tea leaves in early 1996 have been obscured by blizzards, strikes, and government shutdowns. Brush away the detritus, however, and the data continue to show that the expansion is heading into its sixth year solidly on track.
The train is a local, though, not an express as the robust February data suggest. The first-quarter numbers from homebuilders, factories, and retailers show the economy moving forward in stop-and-go fashion. Add it all up, and the result is only modest growth.
The problem for the outlook is that the bond market is fixated on February's brawny numbers. The resulting surge in long-term yields, though, seems unjustified by trends in both economic growth and inflation. First-quarter real gross domestic product appears to be growing little better than the fourth quarter's tepid 0.9% pace, and inflation remains tame at under 3%.
But if sustained, the rate rise will limit the economy's ability to shake off its current malaise. Recession is still not a worry, but higher borrowing costs will slice at least a fraction off second-half growth. The big loser will be construction, particularly housing, and that means less demand for all the goodies that furnish a home, from carpeting to couches to cookware.
Higher rates have already put the kibosh on mortgage refinancings--applications have plunged 40% in only three weeks. Refis were expected to provide consumers with extra cash and aid the purchase of big-ticket items, such as cars, vacations, and appliances.
SHOPPERS WERE OUT in full force in February, at least. Retail sales rose 0.8%, after slipping 0.1% in January. So far in the first quarter, BUSINESS WEEK estimates real store volume is growing at an annual rate of 2% (chart). That's below the fourth quarter's 2.8% pace, but it shows consumers aren't retrenching.
In February, car sales jumped 2% and department store receipts rose 2.4%. Even the intensely competitive apparel sector posted a hefty 1.2% sales gain in February. Sales of building materials also rebounded.
That hike reflects housing's staying power, which hung tough even in miserable January. Housing starts rose 3% in February, to an annual rate of 1.49 million. That followed January's 1.5% rise, even though homebuilding was expected to drop because of the blizzard.
The reason it didn't is that the boom areas for housing are the West and South, regions less exposed to winter's wrath. In fact, starts in the West surged 29.2% in the past three months, to 425,000 units in February--the highest level in six years.
March looks upbeat, too. The National Association of Home Builders' housing market index rose 10 points, to a reading of 60 for the month. That's the largest monthly rise in the index's 11-year history. Builders reported increased buyer traffic and sales.
The recent spike in rates, though, raises the bar too high for some buyers. The rate on a 30-year fixed mortgage jumped to 7.83% in mid-March, a percentage point higher than four weeks earlier (chart). That lifts the income needed to qualify for a typical $100,000 mortgage from less than $31,000 to more than $35,000. If demand begins to evaporate later when today's new projects are finally finished, starts will suffer.
MANUFACTURERS APPEARED TO BE almost as busy as homebuilders in February. In fact, the month's industrial production and capacity utilization suggest that the factory sector is in a boom. It isn't. Output in the nation's factories, mines, and utilities soared 1.2% in the month, the largest gain in more than eight years, after January's 0.4% decline (chart, page 24). The industrial operating rate surged from 82.1% to 82.9%.
With almost all January's data distorted on the low side and February's numbers exaggerated on the high side, an average of the two months gives a fairer read of the trend. For example, industrial production is rising at an annual rate of only 1.3%, not much better than the 0.5% snail's pace in the fourth quarter, and the January-February operating rate is slightly below the fourth-quarter reading.
Among broad categories, production of business equipment is surging at a 13.5% pace, but that reflects the return of striking workers at Boeing Co. Second-quarter output will slow considerably. During the past year, growth in equipment output has slipped to a 5% rate, half of its pace a year earlier.
Output of consumer goods in January and February is running 3.2% below the fourth quarter, reflecting cuts in auto output. The auto weakness will run at least through March. Car companies have curtailed output because of excessive inventories, and now the strike by the United Auto Workers against General Motors Corp. will hammer both output and payrolls in the March reports, due out in April.
One implication of the UAW strike is that it will force a faster-than-planned reduction of inventories, possibly setting up a sharp rebound in output later this spring. Vehicles on dealers lots, which had swelled to an 88-day supply at the end of January, shrank to a 73-day supply by the end of February.
By the end of March, stocks will be close to the more normal 60-day supply, but if the strike is prolonged, shortages will become widespread. In any case, the drawdown of car inventories in the first quarter is sure to exert a big downdraft on GDP growth.
IF THE FEBRUARY SURGE in capacity use were real, cost pressures would be clearly evident. However, if anything, the price indexes show that inflation pressures are abating, especially at the wholesale level. Producer prices for finished goods fell 0.2% in February. Excluding energy and food, the core index was up 0.1%, and prices at earlier stages of production dropped.
Not surprisingly, the consumer price index also looked tame in February, with both the total and core indexes rising 0.2%, putting annual inflation at 2.7%. Going forward, competitive pressures and sterling productivity gains in manufacturing will hold down the prices of goods, and since last summer, service inflation has shown an improving trend that should continue.
A sector to watch is housing. Housing inflation, some 40% of the CPI, has been in an uptrend over the past year, rising from 2.2% a year ago to 2.9% in February. Much of that reflects improvement in the housing market generally, and the trend may continue.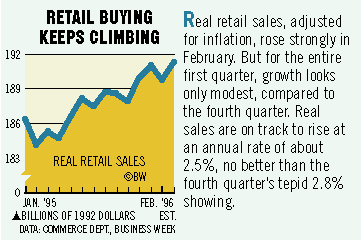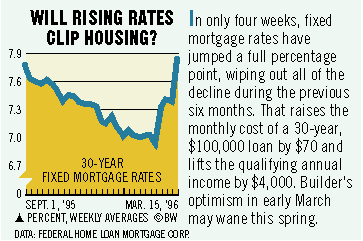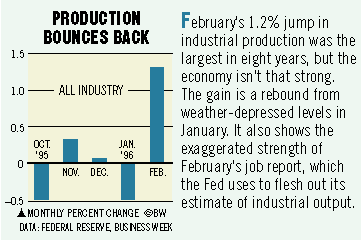 One area where inflation is anything but tame is the cost of having fun. Entertainment prices, making up just 4% of the CPI, surged 0.8% in February, reflecting higher prices for toys and games as well as tickets for movies, concerts, and sporting events. Annual entertainment inflation doubled in the past year, to 4% in February, a four-year high.
Pricier baseball tickets aside, inflation should end the year about where it is now. That's because the economy is unlikely to build up a head of steam that will generate price pressures. As soon as the bond market realizes this, the quicker long-term rates can fall back to levels that are more supportive of growth.
Before it's here, it's on the Bloomberg Terminal.
LEARN MORE