The Philippines' New Face
East Asia's "sick man" is looking a lot better. It's now a magnet for high tech and electronics
by
In a crowded residential quarter on the edge of Manila's Makati business district, trucks loaded with millions of dollars' worth of computer chips jockey for position with brilliantly colored "jeepneys." That's because Intel Corp. has just finished a $350 million expansion of a state-of-the-art factory nearby, one of three places in the world where the chipmaker assembles and tests Pentiums before shipment. Meanwhile, in a new industrial park outside Manila, Intel is spending $550 million on another new factory to assemble high-end chips. Says Jacob A. Pena, general manager of Intel Philippines Manufacturing, Inc.: "The Philippines is fantastic for electronics."
Fighting off its image as a land of coups, corruption, and kidnappings, the Philippines has quietly become Asia's new hot spot for electronics and high-tech investment. From Intel and Acer to Texas Instruments and Toshiba, many of the big names in electronics are pouring money into the nation long derided as the "sick man" of East Asia. In the past two years, foreign electronics companies have pledged more than $2 billion in new investment, thanks in part to political stability, improving infrastructure, and above all, a deep pool of inexpensive yet skilled English-speaking engineers, technicians, and production workers.
In the right place at the right time, the Philippines may win more of Asia's electronics production. China's military pressure on Taiwan should ensure that Taiwanese companies, worried about putting dollars into the mainland, will increase their Philippine investments. Even before the recent tensions, Taiwanese were joining Japanese and Korean manufacturers in moving to the Philippines as costs exploded in their home markets as well as other parts of Southeast Asia, such as Singapore and Malaysia. Aided by satellite telephones and more automated production equipment, these companies are cloning their leading-edge factories in the Philippines.
Although the work is still decidedly on the low to middle rungs of the technology ladder, the Philippine government wants to use this investment windfall to build a strong local industry. As Filipino-owned companies start making more components and parts for the likes of Motorola Inc., they could lay the foundation for a shakeup in Philippine industry as a whole. Producing to world-class standards is a habit that should spread throughout the manufacturing sector, forcing companies to shed the shoddy practices that Filipino consumers have long had to endure. The Philippines' strength in areas such as animation and CD-ROM development could eventually put the country on Asia's technology map in its own right.
The country's trade is already benefiting in a major way. Electronics exports jumped 50% in 1995, to $7.5 billion, accounting for 44% of total merchandise exports--and more than the country's entire exports in 1988. With more factories coming online, electronics exports are poised to grow at least an additional 40% this year, representing half of total exports. "1996 will be a banner year," predicts Francis I. Ferrer, president of the Semiconductor Electronics Industry Foundation and head of Integrated Microelectronics, Inc., part of the giant Ayala group. The government estimates that electronics exports will more than triple, to $24 billion, by 2000.
SMASHING FIEFDOMS. The boom in the electronics industry owes much to the success Philippine President Fidel V. Ramos has enjoyed since taking power in 1992. The former general has brought political stability and eliminated chronic power outages that once stalled economic growth. He has pushed through sweeping deregulation and privatization, smashing fiefdoms in telecommunications and aviation, cutting costs, and eliminating many of the bottlenecks that had made the Philippines unattractive to foreign investors. The result: Gross domestic product expanded almost 5% last year and is expected to accelerate to 6% this year.
From the island of Cebu in the south to the hilltop resort of Baguio in the north, construction crews are scrambling to keep up with the hunger for electronics plants. A clutch of new industrial parks carved out of old sugarcane estates is sprouting south of Manila to house the likes of Cypress Semiconductor, Fujitsu, Hitachi, and Intel. In central Luzon, Sanyo Electric Co. has just set up its first Philippine venture in a new industrial park on the sugar estate of former President Corazon Aquino. At Subic Bay, the Taiwanese government is financing a $24 million industrial park at the old U.S. naval base. Acer Inc. opened its first $10 million factory in Subic last year and a $100 million plant under construction will make it the anchor tenant of the new park, which will have 38 other Taiwanese tenants. "Our main dilemma is that we've filled up the park even before it's been constructed," says Ferdinand M. Aristorenas, who heads Subic's legal department.
China's menacing of Taiwan will likely draw even more Taiwanese to Subic, where a second phase of expansion is planned. "People are taking a very hard look at the Philippines," says the president of one of Taiwan's largest electronics makers. Taiwanese are particularly attracted by Subic's transportation network. For instance, with the former U.S. military base now a hub for Federal Express Corp., components that leave Acer's Taiwan plants in the afternoon are on the shop floor in the Philippines when the morning shift clocks in.
Still, the Philippines' biggest asset is clearly its labor pool. At a time when Taiwan and other locations are suffering labor shortages, the Philippines will have plenty of low-cost, high-skilled workers for a decade or more. The country graduates 35,000 college-trained engineers each year--more than any other country in Southeast Asia--and there's an abundance of English-speaking high school graduates for even the most basic factory jobs. Intel pays entry-level operators the minimum wage of $5 a day, while engineers with three years' experience receive $600 a month.
All this means that the electronics industry, which squandered its chance to grow during the 1980s as the country tottered from President Ferdinand Marcos' corruption to Aquino's economic incompetence, has another chance to take off. Intel's Pena figures that the country's electronics makers can grow 50% faster than the world market for the foreseeable future. Although such places as Ireland and Wales are also attracting electronics investment from Asia, it's still important for many companies to be in Asia, close to their customers. "People look around and say `Where else?"' says Melito S. Salazar, Philippine Under Secretary of Trade and Industry.
"MOST TRAINABLE." Texas Instruments Inc. has seen shipments to Asia from its Baguio facility more than double, to 46% of the total, since 1990. TI is hooked on the Philippines, where it has put up one of the most modern chip-packaging facilities in the world. The wafers that come to its plant are packaged into chips used in cellular phones, hard-disk drives, and notebook computers. The company is in the midst of a $100 million expansion, most of it going into top-of-the-line equipment such as $2.5 million machines to test the chips for bugs. A second adjacent factory is under consideration.
For TI, the quality of Filipino workers is just as important as their modest wages. Don Mika, president of Texas Instruments Philippines, says his 2,100 workers are "the best-educated, most trainable" that he has seen in more than 20 years of working at TI factories around the world. Like most electronics plants in the Philippines, TI demands a high school diploma for even the most basic jobs. The company sends most of its engineers to the U.S., where they are trained to design and troubleshoot virtually every product coming out of the factory. Mika expects productivity to leap 40% this year on top of a 25% increase in 1995.
The challenge for the Philippines is to move from mere assembly and testing of simple products into more sophisticated activities. There are some signs the shift is occurring. Anam/Amkor Pilipinas Inc., owned by the giant South Korean chip packager, came to the Philippines in 1989 with the idea of exploiting cheap labor. Yet now the Philippines facility is making chips every bit as sophisticated as those produced in Korea, and the skills base of the Filipino workforce has risen. Anam, which has invested $200 million in the Philippines, plans to spend an additional $750 million over the next five years. "The concept is to make the Philippines the semiconductor showcase of Asia," says Managing Director Tony R. Ng. He expects Anam's exports to triple, to $3 billion, by 2000.
The Philippines shows signs of becoming a service, as well as a manufacturing, center. Acer is setting up a global service operation at its Subic Bay facility. It has 50 engineers at the site now but plans to triple that number by the end of the year. Thomson, which makes telephones at its Subic Bay factory, is sending Filipino engineers to the U.S. for training. Soon, much of the company's design work will move from Singapore--where the company says it can't find enough engineers--to Subic.
LOCAL STARTUPS. Even notoriously insular Japanese companies, which have jealously kept development work at home, are starting to use Filipino workers as more than assembly-line automatons. Since 1989, NEC has been training about 20 Filipino engineers a year in Japan and returning them to the Philippines to work for the company. Toshiba Corp. plans to bring about 100 workers, including white-collar employees, to Japan in April for two to three months of training. "We're amazed," says Hiroshi Shimizu, senior manager of Asian manufacturing and logistics for Toshiba, about the quality of the managerial workforce. "It's almost like hiring Ivy League grads from the States."
Growing competition in the cutthroat consumer-electronics business is what's forcing Japanese companies to shift production offshore faster than ever before. Take the CD-size optical disks that will hold a cinematic-quality full-length feature film. Toshiba will start making the players for these disks in northern Japan at the end of this summer. By yearend, it will begin assembly at a new plant outside Manila--its first offshore site to make the machines. Toshiba says overall savings will be about 20%. "We can't afford to wait," says Shimizu. "The lifetime of these products is only half a year."
Another trend that augurs well for the Philippines is the return of an increasing number of skilled Filipino managers and technicians. Amkor sends quarterly scouting teams to Hong Kong, Singapore, Thailand, and Malaysia to try to lure Filipinos back. Wong Wen Chieh, general manager of Thomson Audio Philippines, says some of the 20 Filipino engineers now working at the company's Malaysian factory may end up back home to bolster the ranks. The abundance of foreign-trained Filipino employees means investors need fewer costly expatriate managers. Amkor's Tony Ng has only two Koreans among the managers at his Philippines operations.
Many of these Filipinos are hoping to absorb more skills and start up more of their own companies. The government is working with the multinationals to boost these homegrown suppliers. Officials even hope to entice one of the global heavyweights to build a wafer fabrication facility, which would further develop the Philippines technological infrastructure. That would require more specialty suppliers, engineers, and designers. "The local industry is well-organized," says Daniel Javelosa, general manager of Motorola Philippines Inc., which is stepping up local purchases.
Despite some grumbling about multinational dominance, most Filipinos figure they have no choice but to welcome foreigners with open arms. "We are in a survival mode," says Richard Gordon, head of the Subic Bay Metropolitan Authority. "Get people jobs. When they have jobs, they will have choice." So far, the strategy is working. The industry now employs 120,000 workers, and that number is growing rapidly. The figure is modest for a nation of 70 million but still positive.
A handful of local companies is benefiting from this burst of growth. Ionics Circuits Inc., a publicly listed contract assembler that counts IBM, NEC, Fujitsu, and Casio Computer among its customers, is putting up two new factories this year. Its payroll will swell from 6,700 employees to 11,000 by yearend, says Chief Executive Lawrence C. Qua. He expects sales to grow 50% this year, from $30 million in 1995, and to double next year. The Ayala group's Integrated Microelectronics saw sales double, to $46 million, last year. Now the company is trying to move out of simple assembly work by setting up a printed-circuit-board manufacturing plant.
There's plenty that could wreck this rosy picture. Infrastructure in the Philippines is still inadequate. Power costs are among the highest in Asia, some 20% to 25% above regional competitors. The road system, says Texas Instruments' Mika, is "atrocious." TI ships nine tons of finished goods out of its plant every day over decrepit roads to make the six-hour, 240-km journey to either the Subic or Manila airports.
ASIAN RIVALS. Politics is another area to watch. Many executives say they'll feel more confident after the next round of Presidential elections, scheduled for 1998. Ramos can't run for reelection, and the country needs a smooth transition to bolster confidence. Taiwan executives are particularly worried about the kidnapping of ethnic Chinese Filipinos. "Any sign of political or labor instability will dampen growth," says Tony Ng.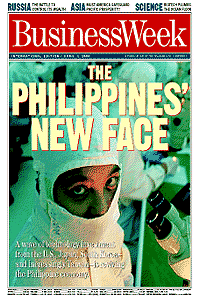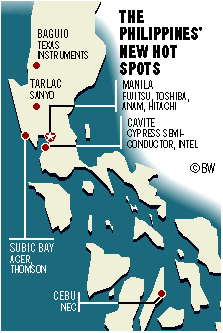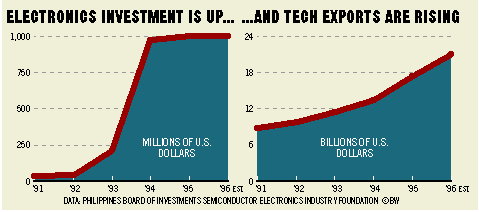 Other developing countries with even lower cost structures are also competing against the Philippines. Production in China costs Thomson only half as much as in the Philippines. Low-end assembly work will keep going to China and to up-and-coming places such as Vietnam. As infrastructure improves in those countries, which also boast enviable educational standards, the Philippines could see its position erode.
But for now, all systems are go. If the Philippines succeeds at grasping this opportunity--and the votes of confidence by the world's biggest technology companies suggest that it will--the electronics manufacturing revolution rolling across the Philippines will force the country to shuck off its corrupt, feudal past and enter the ranks of Asia's fast-growing economies. Electronics production has been the sharp edge of change throughout East Asia over the past two decades. Now it just might be the Philippines' turn.
Before it's here, it's on the Bloomberg Terminal.
LEARN MORE