Selling Germans Their Least Favorite Company
Can Deutsche Telekom coax a wary public to snap up its IPO?
Karen Lowry Miller
As soon as the call from Deutsche Telekom headquarters interrupted his family ski holiday, Chief Executive Ron Sommer knew he was in deep trouble. On New Year's Day, a software glitch overcharged up to 11 million customers a nonholiday rate. While the error cost each caller an average of 33 cents, it hit just as Telekom was jacking up rates for most local calls. Newspapers seized on the story, angry letters poured in, and a crisis team led by Sommer ended up spending more than $35 million on apologies and free calls. "The January catastrophe put the country on fire," says Sommer.
It also put the heat on Sommer, the marketing whiz plucked from Sony Corp. last May to whip the German giant into shape. Now, Sommer has the tough task of selling Germans shares in the company they love to hate. Come November, the state-owned telephone monopoly wants to offer some $10 billion worth of stock in Europe's largest privatization ever. The company hopes to peddle at least 30% of the offering to ordinary Germans. Chancellor Helmut Kohl wants it that way to encourage stockholding in Germany and pave the way for other sell-offs. So on Mar. 20, with Finance Minister Theo Waigel at his side, Sommer launched an ad campaign to market "T" shares.
DISTRUST. This will be an uphill battle. Only 5.4% of Germans own shares, compared with more than 20% of Americans and Britons. Dewe Rogerson Group Ltd., the London-based public-relations company that worked on most of Britain's privatizations, has researched German opinions on share ownership. Their conclusion: Distrust and ignorance about equities run so deep that Telekom has to start prepping Germans six months in advance of the offering. In contrast, selling the typical privatization in Britain required only a six-week campaign. "There's a need to demystify this process," says Andrew Hey, director of capital marketing for Dewe Rogerson.
So Telekom wants to make it as easy as possible to learn about the shares. In their April bills, all 40 million of Telekom's customers will get a card they can send in asking for information on how to buy shares. New ads will depict a baker, firefighter, schoolchildren and others making a T sign with their arms. Sommer is thinking of an incentive program whereby using the phone could earn points toward owning stock. Telekom has also offered its employees a generous shareholding scheme.
ARMIES OF ADVISERS. German banks have been preparing armies of advisers to pitch Telekom at thousands of branches. Dresdner Bank, which will spearhead this effort, gained valuable experience last fall as lead manager for initial public offerings of German drugmaker Merck and sporting-goods marketer Adidas. First-time stock investors bought 30% of the Merck offering. "We are ready," says Dieter Schindler, director of marketing to private investors at Dresdner.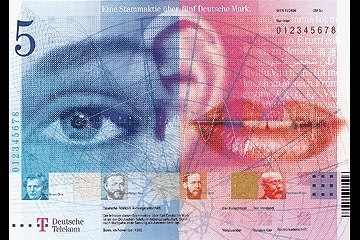 In October, Telekom and its bankers will also pitch the offering to institutional investors, who unlike ordinary Germans have no emotional relationship with the company. Fund managers, for example, applauded when Telekom raised the price of most local phone calls, whose costs had long been subsidized by high long-distance charges. Such moves are boosting Telekom's appeal to fund managers. If the price-earnings ratio and dividend are right, the stock "would be very attractive," says Oscar Castro, managing director of the Montgomery Global Communication Fund.
The recent uproar is certainly creating a high profile for the offering. Schindler at Dresdner says customers first are horrified at the thought of buying a Telekom share, complaining about the rate hikes. But when they hear that it's a profit-oriented strategy to benefit shareholders, they sign up for information. Throughout the January hoopla, "we got lots of free air time to explain the issue," Sommer says. Of course, what Sommer needs now is less hoopla and more time to spend on his real job of making Telekom competitive.
Before it's here, it's on the Bloomberg Terminal.
LEARN MORE