Has Outsourcing Gone Too Far?
It's the corporate rage, but farming out work can cost a company dearly
by
DuPont Co. has always run corporate training and development out of its Wilmington (Del.) head office. But these days, Boston-based Forum Corp. handles it instead. In Somers, N.Y., PepsiCo Inc. employees, long used to receiving personal financial planning from their employer, now get that service from KPMG Peat Marwick. Denver's TeleTech Holdings Inc. is taking customer-service calls from AT&T customers and booking seat reservations for Continental Airlines. Then there's General Motors Corp., which is in a nasty labor fight over its right to farm out some brake production.
Call it the growth industry of the Nineties. Outsourcing, endorsed as a cost-cutting measure in recent years by such management gurus as Peter Drucker and Tom Peters, has emerged as the most sweeping trend to hit management since reengineering. In the rush to improve efficiency, Corporate America is going to outsiders to buy ever more products and services that were once made by its own employees.
But it's a trend that has a decided downside. Outsourcing is a hot button with unions, as GM found when its labor dispute virtually shut down its North American operations. The payoff from outsourcing, moreover, sometimes falls far short of expectations. One study found the average savings to be around 9%, though consultants often promise gains of 20% to 40%. Another hazard: An errant supplier can delay a key product launch and anger customers. "You rarely hear about the failures of these contracts, but there are many of them," says John L. Wyatt, CEO of consultants James Martin & Co.
Such problems, however, have done little to slow the rush to farm out work. Companies are parceling out everything from mailroom management to customer service, from pieces of human resources departments to manufacturing and distribution. "We're at the beginning of an explosion," predicts Scott Hartz, managing partner of Price Waterhouse's consulting group. "Many of the firms doing more outsourcing aren't troubled corporations trying to save a nickel. They are often the corporate leaders." About 86% of major corporations now outsource at least some services, up from 58% in 1992 (chart), according to a poll by consultants A.T. Kearney, which surveyed 26 major companies, including American Airlines, DuPont, Exxon, Honda, IBM, and Johnson & Johnson.
The rush to outsource has created a nascent industry with annual revenues of $100 billion. Corporations are besieged by firms brandishing seemingly attractive outsourcing deals and proselytizing about their benefits. A trade association, the Outsourcing Institute, was launched less than three years ago, and some members are even promoting the notion of a new corporate title: chief resource officer, one who would, among other things, monitor relationships with outside vendors.
The hype over outsourcing's benefits, however, disguises numerous problems. General Electric Co. stubbed its toe last year when the introduction of a new washing machine was delayed by production problems at a contractor to whom it had farmed out key work. GE only lost three weeks as a result of the glitches, but it could have been worse. Southern Pacific Rail Corp. suffered through myriad computer breakdowns and delays after outsourcing its internal computer network to IBM in 1993.
Some companies have found themselves locked into long-term contracts with outside suppliers that are no longer competitive. Indeed, multimillion-dollar technology-outsourcing contracts are often so complex that companies are hiring consultants at fees as high as $700,000 simply to evaluate the proposals. "Some companies have outsourced so much staff that they have no choice but to bring in consultants to evaluate and renegotiate deals gone bad," says Eugene A. Procknow of Deloitte & Touche.
Critics of the trend worry, too, that outsourcing could lead to increasingly fragmented work cultures in which lower-paid employees simply get the work done, with little initiative or enthusiasm. "A mercenary may shoot a gun the same as a soldier, but he will not create a revolution, build a new society, or die for the homeland," says a Silicon Valley manager who objects to his company's turning to contract workers for services.
OLD HABIT. Dispatching work to outsiders is hardly new. Automatic Data Processing Inc. began taking over companies' payroll functions in the 1950s. Electronic Data Systems Corp. began handling computer and data management for clients in the 1960s. Aramark Corp. has been running cafeterias for companies, colleges, and hospitals since the 1960s.
Today, though, providers of outsourcing services can't seem to expand fast enough. KPMG Peat Marwick expects its outsourcing revenues to double in three years, to $500 million. TeleTech Holdings, which handles customer-service calls for such companies as AT&T, expects to employ 5,500 workers by yearend, up from 3,000 today. "We show companies how to turn fixed costs into variable costs," says Kenneth D. Tuchman, CEO of TeleTech. "That is very powerful in a day and age when Wall Street is crucifying companies that have too many employees."
Relentless cost-cutting is the main force behind the trend. BellSouth Corp., which is shedding 13,200 employees over the next two years, expects to outsource about $60 million in services. GM's outside purchases are huge: in parts making alone, GM buys $10 billion a year in components from outside suppliers, many of whom employ low-wage, nonunion workers. Even with all that work farmed out, GM is at a disadvantage because it makes about 70% of the content of its vehicles itself, vs. about 50% for Ford and 30% for Chrysler.
Heads usually roll at companies that farm out work, and survivors often work harder for less. Consider DuPont, which signed up with Forum in 1993. Under a five-year, $10 million contract, Forum began administering all of the company's training and development operations. Forum immediately shrank the department from 70 employees to 30. And the DuPont workers who were transferred to Forum "certainly don't have the benefits they had," says John M. Harris, president and CEO of Forum.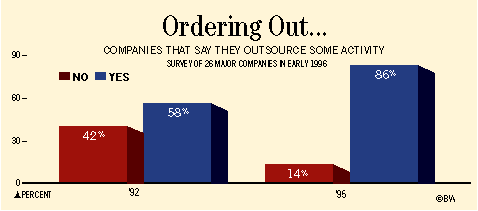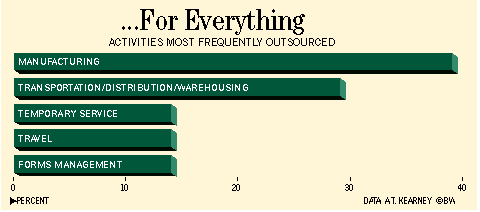 The savings from outsourcing can prove illusory, though. Deloitte & Touche is now helping renegotiate a $170 million contract for a retail client. The company got a one-time 20% cost savings when it signed an information-processing deal five years ago, but technology prices have since fallen so fast that the retailer is now paying far more than it would to do the work in-house. "They are locked into a $36 million pricing gap in a business where the margins are thin, and they need every nickel to survive," says Procknow of Deloitte & Touche. "Some clients are now at the mercy of outsourcers because they don't even have the staff to manage these deals."
But few expect the trend to slow anytime soon. As long as the pressure is on to reduce costs, companies will continue to turn more of their operations over to outsiders. That's good news for the likes of Forum--but not necessarily for the rest of Corporate America.
Before it's here, it's on the Bloomberg Terminal.
LEARN MORE