Germany: The Bundesbank's Hands Are Tied
Germany's "phase of pronounced weakness," as the Bundesbank puts it, looks more like a plain old recession. The economy is on the verge of back-to-back quarterly declines in real gross domestic product. But even with unemployment at a record high and inflation near a record low, the Buba has put interest-rate cutting on hold. That threatens to prolong the suffering.
The problem is unruly growth in the M3 money supply and a backup in long-term interest rates. M3, which the Buba views as a key gauge of future inflation, surged in February at an annual rate of 12.6% from the fourth-quarter level. The pace was far above the 4%-to-7% target, and it pushed bond yields even higher. Although special factors, including heavy government borrowing, are exaggerating M3's pace, the speedup dashes hopes for a rate cut soon. The official discount rate has been at 3% since Dec. 14. Analysts now believe that a cut is not possible until May or June.
Aside from some modest tax relief, fiscal policy offers no help. On Mar. 15, Finance Minister Theo Waigel imposed a federal spending freeze on big-ticket items aimed at preventing this year's deficit from overshooting the planned 60 billion marks ($40.7 billion) target. And on Mar. 19, Chancellor Helmut Kohl projected that "massive" cuts in public spending will be needed next year to meet the Maastricht goal.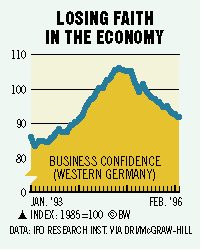 Meanwhile, last year's inventory pileup continues to depress manufacturing: Orders weakened further in January from an already-low December level. The drop in business confidence is unabated, with the February reading the lowest in two years (chart). The severe winter is compounding the first-quarter weakness, hitting construction especially hard, so some weather-related rebound in the second quarter seems likely.
That may further cloud the Buba's reading of the economy. However, with inflation at a 5 1/2-year low of 1.4%, further manufacturing weakness would probably override the central bank's M3 worries and allow a rate cut.
Before it's here, it's on the Bloomberg Terminal.
LEARN MORE