Downtime For The Pc Biz
Sales are slowing fast. Are cheaper machines the answer?
Ira Sager
William Y. Tauscher, chairman of Vanstar Corp., stood on the floor of the New York Stock Exchange on the morning of Mar. 8, facing a TV camera. Around the world, 4,000 employees were tuned in to a closed-circuit network to join the action as the first Vanstar shares changed hands. Instead, Tauscher, who had spent five years remaking the failed ComputerLand PC store chain into a provider of personal-computer and networking services, had to announce that the offering had been delayed. The culprit: a stock market spooked by the prospect of a slowdown in PC sales. Three days later, the shares came out--but at $10 a share, down $1.50 from what Tauscher had hoped. "One could have picked a better week to be doing this," he says.
Not lately. Every week brings more sober news about the state of the PC industry. On Jan. 16, Intel Corp. Chief Financial Officer Andy D. Bryant said the chipmaker's first-quarter sales would be flat with the fourth quarter, the first no-growth quarter in four years. Then on Mar. 1, Compaq Computer Corp. announced that first-quarter sales were soft and that profit margins were falling. Three days later, IBM Chairman Louis V. Gerstner Jr. told Wall Street that he was disappointed with PC growth in the U.S. On Mar. 19, chipmaker Cirrus Logic Inc. cut 13% of its workforce, blaming weak PC sales.
It was bound to happen. The gravity-defying PC industry is falling back to earth--mostly because of a sluggish U.S. market. After humming along for the last three years at 25% to 30% annual growth rates, analysts now expect 1996 industry growth to drop sharply. U.S. PC shipments will grow around 12% in 1996, down from a robust 22% last year (chart), predicts market researcher Computer Intelligence InfoCorp.
What's behind the numbers? First, sales to corporate buyers, educational institutions, and the government--which make up half of all PCs shipped--are stalling. The reason, say market researchers, is that many of those customers are holding off in anticipation of a new version of Microsoft Corp.'s Windows NT operating system due out this summer with a Windows 95 user interface. At the same time, the white-hot home PC market is beginning to cool. PC makers seem to have hit a wall: They've stopped bringing broader segments of the public into the PC market because the machines are still too pricey. A few years back, industry executives had predicted 40% of U.S. homes would own a PC by now. Instead, Dataquest Inc. says the number is closer to 29%.
It all adds up to a tough year for PC makers and their suppliers. The first victims are makers of key components. Texas Instruments Inc. and Micron Technology Inc. have already cited sluggish PC sales for a dip in shipments of memory chips and earnings.
So far, software giant Microsoft says it's not detecting any slowdown and claims to be on track to ship more than 50 million copies of Win95 by the end of August, the product's first anniversary. But the signals are mixed for other companies. "Some of our computer makers are slowing down, and some are doing well," says Alan F. Shugart, CEO of disk-drive maker Seagate Technology Inc.
GROWTH SPOTS. In the face of a market slowdown, many PC makers will try to keep their factories humming by grabbing market share. "Do I cut back on [raw] material coming in? Slow down on manufacturing output or go ahead with plan and power through to the market?" asks Compaq CEO Eckhard Pfeiffer. "We've chosen the latter."
PC companies could be in for a bruising. The most vulnerable are those without significant international business. Companies such as Compaq, IBM, and Apple get half their sales outside the U.S., where the slowdown is less severe. Dataquest, for example, figures European PC growth will drop from 25% to 20%. Analysts say home PC leader Packard Bell Electronics Inc. is most exposed because it relies so heavily on the U.S. consumer market, where competition is bound to become even more cutthroat.
Digital Equipment Corp. has already decided the home market is too tough to bother with. On Jan. 29, it pulled the plug on its Starion home PC, conceding that it couldn't afford the battle for market share against better-known competitors. Now, Digital says sluggish PC sales overall will hurt earnings for the quarter ended Mar. 30.
It isn't all gloom in PC land, though. Sales of network servers are growing at an annual clip of more than 30% so far this year. Laptop computer sales, after falling off a cliff in 1995, are expected to pick up dramatically as PC makers switch to new Pentium-based models. And there's still opportunity to expand into hot-growth areas overseas--especially in the Asia/Pacific region, where sales are booming. Analysts predict PC sales in Japan of 6.5 million units, up about 30%. As of last year, only 19% of Japanese homes have PCs--a number likely to hit 24% this year.
The immediate problem for PC makers, though, is inventory. While Christmas shipments were up 15% over the fourth quarter of 1994, that wasn't enough to clear the shelves. The retail channel is now overloaded with everything from disk drives and memory boards to modems and monitors. That means aggressive price cuts. In the past few weeks, Compaq, IBM, Hewlett-Packard, and Dell have cut prices up to 30%. "When inventory gets out of hand, pricing goes out the window," says Mary Chin, vice-president for commercial systems at PC maker NEC Technologies Inc.
CALLING ALL NEWBIES. Even if price cuts erase the inventory problem, PC makers will still have challenges. The biggest: slowing demand for home PCs, which has been the engine for industry growth for the past few years. Estimates vary, but Dataquest figures that the consumer market growth will plunge in the U.S. to as little as 8%--down from 22% in 1995 and a sizzling 42% the year before.
"The home market is played; that's it," says Dataquest's Kimball Brown. "The long-term trend is for slow growth." Brown maintains that the boom in home PC sales from 1992 to 1995 was a one-time event as computers went from glorified typewriters to multimedia entertainment devices and cybercruisers. "Suddenly, everyone had to have one," he says.
Now, first-time buyers are becoming scarcer. International Data Corp. estimates the number of newbies entering the market could drop to 1 million this year from the 2 million-a-year rate over the past several years. Says Hewlett-Packard consumer PC chief Webb McKinney: "The key question is: How do we reach new people? We're still selling to the same old demographic, and I don't see lots of new buyers."
The answer may be simple: Instead of keeping prices steady while adding the latest technology, expand the market by selling cheaper machines. Indeed, the price of the typical home PC has held steady in the $1,700 to $3,000 range, but every year you get more for that price. Recently, instead of passing along lower memory prices, some companies have been pitching machines with as much as 24 megabytes of memory--or a third more than what most PC owners need--to keep prices up. "PCs are not affordable," says IDC analyst Bruce Stephen. Manufacturers, he insists, will have to market cheaper models to "build the next consumer wave."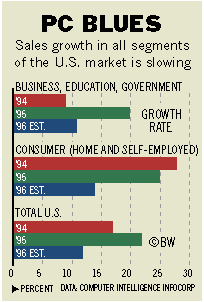 There is evidence of demand for more affordable machines. Against the advice of Packard Bell, last fall Wal-Mart Stores Inc. ordered $1,000 home PCs based on trailing-edge Intel 486 chips. The entire allotment of 30,000 machines sold out over the Thanksgiving weekend. Indeed, NEC's Chin says 486-based PCs still represented 20% of last year's sales. Says Michael Feibus, a principal at Mercury Research in Scottsdale, Ariz.: "The BMW market has been saturated. We need to find the Yugo." Sounds simple. Now, all PC makers have to figure out is how to sell Yugos at a profit.
Before it's here, it's on the Bloomberg Terminal.
LEARN MORE