Asians Flock To The Land Of Sheep...Where It May Be A Tad Too Sunny
by
The tour bus plows through thick fog above Milford Sound ("last stop before Antarctica") like a state-of-the-art sightseeing machine, with its rear section raised to give all passengers an unobstructed view. Inside, they listen through earphones to Mandarin and Korean recordings. As the bus stops for a flock of sheep crossing a velvet moss-covered mountain pass, the passengers pile out to fill their lungs with something even more exotic by Asian standards--a deep breath of cool, fresh air.
These folks are refugees from the pollution and traffic congestion of Southeast Asia's concrete jungles, whose frenetic growth has followed that of the region's newly industrialized economies. Non-Japanese Asians make up 28% of the 1.4 million foreigners who spent $3.4 billion in New Zealand last year. They represent the fastest-growing sector of the country's biggest source of foreign exchange--tourism--and they hold real hope for sheep growers who are turning their farms into back-to-nature retreats. There's just one catch: The ozone hole, which has already left its mark on New Zealand's pristine environment and population of 3 million.
For the time being, such tourists are content to pile out of their buses to swim with dolphins, tramp through national parks, bungee-jump from bridges, and spend the night at sheep stations. They're also reshaping New Zealand's tourism industry, simply because they're not Westerners. Hosts say they insist on rice rather than bread and cannot be counted on to enjoy each others' company. "I've been planning my dinner buffets more carefully," confesses Pauline Orevich, recalling an awkward evening when her Chinese-Malaysian and Muslim Indonesian guests ate in silence at her bed-and-breakfast in Christchurch.
Small wonder the well-heeled Asians get special attention. "The Koreans are the biggest spenders these days, past the Japanese. They're also the most demanding," says a manager at Glentanner Park Centre, where small prop planes take off for 50-minute "air safaris" that cost $117 per person. The leafy streets of Christchurch, the South Island's urban center, are lined with shops staffed by Korean-, Chinese-, and Japanese-speaking saleswomen to cater to the few shoppers willing to buy $300 hand-knitted sweaters.
RUSTIC HOMES. Asia's newfound wealth is especially welcome in hard-pressed agricultural areas. Because of changes in hygiene standards and other requirements by the European Union, New Zealand's abattoirs are being improved, the cost of which is being passed on to farmers. That's why many are turning their rustic homes into "farmstays" for ecotourists. Dorothy Cromb, who calls herself a professional farmer's wife, charges her guests $40 a night for bed, breakfast, dinner, and a tour of the farm on the outskirts of the South West New Zealand World Heritage area. Still, the Crombs can't afford sweaters made from the wool that Donald shears and sells to middlemen. He sees no way out of farming despite the recent deaths of his brother and a neighbor in accidents caused by their old "make-do" machinery.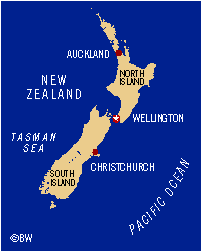 The greatest danger to this Down Under Eden is not the economy but, ironically, clean air. "A number of things control how much ultraviolet radiation gets through to the earth's surface, like how much ozone and pollution is in the air. New Zealand is very unpolluted," says Sylvia Nichol, a scientist at the National Institute of Water & Atmospheric Research. It takes only 12 minutes for exposed fair skin to burn in December--peak tourist season--when the ozone hole extends northward from the Antarctic, temporarily cutting ozone levels by as much as 20% to 30% in New Zealand. Public hospitals report the world's highest incidence of skin cancer per capita. Hooker Glacier, once a prime attraction, is melting so fast that it is off-limits to trekkers.
So far, the ozone problem isn't scaring off tourists. Many visitors don't seem to realize that the sun's unfiltered rays can affect them until they arrive and see ads for factor-30 sunblock "guarding against UV damage." And tourist brochures make scant mention of the dangers. But as word filters out--and the ozone hole worsens--this paradise could start to get a bad name.
Before it's here, it's on the Bloomberg Terminal.
LEARN MORE