A Week Before The Mast
by
They quickly knew me for the landlubber I was: Five minutes of touring the deck with a crew member, and all I wanted to know was: "So where do I plug in my hair dryer?" No electrical outlets on this tub, mate. You want dry hair, let the Maine breezes do it for you.
It was my first six-day trip aboard the windjammer Angelique, a 130-foot ketch that plies Maine's Penobscot Bay and surrounding waters in three- and six-day cruises from May to October. She's one of a dozen or so such sailing vessels in the area. (Call the Maine Windjammer Assn., 800 807-WIND.)
She docks in the upper harbor in postcard-pretty Camden, Me., which hasn't changed much since the movie Peyton Place was filmed there 40 years ago. For a Monday-to-Saturday excursion, it's a good idea to arrive Sunday evening for a welcome-aboard party to meet your crew and fellow passengers. There will be up to 30 of the latter, and togetherness is unavoidable. You're free to stay aboard, but you might prefer to try a nearby inn for a last taste of creature comforts. (Call the Rockport-Camden-Lincolnville Chamber of Commerce, 207 236-4404.)
GENTLE CREAK. The Angelique sets sail with the morning tide and the arrival of Mike McHenry, the captain who bought her in 1986. Other local 'jammers may be larger (the Victory Chimes has three masts and sleeps 44) or older (the Lewis R. French dates to 1871), but the 16-year-old Angelique is one of the luxury liners of this fleet. Which is to say there's a cozy deck house and real shower stalls, and the "heads"--never say bathrooms--don't break down too often. The two-person cabins are pleasant, with sinks and reading lamps, but a bit cramped if you're lanky.
Don't expect the QE2: This is more of a summer-camp-at-sea for grownups. Not that you can't relax. There's nothing like clambering atop the deckhouse and sunbathing as the mast gently creaks and the coastline and islands rock by. At some point, you will be pressed into service. The crew, mainly seastruck college kids, do most of the dirtier chores, like polishing the brass and, oh yes, cleaning the heads. But volunteers are needed at steady intervals to furl and unfurl the sails, assist in tacking, or coil the ropes.
Such tasks further the camaraderie and help keep prices down: Three-day cruises run $405 in peak season, and six-day excursions max out at $695. (All meals are included, but B.Y.O.B.) Think of it as two parts vacation to one part unaccredited sailing school. Indeed, an inquisitive passenger is Captain Mike's favorite kind, and he's always delighted to show you how to read a chart or plot a course. He may even let you grab the wheel.
Most days, though, are best spent perched on deck with a coffee cup and a beach novel that somehow never gets read. You're too distracted by the Down East beauty, a heady mix of civilization--the coastal mansions are eye-popping--and wilderness. It's a bird-watcher's paradise, with ospreys, herons, and eagles soaring above the pines. Below, seals sun themselves on the rocks, and if you're lucky, you may spot a whale. Bring binoculars.
FAMILY STYLE. Maine weather is famously changeable: If you don't like it, the local bromide goes, stick around for 10 minutes. True storms at sea are unusual, though.
When the anchor drops an hour or two before twilight, usually in a cove near an island or village, you can row ashore and explore. Bug spray is a must: Maine mosquitoes bite you bloody. Still, land jaunts bring unexpected rewards. Once, I rounded the bend of a beach and came up smack against a family of water buffalo. They're not native to the region, but some rich families raise them.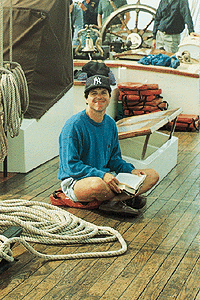 The food is served family style, plain and good and voluminous: chowders, stews, and the occasional lasagna. Debbie Seip, galley chef since 1987, is justly famous for her "congo bars," a guilt-inducing chocolate-chip-and-butter confection. Another highlight: Midweek, we row ashore to a beach and build a driftwood fire for a lobster bake.
This is a lights-out-early operation, and the passengers generally climb below deck around 10, knowing the breakfast bell will clang at 7. For me, the best time is night, when the buoys bong and the fireflies spark and the waves lap against the hull. Did I mention the starscapes? Bright and dim stars, falling and shooting stars, cascades of constellations. In Brooklyn, we only dream about skies like this.
Before it's here, it's on the Bloomberg Terminal.
LEARN MORE