Will Wow! Woo The Wary?
CompuServe serves up an online solution for holdouts
Paul M. Eng
Despite all the hype about going online and surfing the Net, only 11% of U.S. households--roughly 11 million homes--subscribe to any online service. According to a survey conducted by San Francisco's Odyssey Research Partners, what makes personal-computer owners shy away is the difficulty of setting up the software and hardware to get connected. What's more, once online, new surfers often can't find the information they want--or their kids find what the parents don't want them to see.
These are the simple facts that have shaped CompuServe Inc.'s latest service. By focusing on those needs and concerns, the No.2 consumer online service hopes to make a dramatic renewed push into the growing market. In mid-March, the H&R Block Inc. subsidiary, based in Columbus, Ohio, showed off Wow!, a service created specifically for nontechies, says Scott L. Kauffman, vice-president and general manager of the new service.
For example, to simplify online navigation, the main menu is divided into two sections. The top row consists of "action" buttons--things one can do online, such as chat or shop. Icons in the bottom row represent "places"--areas of interest, such as sports, where Wow! integrates both its own content and links to sites on the Web. Not rocket science. But with this setup, "you're no more than three or four mouse-clicks away from where you want to go or what you want to do online," says Kauffman.
To shield children, Wow! provides a kids' interface that locks out online features, such as access to the entire Internet. Parents can also preview E-mail messages that arrive for the kids.
THIN ON CONTENT? Another factor keeping consumers from logging on has been cost. CompuServe's solution: $17.95 a month for unlimited access to Wow! and the Internet. "We want people to feel free to explore," says Kauffman. "The last thing they want is to be afraid of getting lost out there with the clock ticking away."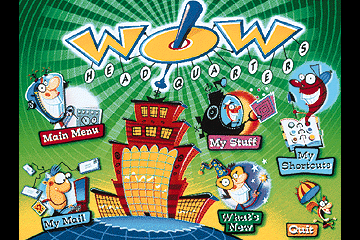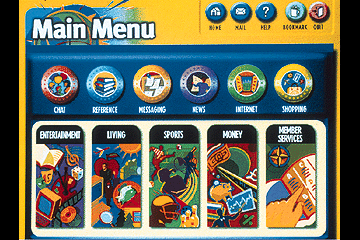 Will Wow! put CompuServe back on track to overtake America Online, which grabbed the lead last year? Maybe not overnight. When the service goes live on Mar. 25, Wow! will run only on PCs using Microsoft Corp.'s Windows 95 operating system. And while a version for the Mac is due by the fall, Wow! won't be available for Windows 3.1--because that operating system can't technically support the CompuServe offering. "[Wow!] will exclude a lot of users," says Mark Mooradian, an analyst at Jupiter Communications LLC.
What's more, Wow! initially may be thin on content. In addition to E-mail and Internet access, it has Sports Illustrated for Kids, Entertainment Drive --a popular forum started on CompuServe--and agreements with the National Geographic Society to produce special online areas. But there isn't a whole lot more at the moment. CompuServe already has plenty of other publications online, however, such as People and Time, that could eventually be offered on Wow!, too. So for now, neophytes might have to create their own reasons for staying around.
Before it's here, it's on the Bloomberg Terminal.
LEARN MORE