business
We Need Eight Bomb Sniffers And Fast
Sales of high-tech counterterrorism equipment are exploding
By
The late-night telephone call to John W. Wood Jr. came just hours after a suicide bomber killed 13 people on a Jerusalem bus on Mar. 4. The chief executive of Thermedics Inc., based in Woburn, Mass., was told that a U.S. Air Force C-141 en route to Israel had touched down at Boston's Hanscom Field. Its mission: pick up eight Thermedics bomb sniffers, worth about $2 million--on direct orders from President Clinton. Trouble was, nobody on the plane had any paperwork. "No purchase order--nothing," says Wood, who nonetheless approved the sale. Thermedics employees worked through the night to pack the devices.
More late-night phone calls are likely for Wood and others in the high-tech counterterrorism business. The Mar. 13 emergency international summit in Sharm el-Sheikh, Egypt, which Clinton and representatives from 30 countries are attending, is focusing world attention on how best to combat terrorists. With attacks by the Irish Republican Army in London and by Islamic fundamentalists in Algeria, Israel, and Saudi Arabia on the rise, the market for security systems is exploding, too. In the U.S. alone, according to McLean (Va.) consultants Hallcrest Systems Inc., sales of security systems--from metal detectors to electronic surveillance--are expected to grow some 7% a year, to $23.7 billion by 2000.
The arsenal needed to fight terrorist attacks is costly and specialized. That's why spending on security systems is soaring even as governments around the globe slash their traditional defense budgets. The Israeli defense budget, for example, is down almost 25% from a decade ago, but the government is planning to spend an extra $100 million on counterterrorism. "The most difficult threat to defend against is an insider," says Billie H. Vincent, CEO of Aerospace Services Inc. in Herndon, Va., and a former head of civilian aviation security at the Federal Aviation Administration.
Small high-tech companies, rather than giant defense contractors, are the winners. Thermedics, for example, with $176 million in sales last year, developed its $250,000 EGIS bomb detector partly thanks to grants from the FAA and the State Dept. in the mid-1980s. The U.S. government became its first big customer after car bombs in Beirut destroyed the U.S. Marines barracks and the U.S. Embassy in 1983. Meanwhile, the Canadian government funded research and development for a competing sniffer device at CPAD Technologies Inc. of Ottawa. Its machines are undergoing field trials in Israel.
Both CPAD and Thermedics rely on technology that detects explosives by collecting and analyzing vapor or tiny particles. Yet another company, InVision Technology Inc. in Foster City, Calif., has developed a device similar to medical scanners. Priced at $1 million a scanner, it is capable of detecting almost all kinds of explosives. Four such scanners are now in use at Israel's Ben-Gurion International Airport.
Not surprisingly, Israel itself boasts some of the most sophisticated companies in counterterrorism. Tel Aviv-based Magal Security Systems Ltd. installed much of the 70 kilometer-long high-tech security fence around the Gaza Strip, and Magal's X-ray scanners are used to check goods at Israel's borders. Sales were $18 million in 1995. After the suicide bombs in Israel in early March, Magal saw its shares soar by 43% on the NASDAQ, to $4.13. Shares of Thermedics jumped 7%, to $29.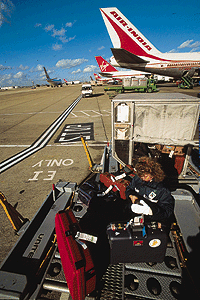 Israel also exports its security advice. About a dozen consulting firms, mostly staffed by former members of the General Security Service, or Mossad, are licensed by Tel Aviv's Defense Ministry to operate outside the country. Tandu Technologies & Security Systems Ltd. is working in Eastern Europe and the former Soviet Union, where demand for counterterrorism expertise is growing the fastest in the world. One big Tandu project: protecting a nuclear power plant in the former Soviet Union.
As world leaders at Sharm el-Sheikh ponder how better to combat terrorism, industry experts are sure to advise them to take more preventive steps. "Governments tend not to act but to react. So there tends to be a flurry of activity after tragedies," says Thermedics' Wood. Companies like his can't guarantee 100% security. But every dollar invested to prevent terrorism, they maintain, should make it harder for attackers to pull off their deadly acts.
Before it's here, it's on the Bloomberg Terminal.
LEARN MORE