U.S.: The Big Bond Scare: It's Not In The Numbers
by
Wall Street can be a dangerous place when the markets get blindsided by unexpected economic data. That's what happened on Mar. 8, when word came that February payrolls had skyrocketed by 705,000 employees, twice as many as expected, and that the jobless rate had fallen from 5.8% to 5.5%. Panic-stricken traders could utter only a single word: sell. Everyone else waited on edge for sanity to take hold.
Blame the bond market. The 30-year Treasury bond took one of its worst one-day pummelings since it first began to be traded in 1977, sending the yield to 6.72% (chart). Stocks came tumbling after. Bond traders concluded that tight labor markets and a robust economy would fuel wage and price pressures, causing the Federal Reserve to hike interest rates. It's a logical scenario, given the data. It's also probably wrong.
To be sure, the Fed is now highly unlikely to make a move at its Mar. 26 meeting. It had been expected to shave another quarter point off rates, but the job numbers take away any justification for an immediate cut.
Still, that's not to say further easing this year is out of the question. It isn't, especially since higher long-term interest rates dampen the outlook for housing and other interest-sensitive sectors, and since the outlook for inflation is as tame as ever. The Fed's Beige Book report, prepared for its upcoming meeting, described economic conditions through early March as "moderate to solid," with "subdued" wage and price pressures.
AS FOR THE ECONOMY, the markets have grossly misinterpreted what the February employment report says about the first quarter, and it says nothing about business conditions beyond that period. Payrolls rebounded because in January the blizzard in the East, the government shutdown, and two strikes had cut employment by 188,000.
The surprising strength of the rebound arose partly because five weeks--not the usual four--had elapsed between the government's January and February surveys. That always inflates the results. Also, January and February are unusually difficult months to adjust for seasonal trends. Unadjusted payrolls in those two months are always the weakest of the year, so the government's seasonal adjustment lifts them up. That process can especially exaggerate gains when there is a five-week gap between surveys.
The perfect example is the highly seasonal retail sector. The data show that retailers added 166,000 workers in February. That seems hardly believable, when industry employment during all of 1995 rose only 222,000, and when many retailers are downsizing amid a glut of stores and picky consumers.
The February payroll surge lifts the three-month average of job growth to 220,000 per month, from 140,000 at the end of last year. However, such a sudden shift goes against the recent upward trend in initial unemployment claims. Claims during the first quarter are running higher than they did during the fourth quarter.
EVEN WITH THE STRONG February job showing, though, first-quarter economic growth still looks soft. Overall hours worked--employment times the workweek--surged by 3.2% in February, after falling 2% in January. But even assuming a modest gain in March, the first-quarter average of hours worked is no higher than it was in the fourth quarter.
Since hours worked are a key indicator of the growth in real gross domestic product, the economy in the first quarter appears to be growing in the neighborhood of 1%. In fact, the net job gain of 517,000 in January and February about matches the 499,000 posted in January and February of last year, but that didn't prevent GDP in the first quarter of 1995 from growing at a tepid annual rate of only 0.6%.
That won't keep the bond market from worrying, though. Last month's jobs report suggests that much of the February economic data will look exceptionally strong, since various government agencies use pieces of the employment report to flesh out their own data. February industrial production, capacity utilization, personal income, and other numbers are bound to look pretty muscular. But again, their first-quarter averages vs. the fourth quarter's will not look so hot.
Amid all the distortions, one sector of the economy does show some genuine--and surprising--strength. That's construction, especially single-family homes (chart). If any sector should have fallen victim to the January weather, it was construction. However, housing starts, home sales, and overall construction spending all rose in January. Construction employment, which increased by 17,000 in January, surged by 121,000 in February.
In particular, sales of new single-family homes rose 4.2% in January, to an annual rate of 693,000. Even though the blizzard pushed sales in the East down 40%, strong buying elsewhere, especially in the West and Midwest, fueled the increase. The advance was the biggest in six months, and it was undoubtedly boosted by the low mortgage rates of December and January.
BUT THERE'S THE RUB: Interest rates have jumped. Already, mortgage applications for both purchases and refinancings have fallen. Looking forward, higher rates will dampen housing this spring and summer as well as demand for housing-related and other interest-sensitive big-ticket items. That could hamper any prospective rebound in manufacturing, where low rates had been expected to lift orders, clear out inventories, and boost production.
Despite the supposed ebullience of the 552,000 increase in the service sectors of February's employment report, manufacturing payrolls managed a gain of only 26,000 jobs, after a loss of 75,000 in January. Assuming a modest March gain, hours worked in manufacturing are on track to fall at an annual rate of 4% from their fourth-quarter level.
Although February industrial production will rebound, the United Auto Workers strike against General Motors Corp. will depress both factory payrolls and output in March. The strike has shut down nearly all GM plants and idled some 83,000 workers, during the week that the Labor Dept. takes its payroll survey.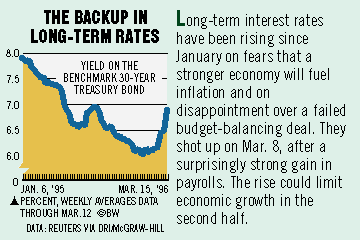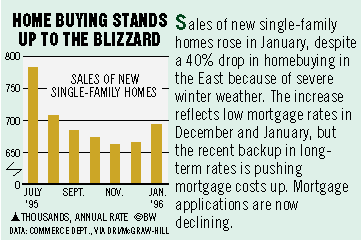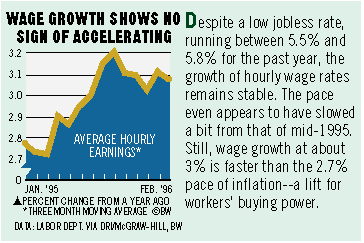 Of course, the bond market's biggest worry is inflation, which can eat away long-term yields. But the tamest part of the February employment report was wage growth. Average hourly earnings dipped 0.1% in the month, to $11.65, and the trend of annual wage growth is flat, if not down a bit, from the pace of mid-1995 (chart).
Right now, the bond market is shell-shocked after the explosion from the job data. It will need to be coaxed out of its hole in coming months with evidence that the economy is in no danger of overheating and that the Fed will not start jacking up short-term rates. Although the employment report was a stunner, the bond market simply did one of the things it does best: It overreacted.
Before it's here, it's on the Bloomberg Terminal.
LEARN MORE