Sunglasses, Starlets And Cd Ro Ms
Marsha W. Johnston
Cannes. Cinema. Celebrities. Over the last 50 years, those three words have become synonymous. The mere mention of this Riviera resort conjures up images of a Mediterranean Hollywood oozing sun-bronzed show-business dealmakers and artists who air-kiss and then dash off to parties aboard yachts in the harbor. Little wonder, then, that the folks who hope to turn CD-ROMs and other interactive "content" into a mass medium of movie-industry proportions chose Cannes for their show, the International Publishing & New Media Market, better known as Milia.
Three years ago, Milia began as part of a lackluster book-publishing show that adopted electronic publishing (everything from CD-ROM cookbooks to games on PCs) to refurbish its image. Since then, Milia has added the trappings of a showbiz event, in part because of the wildfire popularity of entertainment on the Internet. It hasn't hurt that stars such as director Oliver Stone and rock musician Peter Gabriel have become high-profile dabblers in the new media.
So that nobody missed the glitz connection at the four-day February event, Milia's backers--the Reed Midem Organisation, the conference operator for publisher Reed Elsevier--put a pair of Ray Ban Wayfarer-like sunglasses into every Milia attendee's complimentary bag and imported their own celebrities. These included French New Age musician Jean-Michel Jarre, lead judge of the Milia d'Or awards for best CD-ROM titles, and Dutch supermodel Karen Mulder, who launched a title of her own.
The glamour, however, wasn't enough to keep attendees from pondering some down-to-earth questions about the fledgling market. No one's sure where electronic entertainment--whether on CD-ROM, the Internet, or online services such as CompuServe and America Online--fits into today's world of leisure. Are we talking about an entertainment delivery system or a new art form? Is Milia a technology event or an arts festival?
BEATS AND SUITS. Still, with 9,000 attendees from all over the world and exhibits from 1,150 companies, Milia doubled in size since last year. Virtually every major book, video, film, TV, and music publisher was here. There were representatives of the William Morris Agency and Microsoft, the Writers Guild of America, and Apple Computer. Some entertainment monoliths such as Walt Disney Co. came, if not as exhibitors then as scouts for the hottest electronic-arts creators.
The opening-night cocktail party, sponsored by France Television at the Palm Beach Casino, set the tone--a schizophrenic frenzy of glitz and creativity juxtaposed with technology. With searchlights fanning the sky, the event positively screamed glamour. The guests ranged from literary and artistic wannabes dressed in New Age beatnik garb (plus one woman in gold thigh-high boots) to a goodly number of "suits."
The evening's conversations were like none I had encountered at computer shows. Los Angeles-based screenwriter Douglas Varchol, whose original feature film Morocco is scheduled for European release soon, described the writer's new challenge. "A film script has basically one main character and lesser characters who support it. With a CD-ROM, you can have several main characters, but you have to write all of that!" said Varchol, the author of a book on interactive media. Consequently, he said, a writer must come up with more than 300 pages for a CD-ROM script, compared with about 120 for film and about 60 for a TV script. It's hardly surprising, then, that the Writers Guild can't figure out how much CD-ROM authors should be paid.
Spotting handsome Jarre, who had just finished an Internet site, "Space for Tolerance," for France's Culture & French Language Ministry, I dashed to engage him in a conversation on creativity. Not fast enough. I was waylaid by a gentleman from a New York-based multimedia production company who insisted on detailing the functions of his computer system, and Jean-Michel slipped away.
"MIND SHARE." Hollywood executives gamely talked technology. At an Apple press conference later, Jeffrey Berg, chairman and chief executive of Hollywood talent agent International Creative Management Inc., attested to the Macintosh's "mind share and equity" in the entertainment business. And Larry Doyle, producer of the Rolling Stones' Voodoo Lounge enhanced CD, crowed about how Macintosh and PowerBook technology saved him from having to use Windows "to send video previews to the boys, on their PowerBooks."
The most confusing event was surely the press conference that launched an exercise and beauty CD-ROM by Mulder. It was hard to miss, given the 30-foot-tall poster of the Barbie-blonde model at the entrance. But no runways, footlights, or haute couture here, folks. In a demure pink sweater, Mulder sat behind a table at a microphone, squeezed in with three men from Grolier Interactive Europe, trying her best to talk about CD-ROM technology.
Question: "How did a top model like yourself, Karen, ever come to the world of CD-ROM?"
Answer: "Well, I really had always wanted to do a videocassette. I hadn't even thought of a CD-ROM. But then the people at [Grolier] proposed it to me and showed me how it works, and I thought it was fine. But, really, with technology...I mean, even with the Minitel I have trouble."
In contrast, a glib Jarre waxed rhapsodic about the artistic virtues of cyberspace at his press conference on the Milia d'Or awards. "For us as musicians, the audience has always been a physical thing, present. What's exciting is to explore cyberspace as this place where you have all of these hidden eyes and ears. We don't talk enough about the poetic, romantic aspects of the Internet, which should make us optimistic, not pessimistic, about the future," he said.
GROWING PAINS. Then Jarre noted with distaste that the names of the creators of several CD-ROM titles nominated weren't printed on the disks. "At Milia, I've noticed that everyone talks about technology, market share, and regulation, not about creativity. We feel that it's important to emphasize the creative aspects--it's a little worrying for an emerging industry," he said.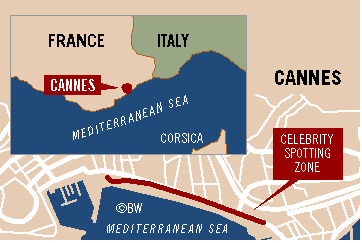 Obviously, a friendly alchemy between creativity and technology is missing. Yet such existential growing pains are probably inevitable. After all, establishing a vibrantly creative interactive media industry will mean marrying boisterous, freewheeling artists with computer technonerds.
But maybe the same was true of the pioneers of cinema. Maybe early moviemakers talked more about the best mechanisms for feeding film through the camera than they did about the stories they told on the screen.
Who knows? One day, Milia may be the annual mecca for cybercelebrities-- fantastical creatures who will be spotted not behind sunglasses at a Cannes sidewalk cafe but cavorting about inside your virtual-reality helmet. But then, who could imagine going to Cannes and never having a need for sunglasses?
Before it's here, it's on the Bloomberg Terminal.
LEARN MORE