Minas Gerais: A New Business Mecca...With A Mystique To Match
by
In the battle among Brazilian states for private investment, Minas Gerais likes to point out what it is not. While Sao Paulo is plagued by traffic gridlock and low-hanging smog, and while Rio de Janeiro has a reputation for lawlessness, tranquil Minas is taking business from its two bigger rivals.
Minas Gerais, which means "general mines," produces three-quarters of Brazil's iron ore and half its coffee. With a population of 16.5 million, it boasts a larger economy than Chile and more land area than France. Over the last two years, its gross domestic product has grown 12%, to more than $60 billion--tied with Rio de Janeiro for No.2 in Brazil. Sao Paulo is No.1. More than $15 billion in private investment is expected in Minas in the next four years. "The pendulum of Brazil has always swung between Sao Paulo and Rio, but now it's swinging our way," says Francisco Americo Mattos de Paiva, president of the Minas Trade Assn.
LESS THAN HALF. The state's anchor is Italian carmaker Fiat's 18,600-employee plant in Betim, 30 kilometers west of Belo Horizonte, the state capital and economic hub. Fiat has lured 60 auto-parts manufacturers--most from Sao Paulo--to Minas Gerais in recent years, producing 6,300 jobs for the state. An additional 3,000 auto-parts jobs will be created in 1996 as Fiat begins producing its new Palio "world car" in April. "The company has become `Minerized,"' says Giovanni Battista Razelli, president of Fiat's operations in South America, based in Betim.
Even the competition agrees that Fiat's location gives it an edge. "They operate at less than half the labor cost in Minas than we do in Sao Paulo," says Mark Hogan, president of General Motors do Brasil Ltd.--the main reason being that Minas unions are far less powerful and aggressive. Fiat has not had a work stoppage in a decade. And Minas is hoping for a further spark from the motor industry. Brazilian President Fernando Henrique Cardoso hinted in February that another foreign carmaker would build a plant in the state but declined to say which one.
Compared with the cities of Sao Paulo or Rio, Belo Horizonte, with 2 million people, seems safe, clean, inexpensive, and quiet. The educational system is widely regarded as Brazil's best, and technical schools for mining, metallurgy, and agriculture receive high marks from business. But the state's development is lopsided: the rural north is so poor that it drags average per capita income below the national average of $4,000.
A symbol of the state's expansion is the Fernao Dias highway, which runs 560 km between Belo Horizonte and Sao Paulo. A project to double the road's capacity, scheduled to be completed by next year, will reduce the average trucking time from 14 to 8 hours and could hasten the departure of even more companies from Sao Paulo. But Belo's rivals are fighting back: Last year, Rio state surprised everyone by winning a $250 million Volkswagen bus-and-truck plant. And on Feb. 15, the Sao Paulo government said it would match the financial and tax enticements that other states offer investors.
Mineiros, meaning miners, as the people of Minas Gerais are known, enjoy a mystique among their compatriots. While the Paulistas of Sao Paulo are seen as hardworking and humorless and the Cariocas of Rio as fun-loving and loud, Mineiros are supposed to be quiet and reflective. "There is a certain inwardness here that you don't see in other states," says Marcos Coimbra, president of Vox Populi, a polling firm in Belo Horizonte. "Outsiders take that to mean Mineiros are cunning, and that's not right."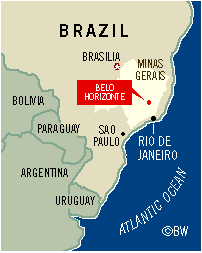 Mineiros believe their cautious manner works to their advantage. Politicians in Minas, known for thinking before they speak, are regarded as the most skillful in Brazil. Mineiros, political analysts say, are less likely than other Brazilians to vote for candidates who make extravagant promises. Minas Gerais has been stained by far fewer corruption scandals than Sao Paulo or Rio. "The Mineiro characteristics translate to good government," says Coimbra. And while Sao Paulo and Rio struggle to recover from years of deficits and bad loans made by their state banks, Minas Gerais balances its austere budget every year. Business appreciates that kind of common sense.
Before it's here, it's on the Bloomberg Terminal.
LEARN MORE