Can Rupert Conquer Europe?
A new deal gives him a piece of the prize market, Germany
By
Over grilled salmon at London's Ritz Hotel, Rupert Murdoch had just clinched another megadeal, and now he needed to clear his head. He strolled awhile in nearby Green Park, musing about how this latest coup was especially fulfilling. The negotiations to launch a digital pay-TV service in Germany took just 19 days from start to finish. The joint-venture agreement--between his British Sky Broadcasting company, Germany's Bertelsmann, and France's Canal Plus and Havas--was only five pages long. And his new partners were the kind of people he admired. But he still had one more deal to cut that Saturday. He walked into the Turnbull & Asser clothing store on Jermyn St. and asked if there were any overcoats on sale. The answer was no.
Rupert Murdoch doesn't always get what he wants. But he almost always gets what he needs. In this case, what the chairman of News Corp. needed was a platform for launching a Europewide digital TV service that will use new satellite technology to beam down hundreds of channels to millions of viewers. The media tycoon's swift deal on Mar. 6 got him his foothold by locking three potential competitors into an alliance to launch digital TV in Germany, the Continent's richest media market.
MACHIAVELLI? Murdoch hasn't won yet, and he has already stepped on some toes. After being passed over as potential partners, executives at Luxembourg-based CLT now liken Murdoch to Machiavelli. Another disgruntled player--Bavarian media mogul Leo Kirch--may try to block the gutsy Australian and launch a rival service. Thus two powerful media groups could vie for dominance of Europe's 160 million TV households. "This pretty much realigns the forces for the new digital age," says Adam N. Singer, president of Tele-Communications International Inc., a unit of Tele-Communications Inc.
Murdoch has some savvy allies. The three major players--BSkyB, media group Bertelsmann, and pay-TV giant Canal Plus--will each put up about $150 million for a 30% stake in the new digital network. A 10% chunk of nonvoting shares goes to French media firm Havas. The three big partners have already cooperated in turning around Vox, another German TV channel. Bertelsmann board member Michael Dornemann was convinced that he and his friend, Canal Plus chief Pierre Lescure, could work with Murdoch on the more ambitious digital service.
ROADBLOCK. In late January, Dornemann met with Goldman Sachs dealmaker and BSkyB board member John Thornton. Dornemann wanted to develop a service using the just-launched Astra satellite, each of whose digital transponders can broadcast up to 10 channels at once. Lucky for Dornemann, Murdoch had just dined in Paris with Lescure, and came away thinking this was someone he could do business with.
The partners plan to base the new network on Premiere, Germany's only existing pay-TV channel, which is already mostly owned by Bertelsmann and Canal Plus. In addition to investing in the new joint venture, Murdoch's BSkyB hopes to buy 25% of Premiere for about $300 million. Premiere's 1.1 million subscribers will be offered 20 new digital channels of German-language programming, including news, sports, movies, and "thematic" channels offering children's fare, arts programming, and other subjects.
There is a roadblock: Kirch Group, which also owns 25% of Premiere. Even before Murdoch's arrival on the scene, Kirch had quarreled with Bertelsmann and Canal Plus over proprietary decoder technology--the set-top boxes that decompress and unscramble the satellite signals for digital TV. Kirch wanted decoders developed by his company, while the other two favored boxes they had built jointly.
By the time Murdoch started talking with Canal Plus and Bertelsmann, the split had grown so bitter that Kirch was not asked to join the group. But Gottfried Zmeck, managing director of the Kirch Group, has reservations anyway about opening Germany to Murdoch: "I don't know why Bertelsmann or Canal Plus would want to bring in BSkyB." As an investor in Premiere, Kirch can veto any transfer of ownership to Murdoch. Bertelsmann and Canal Plus might try shifting Premiere shares to a separate holding company that can have Murdoch as an investor. If Kirch somehow blocks that gambit, the three partners will start a service from scratch.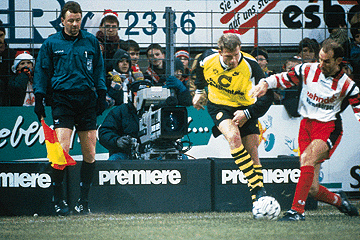 An embittered Kirch has now licensed his decoder technology to a competing digital TV network being set up by Swiss retailer Metro and Vebacom, the telecom and cable unit of German oil company Veba. Kirch may also launch his own digital service and join forces with Italian media chief and politician Silvio Berlusconi, in whose Mediaset Kirch has taken a 7.8% stake. Or he may hook up with CLT, the partner Murdoch rejected but which owns 12 TV stations in five countries, including RTL, Germany's biggest commercial station.
Unless Kirch drops his decoder, the Murdoch group risks competing in a German market split between two standards. Murdoch is hoping for peace with Kirch, but he'll fight if necessary. Says a source close to Murdoch: "We can join forces now, or we can kill each other and then join forces." Another Murdoch-inspired media war seems set to explode.