Brouhaha In Browserland
Who will set the cyberstandard--Netscape or Microsoft?
Kathy Rebello
Don't bother trying to keep score. In the battle for the hearts and minds of cybernauts, things move so quickly that even the players sometimes lose track.
Consider what happened in the last few weeks. On Feb. 27, Netscape Communications Corp. scored a coup when AT&T announced that it would provide free Netscape Navigator browser programs to those who sign up for AT&T's new Internet service. On Mar. 11, Netscape scored again, announcing that America Online Inc. customers would soon be able to download Navigator 2.0 for free as a way to use AOL to cruise the World Wide Web. The same day, CompuServe Inc., which had said it would use Microsoft Corp.'s Internet Explorer browser, announced it would also use Navigator.
On Mar. 12, though, the tide turned--toward Microsoft. The software giant made the stunning announcement that AOL would actually make Internet Explorer, not Navigator, its "preferred" browser on its main online service. Says Brad Chase, Microsoft's chief negotiator in the deal: "We were at Warp 1. Now we're at Warp 10."
On the surface, the browser wars may seem like little more than corporate one-upmanship, especially since browsers can be downloaded for free. But browsers aren't just software for navigating the Internet's World Wide Web. As the gateway to the Web, they have a strategic importance akin to what Microsoft's MS-DOS operating system has had in PCs: The company with the most popular browser can set industry standards and sell software that works seamlessly with the browser. That's why, says Douglas P. Colbeth, president of Spyglass Inc., a Web software company allied with Microsoft, "for Netscape and Microsoft, this is a holy war."
Despite Microsoft's impressive dealmaking, it's a war in which Netscape still has an edge. In February, Netscape Navigator held 81% of the browser market. Microsoft had 7%, according to a monthly random census of 100 corporations by Zona Research Inc. What's more, Navigator 2.0--which has such features as "frames" to display more than one Web page--is widely regarded as one techno-step ahead of Internet Explorer 2.0. "We're moving very quickly and staying ahead of Microsoft," declares Michael Homer, Netscape vice-president for marketing. "They're trying everything to slow us down."
They're having some luck. Consider the AOL deal, which Netscape seemed to have sewn up. There also had been bad blood between Microsoft and AOL, which had objected loudly to Microsoft's plan to include its own online service in Windows 95. But by last November, Chairman William H. Gates III was eager to put his browser on the map and called AOL CEO Stephen M. Case. They met in early January, after Microsoft heard that AOL was negotiating with Netscape. Says Case: "We were skeptical just because of the momentum Netscape had." He had a bold proposal, though: AOL would use Internet Explorer if Microsoft would put AOL software in Win95. Microsoft didn't blink.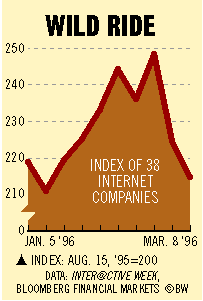 MORE DEALS? Still, weeks of wrangling followed, and AOL went ahead with its announcement of the Netscape pact on Mar. 11. By midnight, however, AOL was in Microsoft's camp, and Microsoft was able to announce the deal to a gathering of developers on Mar. 12. Gates says the deal is the "centerpiece" of his plan for Internet Explorer. "We get up every morning and think about browser share," he says.
So, Microsoft is still dealing. Sources close to CompuServe and Prodigy Services Co. say they're negotiating deals like AOL's, too. That could expose Microsoft's Internet Explorer to more than 10 million customers.
But don't try to do a final tally yet. Nobody knows how many consumers will jump to the Web. Nor do they know if any will stick with Explorer or download the more popular Navigator. And nobody knows how many Web surfers will sign up for AT&T's new WorldNet service--and be counted in the Netscape column. But keep your pencils sharpened.
Before it's here, it's on the Bloomberg Terminal.
LEARN MORE