Britain: Easier Money, Lower Taxes: Happier Britons?
Faced with tepid economic growth and low inflation, British monetary authorities trimmed the base lending rate by one quarter-point, to 6%, on Mar. 8, the third cut since December.
The rate cuts, initiated by Chancellor of the Exchequer Kenneth Clarke, will provide help to the housing and consumer sectors. Housing starts fell 15% in January, in part because of cold weather but also because of excessive inventories. First-quarter data on consumers look a bit better. Consumer confidence remains high, and car sales in February rose 7.5% from January. But unemployment jumped an unexpected 6,800 in February. Still, household finances will get a boost over the next 18 months, as building societies convert to private companies or merge with banks, handing out windfalls to borrowers and savers running as high as $10,000.
Britain's industrial sector, however, is struggling, as export growth is lackluster. Industrial production was up 1.3% in the year ended in January (chart), while manufacturing output rose 1.3%. The Confederation of British Industry's survey found a further slide in orders in February, and companies plan small increases in future output.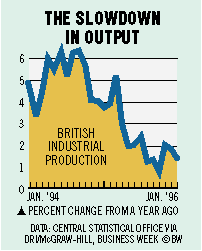 Although analysts speculate that Bank of England Governor Eddie George opposed the latest rate cut, he certainly could not argue with Clarke that inflation is a problem. Retail prices fell 0.3% in January, to stand 2.9% above a year ago. That's a full percentage point below the annual inflation rate in September. The underlying rate, which excludes mortgage interest payments, was 2.8%, suggesting that it will hit the government's target of 2.5% by the spring of 1997.
The rate cut follows the announcement of some 3 billion pounds ($4.5 billion) in tax cuts. Both policy moves are politically motivated, since the Conservative government must face elections by May, 1997. Cheaper borrowing costs and lower taxes will surely help British consumers and industry. Whether they will lift the Tories' fortunes is unclear.
Before it's here, it's on the Bloomberg Terminal.
LEARN MORE