United We Own
Employee ownership is working at the airline. Can it travel?
Susan Chandler
Long ladders don't seem to have much to do with saving jet fuel. But when United Airlines Inc. brought together its pilots, ramp workers, and managers for the first time to brainstorm about fuel conservation, the answer was just that simple. The idea was to use electricity instead of jet fuel to power planes idling at gates. But ramp workers couldn't plug cables into the aircraft because their ladders were often too short. "In the past, we would have sent out an edict and nothing would have changed," says Robert M. Sturtz, United's top fuel administrator. "We were finally able to extract what the real problem was." Now, equipped with taller ladders, the carrier will save $20 million in fuel costs this year.
Such anecdotes about once unimaginable cooperation have become common in the 18 months since United employees bought their company for $5 billion. Wall Street analysts, union leaders, and even many United workers were skeptical about the prospects of employee ownership at the 70-year-old carrier. But so far, the bold leap into an employee stock-ownership plan (ESOP) in July, 1994, led by former Chrysler Vice-Chairman Gerald Greenwald, is paying off.
"I WAS WRONG." The nation's No.1 airline, United is outperforming most of its rivals--gaining market share from No.2 American Airlines Inc. and No.3 Delta Air Lines Inc. and posting fatter operating margins and higher stock gains (charts, page 98). The productivity of United's 83,000 employees is rising, while grievances have plunged. "I was cynical about employee ownership to begin with, but I think I was wrong," says Candace E. Browning, a veteran airline analyst at Merrill Lynch & Co. "United has hard statistics that show the company is working differently than in the past."
Perhaps most encouraging to United workers, who traded an average of 15% in pay cuts for 55% of the company and 3 of its 12 board seats, UAL's stock price has more than doubled since the ESOP went through. Indeed, although lower-than-expected fourth-quarter results pulled down the price late last year, United shareholders will vote in April on a 4-for-1 split in the $190 shares. Many employees "watch the stock like a hawk," says International Association of Machinists (IAM) leader Ken Thiede. "I have guys who can tell you what the volume is on certain days."
If the success of United's employee buyout continues, it could show the way for other airlines and help usher in a more stable era for the turbulent industry. Both Northwest Airlines Inc. and Trans World Airlines Inc. have sold 30% stakes to employees in recent years and are reaping the payoff in lower costs. In mid-February, pilots at Delta traded 2% pay cuts for a nonvoting board seat and stock options on 19% of the company. USAir Inc. unions have been pushing for ownership, too--and it has seemed more likely since former United CEO Stephen M. Wolf, who led UAL during the buyout, took the helm at USAir in January. If employees gain significant input in most carriers, they may be able to resist the spending sprees that led to chronic industry overcapacity in the past. "Widespread ownership will put restraint on the upside, which will help the industry to be less volatile over time," says Randy Babbitt, head of the Air Line Pilots Assn.
The country's largest experiment with majority employee ownership still faces plenty of potential air pockets. Unhappy about large pay cuts, United's 20,000 flight attendants never joined the buyout and again refused Greenwald's offer to do so in a tentative new labor pact reached in early February. Many other employees still resent the pay cuts they took and suspect the ESOP was foisted on them by greedy corporate executives and investment bankers who walked off with millions. And the new low-cost Shuttle by United, which the unions agreed to set up to take on Southwest Airlines Co., has been scaled back drastically from the original plan--in the face of a stiff counterattack from Southwest. So while United is now better armed against further encroachment by low-cost carriers, it's not likely to regain market share from them.
NEW ATMOSPHERE. It's also clear the initial burst of enthusiasm that employee ownership can generate is difficult to sustain over the long haul. Defunct Eastern Air Lines Inc. and other carriers had great success with the idea in the mid-1980s--only to see it fizzle when fare wars hit. Early proponents recently have run into trouble in other industries, too, often because executives are uncomfortable about sharing power with employee-owners. Familiar names associated with ESOPs, such as Weirton Steel Corp., have yet to create solid co-management structures that outlast the initial chief executive. At others, including Avis Inc., tensions between managers and employers are mounting.
United's biggest test will come in the next downturn. Part of the carrier's post-buyout success stems from a surge in air travel that generated a record $2 billion in profits for the industry last year, vs. $13 billion in losses in the previous five years. When the good times give way to the inevitable next round of fare wars, a need for further cuts will challenge United's newfound cooperative spirit--and possibly its superior performance. Already, the company has dented the goodwill by announcing bonuses for 600 managers under a longstanding incentive-compensation plan, news that didn't sit well with employees still adjusting to pay cuts.
Still, there's definitely a new atmosphere at United, and much of the credit goes to Greenwald, the Chrysler Corp. finance whiz chosen by union leaders to succeed the autocratic Wolf. Although Greenwald, 60, spent his career in the hierarchical auto industry, he has embraced employee power-sharing with zeal. The son of an immigrant Russian wholesale grocer in St. Louis, he studied economics and labor on a Princeton University scholarship and spent a summer as an organizer for the garment workers' union.
The new CEO got off to a quick start with a series of moves aimed at altering United's rigid managerial style. Weeks after the deal went through, he made a goodwill gesture by dropping the much-hated body-weight limits for flight attendants. He removed heavy glass doors that had walled off the executive suite at the headquarters building in the Chicago suburb of Elk Grove Village. Greenwald also created a half-dozen employee "task teams" to examine everything from reducing workers' sick time to improving cash management. Then he hit the road to spread the word about the new United to employees in far-flung bases. Upon becoming CEO, says Greenwald, "I took the view that we're no longer a company that operates by command and control. But if I were CEO of any company, this would be happening."
Greenwald's most eye-catching effort to pull employees into decisions came last October, when United was considering acquiring USAir. Instead of the usual secrecy surrounding merger talks, Greenwald, who sports his company I.D. on a chain around his neck like everybody else, sought union leaders' input. They recounted the disastrous record of most airline mergers, mostly due to the difficulty of combining union seniority lists. For pilots, seniority is sacred: It means the right to fly bigger planes and earn more money.
Greenwald listened intently--and killed the bid. Union leaders were as impressed by the method as the result. Now, "they come to us and share a lot of information. That was never done before," says the IAM's Thiede. "The bottom line is that the employees are much better off." Greenwald, a veteran of more than 30 merger talks, agrees: "It was an amazing experience," he says. "Not only did we not lose anything by being open, we gained a lot."
Nor has such high-level employee input produced the board infighting that Wall Street had worried about early on. The board includes former IAM leader John Peterpaul, pilot leader Michael Glawe, and Avis CEO Joseph Vittoria, who was chosen by the nonunion salaried employees. Greenwald and President John Edwardson sit with seven outsiders, such as former Federal Reserve Board chief Paul Volcker and former Manufacturers Hanover Chairman John McGillicuddy. While outsiders initially had suspicions about the union reps, the process of evaluating a bid for USAir galvanized the board into a team, members say. "It [soon] became clear everyone was committed to representing shareholders," says Director James J. O'Connor, chairman of Chicago's Unicom Corp., parent of utility Commonwealth Edison Co. In fact, the board reached consensus in the end and didn't even bother with a vote.
PLAYING BALL. Investors also feared that employees would revolt against cost-cutting decisions. Not so far. One employee team studying United's Salt Lake base recommended hiring extra workers to help unload skis in winter. But union ramp workers get $38 an hour for overtime. The solution--hiring $7-an-hour temps--came from the ramp workers themselves, whose jobs are guaranteed under the buyout.
Now that they're owners, employees seem more flexible wherever you look. In 1995, United rolled out electronic ticketing without a hitch, beating American to the punch--despite American's history of technology breakthroughs. The reason: An employee team with members from seven departments tested the system around the airline. Team members fanned out on speaking tours to explain electronic ticketing to travel agents and corporate customers.
And when a pilot shortage developed last summer, the pilots' union agreed to fly longer hours instead of forcing United to cancel flights, as was its contractual right. "If we openly talk about our interests and try to solve problems, we're going to have an advantage over other companies," says Glawe, a Boeing 727 captain. Even early foes of the ESOP are no longer throwing bricks. Jerry Summers, a 747 captain who formed an ESOP-opposition group that filed a lawsuit challenging the deal, says the group is no longer active. "I'm trying to plan my life based on what's here," he says. "I hope it works. I really do." The suit is stalled in federal court in Chicago.
Breaking down traditional lines is an education for managers as well. For years, aircraft cleaners had been asking the company in vain to solder the ashtrays shut, since smoking is no longer allowed. Then, as part of the new regime, Edwardson, United's president, began working with baggage handlers and cleaning crews once a month. One day, he had to dig a hunk of wet chewing tobacco out of an ashtray with his fingers. The lids got soldered pronto.
The new attitude at United shows up across the board. For instance, a team on "employee dependability" recommended that to reduce no-shows and sick time, pilots and flight attendants should have more flexibility to swap job assignments with colleagues. The team got United to pony up for an incentive scheme: Twice a year, 25 employees are picked at random, out of all those with six months of perfect attendance, to win $20,000 cash or a Jeep Cherokee. From March to September, 32,000 employees--40% of the workforce--met the standard. (Bad news for Chrysler: All 25 winners took cash.)
Such moves slashed sick time by 17% last year, saving $18.2 million annually. Similarly, workers' compensation claims are down 17%, and their cost has fallen 30%. And grievances have plunged dramatically for all employee groups.
United's overall cost performance is better, too. Some of this is because of the concessions employees agreed to in the buyout, which helped to slice labor costs by 7% last year. Delta cut its labor bill, too, by 6%, but only by slashing 15,000 jobs and pulling out of some markets. American's labor expense actually rose by nearly 2% in 1995.
Employee ownership has also helped United expand while its two main rivals are shrinking. With employees looking for efficiency gains, operating revenue per worker jumped by 10% last year, vs. advances of 8% at American and 7% at Delta. But those carriers' gains came largely from retrenchment. United has hired 7,000 new people since the buyout and grabbed market share from the other two, boosting revenues by 7% last year, to $14.9 billion. "I'm pretty impressed with what United has accomplished," says a rival airline executive.
United's expansion hasn't come at the expense of profits, either. Its pretax operating margin more than doubled last year, to 7.5%, ahead of Delta and American. And increased cash flow has allowed United to prepay $750 million in debt and buy back more than $100 million in preferred stock in 1995. These are important steps toward restoring its investment-grade credit rating. "Our costs for the whole company are lower than we forecast, and profit is greater," says CFO Douglas A. Hacker. None of this has been lost on Wall Street. United's stock has soared 120% since the buyout, vs. 46% for the Standard & Poor's airline-industry average (which includes American, Delta, Southwest, and USAir).
Not all the news at United is upbeat. The company has failed to reach some early goals, especially at its Shuttle. By imitating Southwest's no-frills, high-frequency service in the lucrative California market, the Shuttle was projected to generate $1.5 billion in savings through 2006. The Shuttle won't come close, largely because of fierce fare cuts by Southwest. The unit's costs are running at 8 cents per available seat mile, not the 7.4 cents target United had set, much less the 7.1 cents that Southwest attains. And the Shuttle is losing money, United concedes, although it won't say how much.
The Shuttle represents 3% of United's revenue, far from the 20% envisioned before the buyout. And United no longer talks about expanding the Shuttle outside California. "The Shuttle has been a failure in developing new markets," says PaineWebber Group Inc.'s Samuel C. Buttrick. Greenwald admits the Shuttle isn't taking market share. "To those who say it's a defensive weapon, that's fair," Greenwald says. "However, to conclude it will always be one is premature."
HOUSE DIVIDED. Another negative is Greenwald's inability to bring flight attendants into the ESOP. Initially, $25,000-a-year attendants rejected the buyout because the pay cuts were too large. Today, it would cost them even more, because United's stock is pricier. So in the recent contract talks, Greenwald offered simply to give each union member a token 1.5 shares. Union leaders refused--unless the union got a board seat--although they signed a tentative new labor pact on Feb. 7, three weeks before the old one expired. "I wouldn't want to take a pay cut, but I also want to see United do well," says Debbie Golombek, a 17-year flight attendant based in Denver. Says Kevin Lum, president of the Association of Flight Attendants at United: "If I'm going to be an owner, I'm going to be like everybody else, with a seat on the board." Still, as long as United is a house divided, its attempts to improve service could be hindered.
Indeed, customers haven't yet seen much benefit from United's plunge into employee ownership. During 1995, United still ranked fifth among the 10 major carriers in late arrivals, sixth in mishandled baggage, and seventh in customer complaints, according to the Transportation Dept. The numbers haven't been lost on top management. To improve service, ticket and gate agents now are allowed to dole out seat upgrades and travel credits without consulting a supervisor. "Now I'm not a sandwich person caught between the customer and the hierarchy," says Sandra Doscher, a ticket agent at New York's LaGuardia Airport.
Similar tales of improved morale can be heard at other carriers that have embraced employee ownership. At Northwest Airlines, an ESOP was a last-minute compromise to stave off bankruptcy in 1993. Ever since its employees swapped 15% cuts for 30% of the company, its operating margins have outrun those of other major airlines. Employee suggestions have saved an estimated $100 million a year. Watching Northwest's shares soar from 13 when the company went public in early 1994 to a 1995 peak of 53 1/2 hasn't hurt, either.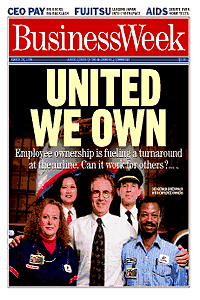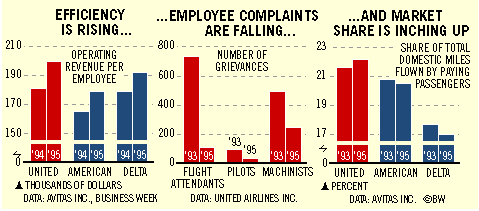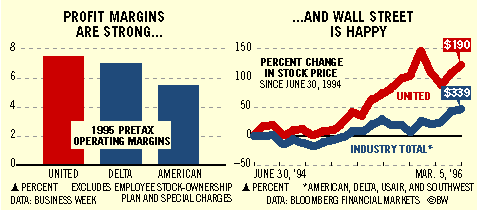 Employee ownership has been key in keeping TWA alive, too. During its second flight through Chapter 11 bankruptcy last year, employees agreed to forgo scheduled wage hikes and slice their equity stake from 45% to about 30%. Now, with its balance sheet in order, TWA is poised for a comeback, predicts Brian Harris, airline analyst at S.G. Warburg & Co.
Employee ownership still faces many challenges at the three airlines that have tried it. The idea probably won't stabilize the industry until several more large airlines embrace it. But if they do, employees, investors--and maybe even customers--may cheer the outcome.
Before it's here, it's on the Bloomberg Terminal.
LEARN MORE