U.S.: Factories Will Shake Off The Winter Blahs
By
It looks like 1985 redux. Eleven years ago, the overall economy was healthy, but the industrial sector was getting blown to bits.
Today, the economy remains on track, although the January blizzard continues to skew the data, as was evident in the monthly readings on personal income and household spending. But manufacturing is ailing again. The nation's purchasing managers reported that production, jobs, and orders failed to rebound in more weather-friendly February.
In the mid-1980s, a hyperstrong dollar brought in a flood of cheap imports while making U.S. goods nonstarters in world markets. This time, the problem is not overseas. Rather, soft domestic demand and a drawn-out inventory adjustment are curbing the need to lift factory output and payrolls.
The inventory problem can be traced to a tight monetary policy that pushed down spending in the second half of 1995 faster than producers could adapt. The overall economy will not regain its vitality until manufacturing recovers.
Fortunately, some recent data suggest that inventories now are better aligned with demand. In particular, businesses are taking longer to fill orders (chart). And because the rise in household income looks sufficient to maintain a moderate pace of spending, output should pick up again in the spring.
LOOKING FURTHER OUT, manufacturing's fortune hinges on interest rates. Producers of interest-sensitive goods have always been the Federal Reserve's whipping boys when it comes to managing economic growth. With the first quarter looking so soft, policymakers, who next meet on Mar. 26, will probably see the need to ease up on short-term rates at least another notch.
Equally important, long rates must come down. The yield on the benchmark 30-year Treasury bond averaged 6.25% in February, a lofty altitude given the tame inflation outlook. A major reason for the bond market's sulky attitude: the lack of a balanced budget.
Without the booster shot of lower borrowing costs, domestic demand, especially for housing and cars, could just limp along through 1996. The latest news shows that, partly because of the blizzard, the economy is struggling to put growth in the plus column in the first quarter.
Personal income grew a strong 0.6% in December but then eked out a mere 0.1% gain in January as inclement weather kept workers home. Inflation-adjusted disposable income was flat in January, and real consumer spending plunged 0.8%, led by a 5.4% decrease in outlays for durable goods.
Even so, real consumer spending started the first quarter about even with its fourth-quarter average. Unless job growth collapses--an unlikely prospect--consumers will have enough income to increase their spending. On a year-over-year basis, real aftertax incomes have outpaced consumer spending since July (chart). In fact, real income is up at an annual rate of 2.8% since July, while purchases have grown 1%.
February's buying trends are already looking better than January's. The weekly surveys of retailers suggest that store sales snapped back. So, too, purchases of domestic and imported cars and light trucks increased 13.6% last month, to an annual rate of 15.9 million. That's a good sign that consumer spending is recovering from its January slump.
A CONSUMER REBOUND is good news for businesses, especially ones still wrestling with too many goods on hand. Inventories at factories, wholesalers, and retailers fell 0.5% in December, but the government reported that factory inventories alone jumped back up by 0.7% in January.
Once again, that increase probably reflected weather more than economics. Factory shipments dropped 0.9% as snow and ice disrupted trucking and rail systems. But orders rose 0.5%, a sign of better demand. Excluding the volatile transportation-equipment sector, orders increased an even stronger 1.2%.
It is important to keep in mind, however, that not all of manufacturing's problems are weather-related. Although consumers and businesses are still spending, they are not buying with the aplomb of 1994 or early 1995. That's why inventories became a problem--and the overhang has dragged down output and jobs.
The National Association of Purchasing Management reported that industry remained sluggish in February. The NAPM index--a compilation of production, orders, jobs, inventories, and prices--rose to just 45.2%, from a recessionary 44.2% in January.
STILL, THE REPORT CONTAINED some hopeful signs. Most important, inventories contracted last month, while orders showed some improvement. The NAPM also said that supplier delivery times are in a clear uptrend. That means that businesses are relying more on current production to meet new demand, rather than quickly filling orders by dipping into inventories.
The vehicle industry remains an exception to the progress made on inventories. Although vehicles and parts account for less than 5% of factory production, swings in the industry roll back on their suppliers and can greatly influence the overall trend in manufacturing.
Car dealers ended January with an excessive 88-day supply of unsold cars and trucks. The rise in February sales likely pared a good chunk of the overhang (chart), but not all. So auto production should remain modest, which means little output growth for suppliers.
Manufacturing's outlook might be more discouraging if not for the lift expected from exports. Given the growth in developing economies, exports may well increase at nearly a double-digit rate in 1996. In fact, the key contrast between today's situation and that of the mid-1980s is that unless the bond market experiences a sea change soon, manufacturing's healthiest markets in 1996 may well be the ones overseas.
In addition, manufacturers seem to hold a productivity advantage over service companies. The Labor Dept. reported that output per hour worked in the nonfarm business sector fell at an annual rate of 0.5% in the fourth quarter, but manufacturing efficiency grew at a 2.5% clip. That implies a fairly steep drop in service productivity, although even Federal Reserve Chairman Alan Greenspan has questioned the ability of the data to capture recent trends in services.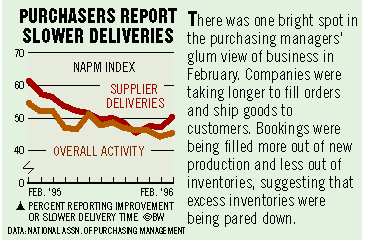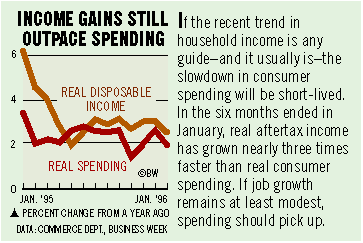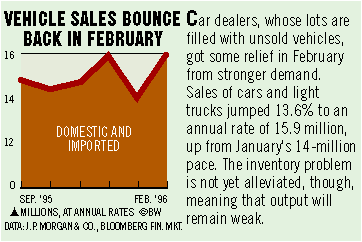 For all of 1995, nonfarm productivity rose by 0.8%, while manufacturing's was up 3.6%. Total unit labor costs increased 3.3%, but factory costs fell 0.4%. That means manufacturing profits should hold up well, even during these lean times.
Although the factory sector has shrunk to a record-low percentage of the economy, its ups and downs still heavily influence the overall economy. On balance, manufacturing's weakness is finally bottoming out. And with a little help from lower interest rates, the economy should look a lot healthier this summer than it does right now.
Before it's here, it's on the Bloomberg Terminal.
LEARN MORE