This Trade Gap Ain't What It Used To Be
U.S. exports to Japan are up--but pressure alone didn't do it
Amy Borrus
At electronics megastore Maruzen Musen in Tokyo's bustling Akihabara district, salesman Wataru Irifune is catching his breath. Customers have been grabbing Macintosh personal computers off the shelves left and right, thanks to a recent cash-back incentive scheme. "As soon as the stuff came in, boom, it was gone," says Irifune of the American-made Macs.
Brisk sales of PCs are just one sign of a U.S. export surge that's helping to narrow America's chronic merchandise trade deficit with Japan (chart). After four years of widening, the bilateral trade gap shrank nearly 10% last year, to $59 billion. The improvement came even as the U.S. global goods imbalance surged to a record $174 billion. And economists expect the U.S. deficit with Japan to fall further in 1996.
Clinton Administration officials have been quick to claim credit for the good news. But persistent trade pressure from Washington and reluctant market-opening moves by Tokyo only tell part of the story. A confluence of macroeconomic forces and structural shifts may be fundamentally altering the bilateral trade relationship.
YEN FACTOR. For starters, slowing U.S. economic growth and the dollar's 16% decline against the yen over the past three years have dampened America's appetite for Japanese goods. Meanwhile, the weaker dollar, coupled with Corporate America's downsizing, is making U.S. goods more competitive, just as Japan's economy is perking up. The result: U.S. exports to Japan in 1995 jumped 20%, to $64.3 billion--five times the pace of imports from Japan. U.S.-made cars, semiconductors, office machinery, and medical equipment all posted double-digit gains.
But the diminution in the bilateral trade gap is also a bit of a mirage. Pressured by the soaring yen and U.S. trade friction, Japanese manufacturers are moving more production offshore to countries such as China and Thailand. As a result, "part of the trade deficit is being redistributed from Japan to other Asian countries," says Brian R. Horrigan, senior economist at Boston-based Loomis, Sayles & Co.
Just how much isn't clear. But since 1991, America's trade gap with China and Southeast Asia combined has swelled from $32.3 billion to $59.3 billion last year. At least some of the imports are from Japanese-owned plants manufacturing color televisions in Malaysia, for example. Says one U.S. executive in Japan: "Japanese products are still coming, but from a different direction."
Similarly, the U.S. export boom has been triggered in part by the expansion of Japanese-owned production in the U.S. While Administration officials lauded a 53% jump in auto exports to Japan in 1995, to $3.2 billion, virtually all of the vehicles were made at U.S. factories owned by Toyota, Honda, and Mitsubishi. Big Three exports to Japan from the U.S. were mostly flat last year. Only now are carmakers ramping up major exports of right-hand drive models to Japan.
To be sure, some improvements are due to jawboning by Washington. A 1994 U.S.-Japan accord to ease curbs on foreign medical equipment has helped Varian Associates, a Palo Alto medical device maker, double its sales in Japan, to $100 million, since 1993. The President's Council of Economic Advisers also found that in sectors that were the focus of trade talks in 1993 and 1994, such as telecommunications, exports to Japan climbed more than 50%--twice as fast as other U.S. exports.
Modest market-opening moves by Tokyo are helping, too. Loosening of curbs on agricultural imports has made supplies of California broccoli and other produce more plentiful, for example. "The Japanese market is a lot more open today than it was in 1970 or 1980 or even 1990," says former U.S. trade negotiator Clyde V. Prestowitz Jr. of the Economic Strategy Institute.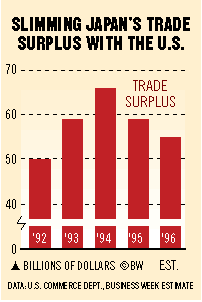 Still, government policy affects trade only at the margins, most economists believe. Business cycles, exchange rates, and investment flows largely determine the trade balance. On that score, the outlook is for continuing improvement--albeit modest. The slowing U.S. economy will dampen imports, while Japan's recovery should suck in more U.S. exports. More Japanese production offshore will narrow the gap--but at the price of higher U.S. deficits elsewhere.
Given economic fundamentals--and the web of invisible barriers to foreign goods that remain in Japan--the bilateral trade gap won't shrink dramatically. But after years of swelling deficits and puny U.S. export numbers, even modest progress looks mighty good to Washington.
Before it's here, it's on the Bloomberg Terminal.
LEARN MORE