The Club Med Of The Ski Slopes?
How Intrawest aims to become a brand-name winter resort
William C. Symonds
For the ski biz, the 1990s have been about as flat as a snowboard. But that hasn't slowed the run at Intrawest Corp.'s Blackcomb Mountain, some 90 minutes north of Vancouver. This season, Blackcomb--ranked along with the adjacent Whistler as No.1 in North America by Ski Magazine--expects to log 1 million skier visits, three times as many as 1986, when Intrawest took over. During the same period, Blackcomb's revenues have soared eightfold, to $42 million.
Convinced that it has a formula for turning snow into gold, Intrawest is out to replicate Blackcomb's success. Since November, it has gobbled up West Virginia's Snowshoe and 33% of California's Mammoth Mountain. Its network of six resorts stretches from Quebec's Laurentians to the Sierra Nevadas. Soon, it aims to add a big Western resort--Ralcorp's Keystone and Breckenridge may be targets--to help boost its empire to 5 million skier visits a year, up from some 2.8 million now. That would make Intrawest North America's largest ski resort operator. More important, says CEO Joe Houssian, it would provide the "critical mass" needed to establish Intrawest as the leading brand name in skiing, with the kind of cachet Walt Disney Co. has in theme parks and Club Med has in beach resorts.
Intrawest isn't the only company that sees fat opportunities in the mature ski industry. With costs soaring, "there's a growing recognition the industry needs to consolidate" to prosper, says Leslie B. Otten, president of LBO Enterprises, which owns Maine's Sunday River. On Feb. 13, Otten struck a deal to buy Vermont's S-K-I Ltd., which owns Killington and three other New England resorts, for an estimated $107 million. The merged entity--American Skiing Co.--will be top dog for now, with a total of seven resorts and 3.5 million skier visits.
But no one "has a more aggressive vision" than Intrawest, says Michael Berry, president of the National Ski Areas Assn. Intrawest's North American strategy could give it a big edge in luring the most desirable skiers: those who vacation at "destination" resorts such as Blackcomb. That resort now hires Japanese- and Chinese-speaking ski instructors to cater to the 31% of its destination skiers who come from beyond North America. On average, "destination skiers spend four times as much" as day-trippers on items other than lift tickets and lodging, figures Intrawest CFO Daniel O. Jarvis.
AWESOME POTENTIAL. For all its savvy, Intrawest is a relative newcomer to skiing. "Skiing was the furthest thing from my mind," says Houssian, who grew up in the flatlands of southern Saskatchewan and founded the Vancouver-based company in the mid-1970s to build residential and office real estate. That changed in 1986 when Blackcomb President Hugh R. Smythe knocked on his door, looking for a buyer. The fledgling resort, then owned by 20th Century Fox Film Corp. through its Aspen subsidiary, was only modestly profitable. But Smythe saw awesome potential both on the mountain, which offers North America's steepest vertical drop, and in the undeveloped land at the base.
By combining Smythe's expertise in running resorts with Intrawest's real estate skills, Houssian figures that the company will be positioned to cash in on "the last great real estate boom of this century--recreational real estate." In 1994, Intrawest started divesting its remaining urban real estate to devote full attention to skiing.
Why haven't others tried to create a brand-name chain of ski resorts before? "Ski resorts aren't commodities" that can be run like a McDonald's, says Smythe, now Intrawest president for resort operations. The challenge is to enhance uniqueness while ensuring uniform excellence. That can be frighteningly expensive. At $2 million or more, a high-speed chairlift costs as much "as the average U.S. ski area makes in a season," notes Otten. A key reason Ski Magazine readers voted Blackcomb No.1 is that it boasts "the most high-speed lift capacity in the world," capable of carrying 28,362 skiers an hour. The lifts, plus 10 restaurants and other amenities, have cost Intrawest $60 million since '86.
But what really sets Intrawest apart is its real estate expertise. Intrawest exerts tight control to create "total mountain villages," says Gary L. Raymond, who heads the company's resort development unit. The object "is to create destinations, not just sell skiing," says Berry. At Tremblant, more than $300 million has been spent by Intrawest and its partners to create a breathtaking French-Canadian village modeled after Quebec City. And in a joint venture with Ralcorp at Colorado's Keystone, Intrawest has just begun erecting the $400 million Village at River Run, which will consist of 3,500 housing units, plus shops and restaurants, with an Old West motif.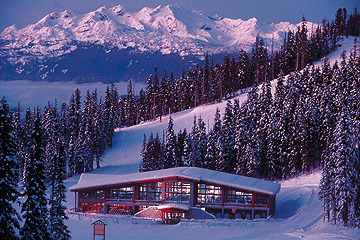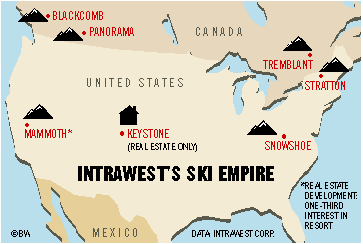 GHOST TOWNS. Intrawest is also keeping a grip on real estate once it's built. In the past, developers at resorts such as Colorado's Beaver Creek sold luxurious condos and homes, only to see them remain vacant most of the year, creating gilded ghost towns. To avoid that trap, Intrawest often requires buyers to put their properties into a rental pool when they aren't being used. Similarly, "we own and manage most of the retail shops," says Jarvis, to avoid the rows of T-shirt shops that clutter so many mountain towns.
Many of Intrawest's ambitious plans exist only as blueprints, but the payoff for the only publicly traded "pure play" in the ski industry could be substantial. "As Stratton, Snowshoe, and Mammoth start kicking in," Intrawest's revenues from real estate and ski operations should rise to $212 million next year, roughly double the 1995 level, predicts Harry Rannala, an analyst at Deutsche Morgan Grenfell Canada. Meanwhile, he adds, net earnings should hit $16 million, up from $8.5 million last year. Now that's a high-speed lift.
Before it's here, it's on the Bloomberg Terminal.
LEARN MORE