Separating Brazil's Weak From The Strong
A major scandal highlights the stresses on Brazil's banks
by
It's just the latest upset in Brazil's tumultuous banking shakeout. In late February, revelations surfaced that failed Banco Nacional, which last November merged with healthier Unibanco, had disguised a $4.8 billion shortfall. Brazil's Federal Audit Court plans to investigate whether the central bank slipped in supervising Nacional--and then covered up the mistake. During nearly 10 hours of testimony to the Senate on Mar. 5, central bank President Gustavo Loyola admitted the central bank's error while insisting on its integrity. But he is clearly in a hot seat.
The scandal comes at a critical time for the banking system. In the past year, 30 banks have failed, merged, or been taken over by the central bank. Now that the government has reined in inflation, to 1% a month from 45% in mid-1994, banks can no longer rake in profits by playing the "float"--using depreciating customer deposits to buy government paper paying 40% or more. Instead, the industry must learn to make money by attracting deposits and making loans. Some are restructuring and expanding into potential growth areas. Others are joining with foreign partners to enhance their capital-raising clout overseas.
MERGERS AHEAD. The pressure is growing as credit demand booms along with a stabilizing economy. "Brazilian companies are growing so fast that banks will have to grow fast to keep them as clients," says Carlos Alberto Frederico, senior adviser at CS First Boston in Sao Paulo. For many, that will mean mergers, such as the recently announced combination of Banco Bandeirantes and Banorte, Nos. 12 and 13 in terms of deposits.
A shakeout will dramatically boost the position of Brazil's healthier banks, already among the strongest in Latin America (charts). The three largest private commercial banks--Bradesco, Itau, and Unibanco--stand to grow even stronger, as depositors flee to quality. And they are scrambling to boost their capital to satisfy the growing loan demand.
Unibanco, for example, is trying to expand beyond its base of upper-income clients. By absorbing Nacional, which had been Brazil's fifth-largest bank, Unibanco increased its retail branches from 460 to nearly 800. And on Feb. 16, Unibanco announced that it had paid $10.5 million for 48.8% of Fininvest, a consumer-finance company with 1.8 million low- to middle-income clients.
Bradesco, the largest private commercial bank, with assets of $34 billion, is trying to break out of its niche as the bank for Brazil's masses. It is promoting "managed" accounts with more liberal transaction limits for depositors who meet minimum-income requirements. Bradesco also plans to focus on its credit-card business, which doubled to $4 billion in 1995 and is expected to grow by half again this year. Another growth engine could be Bradesco's insurance company, the country's second-largest, because pension and life insurance policies were made tax-deductible starting this year.
Also moving upscale is Itau. Last year it bought from Credit Lyonnais a 54.5% stake in Banco Francês e Brasileiro. It is opening an investment banking partnership with Bankers Trust this year with an eye on underwriting. "Banks are entering areas they weren't in before, and if you don't have experience, it's easier to do it through acquisitions," says Roberto Setubal, president of Banco Itau.
But weaker institutions have to shed industrial holdings to concentrate on their core business. The No.4 private bank, Bamerindus, whose 1995 profits dropped 10.5% from 1994, has sold stakes in steel company Companhia Siderurgica Nacional for $260 million and in two other companies for $26 million. It got a much-needed cash infusion last year when HSBC Holding PLC acquired a 6.14% stake in Bamerindus for $63 million.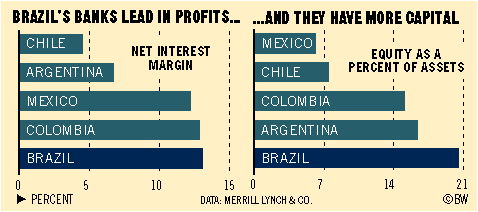 The price of Brazil's bank shakeup is steep. Banespa, the state-run bank of Sao Paulo, is being reorganized under a scheme in which the state will repay some of its $16 billion debt to the bank, partly by privatizing state assets. Banerj, the Rio-based state bank, is being prepared for privatization by Brazil's Banco Bozano Simonsen, which has a year to get Banerj in order.
The worst is probably not over. Bankers almost expect another scandal like Nacional's to emerge as the industry's weaker links are exposed. And Bamerindus' financial health is being questioned as it struggles with a liquidity problem due to bad loans. In the long term, the system will probably be sounder. In the short run, get ready to see more bankers sweat.
Before it's here, it's on the Bloomberg Terminal.
LEARN MORE