Japan: A Timidly Rising Sun
Japan's economy is recovering, but the pace is more plodding than earlier indicators had suggested. That was the message from the Bank of Japan's quarterly Tankan survey of business sentiment, a key indicator of current and prospective economic conditions.
The headline number--an index of sentiment at major manufacturers--stood at -12, an improvement from -18 in the November survey. The index is the difference between "favorable" and "unfavorable" readings. A minus sign means that pessimists still outnumber optimists. The improving trend is clear (chart), but the overall results were much less upbeat than expected. After four years of stagnation, forecasters expect Japan to grow about 2% this year, far below the normal recovery pace.
The recovery is still not self-sustaining, that is, driven by private-sector demand and output, instead of just a bump from 54.5 trillion yen ($500 billion) of fiscal stimulus since 1992. The problems: excessive inventories, weak job markets, tentative consumers, and soft foreign demand still suffering from yen shock. Fourth-quarter consumer spending appears to have declined, leading many analysts to mark down their estimates for last quarter's gross domestic product. First-quarter outlays look better, given January upticks in retail sales and housing starts, and stronger February car sales.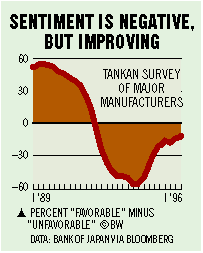 But the pickup will not allay the nagging inventory problem, especially in autos and electrical machinery, which will force production cuts. January industrial output rose for the fourth month in a row, but shipments fell, pushing inventories higher, and March output expectations show a steep drop. Steel, heavy machinery, chemical, and oil-refining companies were no more upbeat in February than they were in November, according to the Tankan.
Amid concerns that the recovery could misfire, financial markets are rethinking earlier beliefs that the BOJ would push rates up. Many analysts are convinced that any hike is on hold until 1997.
Before it's here, it's on the Bloomberg Terminal.
LEARN MORE