Compaq Starts A Pc Brawl
Its sales have taken a hit, but price-cutting could backfire
Gary Mcwilliams
Eckhard Pfeiffer isn't backing down. In 1994, Compaq Computer Corp.'s chief executive laid out a strategy to grab twice the market share of his nearest rival PC maker by 2000. Since then, Pfeiffer has expanded the computer company's revenues at twice the industry's rate. In its December quarter, Compaq posted an astounding 45% revenue jump, to $4.7 billion.
So when Compaq's corporate PC sales and margins took an unexpected hit in February, Pfeiffer stepped on the gas. On Mar. 4, he chopped PC prices by as much as 21%. The idea: Use lower prices and heavier dealer incentives to reach for 35% revenue growth--margins be damned. The move stunned Wall Street, which drove down Compaq shares by 18%, to around $40. Analysts, meanwhile, began slashing earnings forecasts for 1996, from about $4.80 per share to $4.20. Compaq's pricing move prompted competitors, including Hewlett-Packard, Digital Equipment, and IBM, to follow suit--some of them with cuts of nearly 30%.
RESTLESS DEALERS. Underlying Pfeiffer's moves are some little-noticed shifts in the PC industry that could make the strategy even riskier than it seems. Businesses increasingly are buying low-priced home PCs for their offices, and that threatens the margins of Compaq and other companies that specialize in sophisticated machines. The worry for PC companies: that the 25% to 38% gross margins typical of business PCs and network servers will fall nearer the scant 15% margins of home PCs as price wars spread from the home to the business market.
The risk is real because many corporate PC dealers are demanding the right to sell home computers to businesses. Home PCs now are available mainly through mass merchandisers; corporate dealers are usually prohibited by contract from selling them. But that may change soon. Says MicroAge CEO Jeffrey McKeever: "There's too much pressure to do it; as soon as one breaks ranks, the others will."
Pfeiffer's second big worry: HP, IBM, and other major rivals are targeting Compaq's hugely profitable business selling servers--machines that connect desktop PCs to networks. Servers account for about half of Compaq's profits (chart). And Intel Corp. is giving a boost to Compaq's rivals by selling designs and processor boards that allow any computer maker to build high-end servers, using off-the-shelf disks and software.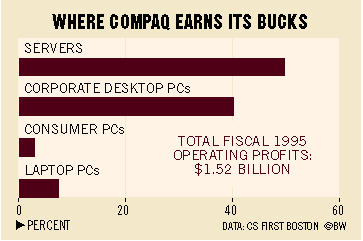 Compaq is feeling the heat. HP and IBM already are nipping into Compaq's server market share. Starting in June, those rivals, as well as Dell Computer Corp., plan to offer servers using Intel boards. Such pressure is one reason that in 1995's fourth quarter, Compaq's share of the server market fell to 33%, from 39% in the third quarter, estimates researcher International Data Corp. Promises IBM Personal Computer Co. Group Executive Robert M. Stephenson: "That isn't going to let up. I'm going after that market with a vengeance."
Pfeiffer's counterstrategy: make Compaq's corporate PCs and servers less vulnerable to price wars by rushing out new models. On Mar. 4, Compaq introduced a new line of speedier business PCs. Later this year, it will bring out new corporate machines with features such as a network management system built in. It's a typically forceful response. The question now: Is Pfeiffer's precarious game plan good enough to keep the company on track?
Before it's here, it's on the Bloomberg Terminal.
LEARN MORE