Chrysler Is Blowing The Doors Off Ford And Gm
Strong sales and fat margins make Chrysler the envy of Detroit
Bill Vlasic
Chrysler Chairman Robert J. Eaton is on a roll. His battle with disgruntled investor Kirk Kerkorian behind him, Eaton can devote his full attention to keeping Chrysler hitting on all cylinders. And he may not have to do much tinkering. Chrysler Corp. has few costly model changeovers to make this year, and its trademark minivans and Jeeps are selling briskly. Eaton figures the company's record 207,000 unit sales in February bode well for 1996. "It's going to be a very good year for us," says Eaton. Indeed, analysts think Chrysler may come close to matching 1994's record $3.7 billion in earnings.
Chrysler's cheery outlook is in marked contrast to the darker moods at Ford Motor Co. and General Motors Corp. Ford, continuing to struggle with bloated product-development costs, said in late February that it plans to pare back its engineering ranks by 21% during the next two years, mostly by eliminating outside contractors. GM faces the launch of a half-dozen new vehicles in the next 12 months, which could cut into its productivity and profits. Chrysler, meanwhile, came out with a new line of minivans last year and has just opened a new 120,000 unit pickup-truck plant in St. Louis. The company has bolstered its car lineup by putting in place strategic additions such as the Plymouth Breeze compact and Chrysler Sebring convertible.
Not that there aren't hurdles ahead. GM is introducing a new minivan later this year that could steal some of Chrysler's 47% market share in the segment. A rush of new Japanese sport-utility vehicles could put pressure on Chrysler's Wrangler and Cherokee models, and Chrysler's Neon subcompact faces stiff competition from redesigned Honda Civics and Ford Escorts. Chrysler's trucks now rank above average in J.D. Power quality surveys, but many of its cars continue to have a bad reputation. "It's almost like two companies, and the challenge is to upgrade the cars," says independent auto analyst Scott Merlis.
Still, even Chrysler executives were wide-eyed when the company's truck sales surged ahead 30% in February vs. the same month a year ago--and car sales unexpectedly increased 7%. "We picked up market share across the board," says Chrysler sales chief James P. Holden. "My hope is that we can sustain it."
Chrysler's truck lineup is its big edge--that is, until another energy crisis hits. Trucks accounted for 70% of first-quarter production. New minivans posted sales gains of 35% and the Dodge Ram pickup 57% vs. the year-earlier period. High-profit Jeep Grand Cherokees also sold robustly. That's one reason Chrysler generates more than $18,000 in revenue per vehicle, $2,000 more than Ford and GM. "Chrysler continues to beat the socks off Ford and GM because they have products that the upscale customer wants," says Merlis.
With a lower cost base than its rivals, Chrysler is enjoying higher margins: Salomon Brothers Inc. estimates Chrysler will earn $892 million on revenues of $13.9 billion in the first quarter, for a 6.4% net margin. That compares with 4.4% at GM and 1.7% at Ford (chart). Chrysler's stock, which has been trading at about $57 recently, could hit $75 this year, says Lehman Brothers Inc. analyst Joseph Phillippi.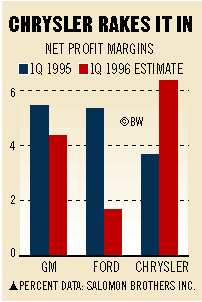 HOT PRODUCTS. The strong outlook for 1996 played a part in Chrysler's Feb. 8 truce with Kerkorian, the auto maker's largest shareholder, who agreed not to increase his 14% Chrysler stake for five years. Kerkorian backed off on a proxy fight to put top aide Jerome B. York on Chrysler's board partly because institutional investors enthusiastically supported Chrysler's management and its game plan. Says Eaton: "People wanted to see a fight, but I don't think there's any question that it's all over."
Now, the main challenge is to spin out some more hot new products. This fall, the midsize Dodge Dakota pickup gets a redesign to make it look more like the highly successful Rams. Models for 1998 will include all-new versions of the company's LH sedans and a new sport-utility for the Dodge brand. Eaton promises vigilant attention to manufacturing to improve quality. Even with the momentum going their way, Eaton & Co. don't want to rest on their laurels.
Before it's here, it's on the Bloomberg Terminal.
LEARN MORE