Can Teddy Bears Come Out Of The Woods?
Things fell apart fast for Vermont Teddy Bear after its big IPO--but it may be on the mend
Geoffrey Smith
It was every entrepreneur's dream. In 1990, John N. Sortino turned an $80,000 business selling stuffed bears from a pushcart into a $1.7 million company by pitching the toys on the radio. His promise to deliver cuddly, American-made bears by next-day air made his Vermont Teddy Bear Co. one of the fastest-growing small businesses in the country. Three years later, sales rocketed to $17 million. When Vermont Teddy Bear went public in December, 1993, Sortino reaped $15 million in paper profits.
Then last year, Vermont Teddy Bear had the stuffing knocked out of it. Barely 18 months after raising $10 million in the stock offering, the company was losing $330,000 a month and found itself unable to pay $2 million in debts. After a boardroom uprising last summer, new management, led by R. Patrick Burns, a former marketing executive at Walt Disney Co. and L.L. Bean Inc., is struggling to rebuild the company.
Vermont Teddy Bear fell into that familiar trap for entrepreneurial companies that suddenly take off: Founders with a great idea but no business experience launch a successful product--only to stumble once the business outgrows its kitchen-table origins. Sortino came up with a breakthrough marketing idea that ignited sales. But then, he expanded too fast, spent too much, and misjudged the potential of new markets, according to company directors and managers. "They were an inexperienced staff and didn't have the proper cost controls," says director James A. Mitarotonda, chief executive of Barington Capital Group in Burlington, Vt., which underwrote Vermont Teddy Bear's public offering.
Sortino, 44, began selling handmade stuffed bears on the streets of Burlington 15 years ago. Things didn't get much more sophisticated than that until 1990, when he got the idea of hiring radio personalities Don Imus and Howard Stern to hawk "Bear Grams" to their New York listeners. A call to an 800 number put customers through to "bear counselors," who helped them choose gifts ranging from Santa Bear to Ballerina Bear to a Gangster of Love Bear--complete with zoot suit. The gimmick worked, and business soared, despite the teddy bears' $60-plus price tags. When the company went public in November, 1993, its shares opened at 10 in over-the-counter trading and jumped to 17 in one day, briefly giving Vermont Teddy Bear a market value of $86 million.
SPENDING SPREE. It didn't take long for things to spiral out of control. Burns says that after the stock offering, management spent money "like a kid in a candy store going crazy." Says Sortino, who walked away with $600,000 in debt forgiveness and 19% of the stock: "I made a lot of mistakes."
One of the worst was to use $7 million of the $10 million in IPO proceeds to build a new corporate headquarters on a 57-acre tract in Shelburne, Vt. Long before the offices were completed last July, Vermont Teddy Bear's stock had slid to 4, where it has languished for the past year. No one disputes that the company needed more space, but Sortino should have financed the headquarters with bank debt to conserve cash, Burns says. Sortino now agrees.
Then, there was the inventory fiasco. In 1994, the company stockpiled $4 million worth of teddy bears--an increase of 65% from 1993--as the company's sales rose only 20%. Sortino was banking on a big surge from expanded radio ads in new U.S. markets, a race-car sponsorship tied to a stuffed bear named "Racer Ted," and a test-marketing foray in Britain. One big problem: Vermont teddy bears sold poorly outside the Northeast.
Things got worse fast. While sales went sideways, expenses kept rising. Losses totaled $2.4 million in the first six months of 1995. With cash reserves dwindling, banks refused to lend more money. Some $2 million in debts to radio stations and building contractors went unpaid for more than 90 days. Finally, a desperate board booted Sortino out last June and signed up Burns in August.
LOUSY IDEA? Under Burns's leadership, Vermont Teddy Bear is showing signs of coming out of hibernation. Since last August, he has slashed the workforce by 22%, to 175, mortgaged the headquarters for $3.5 million, and obtained bank credit lines of $1.5 million. Inventories are down 37%, and the company is current on its debt. But Vermont Teddy Bear is not out of the woods yet. In the December quarter, sales dropped 24% below their level a year earlier because a cash shortage forced cutbacks on both radio ads and the distribution of a catalog, Burns says. Losses totaled $177,000 for the period.
Amarnath Bhide, a professor of entrepreneurship at Harvard business school, questions whether shareholders will ever see a profit from their investment in Vermont Teddy Bear. He argues that the company's business of direct-marketing premium-priced bears is "not sustainable" because the market is too small, and that developing broader distribution channels would be too expensive. "This [company] was never a good idea to begin with," he says.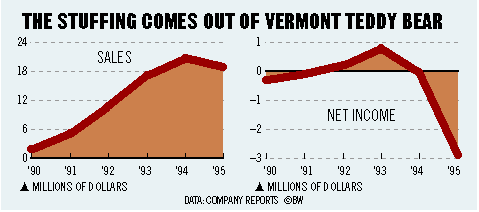 Not surprisingly, Burns disagrees. He says Vermont Teddy Bear will start making money again later this year and estimates sales growth of at least 5% to 10% in 1997. Burns's plan is to remake the business as a national brand using The Great American Teddy Bear as a brand name. He wants to open entertainment-oriented stores with bear-stuffing machines that will make bears on the spot for waiting customers and offer branded apparel, too. Already, he has hired an architect to draw up plans. But don't look for teddy bear boutiques at your local mall anytime soon. Burns is still saving up for the $600,000 needed to build the first store.
Before it's here, it's on the Bloomberg Terminal.
LEARN MORE