A Stronger Tailwind For Airbus?
As a private company, it could put more pressure on Boeing
Stewart Toy
In a bubbly moment he undoubtedly regrets, Jean Pierson, the feisty managing director of Airbus Industrie, predicted a year ago that in 1995 his European plane consortium might again outsell Boeing--as it narrowly did in 1994. That could have won Airbus its cherished goal: selling 50% of the world's big jets. Instead, Airbus' market share fell by more than half, to an embarrassing 18.9%, bumping the highflier from first place to third.
Airbus brass gamely call the plunge a blip. Yet a gnawing fear is spreading in the consortium that its rejuvenated U.S. rivals--Boeing Co. and McDonnell Douglas Corp.--could push Airbus permanently off course. As a result, the long-discussed conversion of Airbus from a pork-barrel alliance into a profit-oriented manufacturing company is winning the backing of its four partners: British Aerospace, Daimler Benz Aerospace, France's Aerospatiale, and Spain's CASA. A committee report on a new structure is due in June, to be followed by negotiations among the partners. If the makeover comes off, it should help Airbus crack Boeing's monopoly in the jumbo-jet market, the industry's most lucrative segment.
Airbus hopes its new design, the A3XX, will do the trick. The double-decker would haul 550 riders in three classes, or up to 800 in all-economy. Development would start in 1998, with the plane entering service by 2003. Its main rival: a stretched 747 with 500 to 600 seats that Boeing is expected to begin developing later this year.
A successful jumbo may be critical to Airbus' survival. Boeing uses its fat profits on the 747 to "subsidize" low-priced package deals of several models, says John J. Leahy, Airbus marketing vice-president. Industry sources say that tactic helped Boeing win a $4 billion order in January from Malaysia Airlines for 747s and 777s. And Airbus thinks jumbos are the growth vehicle of the future. Planes above 500 seats will account for 25% of industry revenues over the next 20 years, Leahy believes. This segment doesn't exist now: The biggest 747 hauls some 480 riders.
To get the new plane soaring, the Europeans need cash--some $10 billion--and low-cost production. Airbus lacks both. A marketing co-op, Airbus sells planes its partners build from their own components--with no outside competition. In the likely new arrangement, the partners would trade assets they use in Airbus work for shares in an independent Airbus. The new company would seek low-cost subcontractors in Asia and the U.S. And it could raise equity capital. Government loans now are limited by international agreement to 30% of development costs.
"All the partners are agreed to create a single [independent] entity" at Airbus, says Manfred Bischoff, CEO of Daimler Benz Aerospace. British Aerospace has pushed the idea to its skeptical partners for a decade. Now the key holdout, France's Aerospatiale, is coming around. Chairman Louis Gallois thinks a change in Airbus' structure is essential to build efficiency. British sources say recent merger talks between Boeing and McDonnell Douglas--although they failed--also scared the partners into agreement.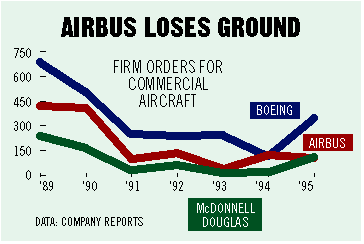 MIXED NEWS. Efficiency didn't matter so much for Airbus in the past, when competition was less intense and it had more government aid. But as Airbus' market share grew, Boeing began to slash production costs. That has let it become the industry's most aggressive marketer, a role once played by Airbus. Even though Boeing has undercut Airbus' prices, the U.S. company's profit margins are at least triple those of Airbus, figures analyst Nicholas P. Heymann at NatWest Securities Corp. No one really knows--not even Airbus--because cost numbers are buried in its partners' private accounts.
A sleeker Airbus would be mixed news for U.S. rivals. Boeing has sought for years to force financial disclosure on Airbus to make sure competition is fair. But, "if Airbus operates more efficiently, that's negative for us," says Ray Waldmann, Boeing's international vice-president. Airbus executives think their makeover will put pressure back on Boeing. And they still expect to win 50% of the market. Sobered last year, however, their forecast now is less optimistic: soon after the year 2000.