Yankee Chicken, Go Home
Moscow has a beef about U.S. poultry standards
Stephanie Anderson Forest
Russian citizens have been menaced by nuclear fallout and organized crime that makes Mafia doings look tame. But now the government has fingered a new enemy: American chickens. The Russians want to ban U.S. birds, claiming a risk of food poisoning from American chickens. The two nations are negotiating, but if an agreement isn't reached by Mar. 19, the Russians could permanently clip the wings of American poultry processors.
That raises a question: Are American birds really bad? Most U.S. food-safety experts think not.
Sure, U.S. processors have long been criticized for lacing chickens with chemicals and hormones. And a 1995 U.S. Agriculture Dept. study estimates that Salmonella and Campylobacter in meat and poultry cause a shocking 4 million cases of illness and 3,000 deaths a year, a third of all U.S. food-poisoning deaths.
But Russian birds are certainly no cleaner. Once nicknamed "blue birds" because many looked as if they had died of the cold, they're generally sold in open-air markets. They're also scrawny by U.S. standards. Many Russian consumers snap up "Bush legs"--the nickname for the legs and thighs that began flooding Russia's market when President Bush was in office. Last year, the U.S. shipped processed chicken worth $517 million to Russia.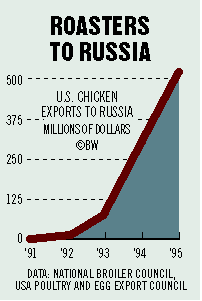 FUNNY SMELL. Still, many Russians prefer domestic chickens. They say the leaner, tougher birds make a better soup. "Russian chickens taste better than American ones," says Elena Preobrezhenskaya, a Moscow sculptor. "They're more natural. When you broil an American chicken, you can smell chemicals."
However, Ludmilla Grinyova, a cook for a Moscow dental clinic, concedes that Russian sanitary standards are so low that Russia may be applying a double standard: "If the government halts imports of U.S. chicken, it's not due to consumer preference." Unless the two nations set aside their differences, a lot fewer chickens will get to the other side.
Before it's here, it's on the Bloomberg Terminal.
LEARN MORE