U.S.: After The `Soft Patch,' Firmer Ground Ahead
By
So where's the collapse? Under the weight of a government shutdown, labor strikes, and the winter from hell, the January data were supposed to tumble like bowling pins.
True, the reports look weak, but readings on everything from retail sales to housing starts to industrial production have failed to cave in the way many analysts had feared. Early-bird February reports even offer glimmers of a rebound. Add in the encouraging trends in inventories and foreign trade, and the economy appears headed toward firmer ground as it crawls out of what Federal Reserve Chairman Alan Greenspan calls its "soft patch."
Growth is not so ebullient as to preclude further cuts in interest rates, however. That's especially true with January inflation remaining so tame at both the producer and the consumer levels.
The economy's softness was evident in the fourth quarter. The Commerce Dept. reported that real gross domestic product grew at an annual rate of only 0.9% last quarter, down from a sturdy 3.6% pace in the third quarter. First-quarter growth could come in even worse.
But look beneath the fourth quarter's headline number and you'll see why the early first-quarter data are holding up better than expected and why the second-quarter outlook is a lot brighter.
FIRST, WHILE CONSUMER SPENDING slowed from a 2.8% pace to only 0.8%, the monthly retail sales data show that shoppers ended the fourth quarter on a solid note. January sales, while down, still began this quarter above last quarter's level. And February reports look promising.
Another big drag on fourth-quarter GDP was slower inventory growth, but that's a plus for 1996 production. Businesses have been adding to their stockpiles at a reduced rate for a year and a half (chart). The fourth-quarter pace was close to the historical norm, suggesting that the inventory adjustment is nearly finished, except for a lingering problem in the auto industry.
Also, a sharp drop in spending by the federal government overshadowed accelerations in the growth of business-equipment investment and exports. The shutdown accounted for some of the 12% plunge in government demand, but defense spending also took a dive. Excluding the federal government--less than 7% of GDP--the economy grew nearly 2% last quarter, and overall demand increased almost 3%.
A lot of that demand came from overseas. Fourth-quarter exports grew 10.9%, and the pace accelerated in each quarter of 1995. At the same time, imports slowed in each successive quarter, with almost no growth at yearend. The December trade deficit rose slightly to $6.8 billion, from $6.7 billion in November, but those two readings were the lowest in two years.
As a result, fourth-quarter net exports posted the largest quarterly improvement in five years. Exports should continue to grow faster than imports in 1996, providing another prop under economic growth.
Japan's fast-shrinking trade surplus with the U.S. has accounted for some of the narrowing in the U.S. gap. After factoring in seasonal adjustment by BUSINESS WEEK, data from Japan's Ministry of Finance show that, in the three months ended in January, the surplus averaged $2.7 billion. That's down 42%, from $4.5 billion in the same period a year ago (chart). Further improvement is likely.
In addition, Mexico's recession shows signs of having bottomed out. That means the drag on U.S. exports created by the peso crisis is easing.
HELP FROM TRADE and inventories is always welcome, of course, but consumers account for two-thirds of GDP. Although economic anxiety may fill this year's Presidential campaign rhetoric, there is nothing particularly worrisome in the recent trend of income growth, and consumers are confident enough to help move the expansion forward.
True, retail sales slipped 0.3% in January, as snow-weary consumers put off purchasing big-ticket items, but spending in November and December was revised higher. January sales of nondurable goods rose 0.2%, led by increased buying at grocery stores and pharmacies. The weekly store surveys done by Mitsubishi Bank/Schroder Wertheim and the Johnson Redbook Service indicated that retail buying bounced back in February.
So did confidence. The Conference Board's index of consumer confidence jumped back to 97 in February, regaining nearly all of its 11-point tumble in January, to 88.4 (chart). The indexes of consumers' appraisal of current conditions and expectations for the future both rebounded.
Optimism may be holding at a fairly high level because income growth hasn't folded even with the slowdown in job gains. In 1995's second half, real disposable income grew at a 4% annual rate, more than double the 1.8% pace of spending. Because work time fell during the blizzard, January personal income likely suffered from frostbite. February's jump in confidence, however, suggests that earnings haven't dried up.
STEADY INCOME GROWTH and high expectations help to explain the unexpected 4.4% increase in housing starts in January, to an annual rate of 1.45 million. Given the bad weather, starts were expected to have dropped sharply. But California's recovery buoyed the total: Housing starts in the West increased a big 15.2% in January.
Like retailing, housing started this quarter above its fourth-quarter average. However, the recent sell-off in the bond market, if not reversed, may hinder future activity. The 30-year fixed mortgage rate is above 7.2% again, and loan applications to buy a home have fallen since December, even though refinancing activity continues to rise.
The best signal that bond yields will probably head down again in coming months is that low inflation is giving the Federal Reserve the room it needs to cut short-term rates. The producer price index of finished goods rose 0.3% in January, but excluding energy and food, the core index fell 0.1%. Except for a jump in energy costs, price pressures further back in the production pipeline were generally subsiding.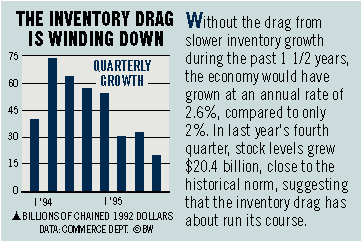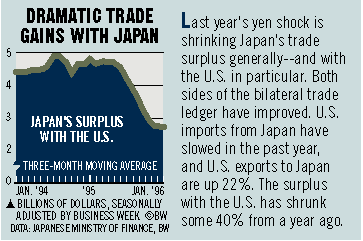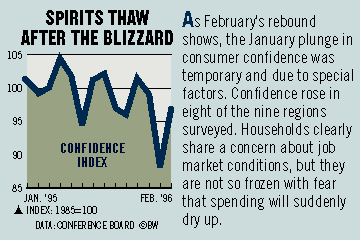 Higher energy prices also lifted the January consumer price index. The CPI rose 0.4% in the month, as energy costs jumped 2.1%. Excluding energy and food, the core index rose 0.3%, but part of that increase reflects an unusually large 0.7% surge in apparel prices. Clothing prices barely rose during 1995, and with too many apparel stores competing for customers, the January increase looks like a quirk in the data.
There's no question that the economy hit a bump in the road at the end of 1995, and a host of special factors have made the winter months difficult to read. But as new data are now beginning to show, the weakness is not so serious that the economy cannot shift back into a higher gear this spring.
Before it's here, it's on the Bloomberg Terminal.
LEARN MORE