Those Incredible Hulks From General Motors
Kathleen Kerwin
General Motors Corp. has missed out on a lot of opportunities over the years. But to fans of jumbo sport-utility vehicles, its Chevy Tahoe and GMC Yukon and the even larger Suburban are the best--and just about only--models around. "There's nobody else in this category," brags Dennis J. O'Donnell, brand manager for the GMC Yukon and Suburban. "We're in the catbird seat."
General Motors has reason to crow: These trucks are pure gold. "For the rest of the decade, large sport-utility vehicles will be the highest profitability segment of the market," explains Schroder Wertheim & Co. analyst John Casesa. He figures General Motors rakes in an eye-popping $8,000 per vehicle on large sport-utility vehicles (SUVs)--the equivalent of selling five Chevrolet Cavaliers. Just as important, sales of large SUVs are still rising, even after doubling in the past three years. Christopher W. Cedergren, an analyst at AutoPacific Inc., predicts that they will jump from 253,000 in 1995 to 475,000 by 2000.
LEATHER SEATS. Naturally, the competition isn't going to leave General Motors alone in this profit paradise. This fall, Ford Motor Co. will introduce the Expedition, a brawny, nine-passenger sport utility based on Dearborn's popular all-new F-150 pickup truck. "The Ford Expedition is going to be strong competition to Tahoe and Yukon," predicts Lehman Brothers Inc. analyst Joseph S. Phillippi. The Ford will sport dual air bags, forcing GM to follow suit this fall.
GM forged a big lead when it introduced the all-new Tahoe and Yukon last year. These beefy four-wheel-drive safari wagons can comfortably seat five or six, with plenty of cargo space. And Tahoe offers such goodies as leather seats, a CD player, and cup holders galore.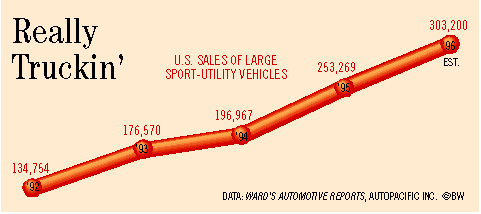 IGNORED SLOT. General Motors' other big hit, the gargantuan Suburban, was slumbering until a few years back, when the sport-utility craze gave it sudden cachet. When they talked to customers, General Motors' market planners realized there was a huge demand in this largely ignored slot. Turns out there are lots of folks who want to tow loads too heavy for a compact SUV such as the Chevy Blazer. However, many buyers don't want the Suburban's cavernous nine-passenger interior or parking-nightmare proportions. So GM conceived of the Tahoe and Yukon to fill the gap. Their popular four-door versions, accounting for 85% of sales, are nearly two feet shorter than the Suburban, making them a lot less like aircraft carriers when it comes to maneuvering into parking spaces.
General Motors' biggest worry with Tahoe may be whether the vehicle risks cannibalizing sales of GM's own smaller SUVs. "The tremendous success of Tahoe and Yukon has pirated sales away from Blazer and Jimmy," says AutoPacific's Cedergren. Ford, however, will have the same problem. Ford and General Motors managers argue that that risk is slight compared to the opportunity for fast-growing sales. And for GM, being king of the hill in a strong, lucrative chunk of the market is sweet indeed.