The Big Squeeze On Europe's Carmakers
If they can't boost sales abroad, several takeovers may loom
Stewart Toy
One of the titans of Europe's car industry, Fiat Chairman Gianni Agnelli, retired in February with one big regret. Agnelli, 75, wishes he could have merged Fiat with one or more of its competitors to form a European car group. "National egos always got in the way," laments Agnelli, who tried to merge Fiat with Citroen, Peugeot, and Ford of Europe. Agnelli figured that only a giant cargroup could prevail in tough European and global markets.
Agnelli is gone from the scene, but his analysis still makes sense. As they gather for the Geneva Motor Show on Mar. 5, Europe's car bosses are confronting another rough year in a lackluster home market. As a result, all of them are counting on export drives and offshore production to offset weakness at home. But if their overseas efforts founder, several of Europe's auto makers may yet succumb to a takeover, even without Agnelli around to spark a deal.
SPOOKED CONSUMERS. Europe's carmakers had hoped that a record 21 new models last year would reignite local sales. Some models were hits, such as Audi's $27,000 A4 sedan and Fiat's $11,000 subcompact Punto. But industry sales edged up just 0.6%. And as rising unemployment spooks consumers, this year looks only slightly better (chart).
Oddly enough, early sales numbers for 1996 are up. Car sales in Germany leaped 12% in January. But carmakers say that was a fluke caused by the late arrival in showrooms of models launched last fall, such as the Opel Vectra. In France, a January sales jump of 18% stemmed from deliveries postponed by transport strikes. Now, DRI/McGraw-Hill analyst Nigel Griffiths says he may cut his 1996 growth forecast for the European market to 2% from 2.5%.
Consumer angst is hitting profits. Volvo's car unit lost $124 million in the last quarter of 1995. Ford of Europe saw profits drop 9% for the year. Meanwhile, cash rebates, which eat into margins, have become the norm. For two years, for example, the government has paid rebates in France--up to $1,400 a car. Most manufacturers match that amount, meaning French motorists can get rebates of up to $2,800.
In this environment, auto makers will offer only 10 new models this year. Peugeot's Citroen unit is about to launch Saxo, a small car starting at $12,160. Fiat's Lancia unit will launch a Saxo rival called the Y. GM is introducing a minivan, the Sintra, which will be priced at roughly $32,000 in Europe. Especially crucial is Volvo's new S40. At about $27,000, the midsize car will compete against smaller BMWs and Mercedes. If the S40 bombs, analysts say shareholders could demand that Volvo seek a partner.
ROVER'S FOCUS. As they assess their gloomy market, Europe's auto makers figure they do have a few advantages. Most big companies have managed to contain costs, improve quality, and nearly wipe out debt loads. Earnings for GM/Opel were up in 1995, and gains are expected at Volkswagen, too. Some companies have cash troves--for example Volvo, which has $4 billion.
That strength is needed for a global push. "European markets are tough," so "we're concentrating on exports," says John Towers, chairman of Britain's Rover Group Holdings PLC, owned by BMW. Rover's sales outside Europe--especially in Japan and the U.S.--jumped 38% last year. Ford is also exporting 7% of its European-built Mondeos--28,500 cars--to southeast Asia, and is eyeing Japan.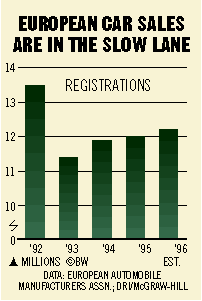 Overseas production is on the rise, too. In April, Fiat's Brazil operation will roll out the Palio, a subcompact "world car." Other Palio plants will follow in Argentina, Morocco, and perhaps South Africa. Citroen is expanding in China, while Peugeot is searching for a partner to make cars in the U.S. Volkswagen is also expanding in Brazil and solidifying its position as China's biggest auto maker.
Building plants abroad may not relieve chronic overcapacity in Europe. But if competition at home can't produce the much needed shakeout, rivalry in global markets may do the trick. Foreign ventures that flop will weaken companies, leaving them exposed to takeovers. The critical battles of Europe's car wars may take place in the showrooms of Sao Paulo or Chicago. From retirement, Gianni Agnelli will be cheering.
Before it's here, it's on the Bloomberg Terminal.
LEARN MORE