Putting Pep In Reebok's Step
by
Reebok has become a huge brand name with fans worldwide. But not on Wall Street, where it was once a star. Its luster has faded--along with its shares, now at 27, down from 40 in early 1995. Part of the reason: several quarters of disappointing earnings, caused by a miscalculated focus on low-priced shoes at the expense of its above-$85 footwear. So why are some smart-money investors buying into Reebok International (RBK)?
"Whispers of a takeover," asserts a New York investment manager. He says "very reliable" Swiss sources say a German conglomerate has been looking into Reebok as a possible target.
His sources insist the Germans are preparing a mid-40s offer for the shoe and apparel designer and maker. The company has 75.6 million shares outstanding, of which officers and directors own 10%. Stockholders have griped about management--after Reebok plunged 35% in 1995's bull market.
Late last year, "several institutional investors publicly questioned management's ability," notes analyst Elizabeth Vandeventer of Standard & Poor's. They said profits at rival Nike had grown while Reebok results weakened.
But she thinks Reebok is taking adequate steps for a turnaround--clearing out low-priced shoes, revamping products, and improving the cost structure.
So far, most observers aren't convinced. Only 3 of the 10 analysts who follow Reebok are projecting a decent rise in earnings, says Chuck Hill of First Call, a distributor of brokerage research. Estimates for 1996, he notes, run from $2.35 a share to $3.25. For 1997, the range is narrower--$2.80 to $3. Reebok earned $2.64 last year.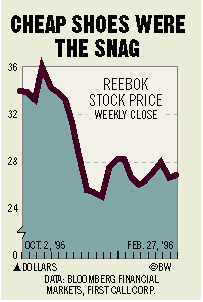 Analysts blame poor earnings on softness in U.S. shoe sales. Reebok position is worsened by lack of a strong product line, says Jonathan Ferguson of Value Line. Reebok's efforts to improve its products won't take hold until late this summer, he says. So he thinks gross profit margins, which dropped to 37.4% in the fourth quarter, from 41.4% a year ago, will continue to come under pressure.
Reebok's woes, says the New York money manager, make it vulnerable to a takeover. Disenchanted shareholders, he believes, would welcome a savior. Among those with a big stake: Lazard Freres, Oppenheimer Group, and Fidelity Investments. Reebok spokeswoman Kate Burnham declined comment.
Before it's here, it's on the Bloomberg Terminal.
LEARN MORE