Pdvsa Is Stepping On The Gas With Citgo
Its Venezuelan parent is blasting full-throttle into the U.S.
Gary Mcwilliams and Jane Knight
Amid the welter of U.S. gas-station logos, none is more visible nowadays than Citgo Petroleum Corp.'s triangular emblem. Its outlets grew in number to 14,000 last year, surpassing the 13,800 bearing rival Texaco Inc.'s star (chart). What most motorists filling up with Citgo gas don't know is that its red-white-and-blue emblem is the symbol of a massive push into the U.S. by parent Petroleos de Venezuela (PDVSA), the $22 billion Venezuelan state oil company. It's also the signal of a drive by key producers in OPEC to lock up shares in global markets by investing heavily in "downstream" refining and retailing as the cartel loses its hold on crude supplies and prices.
None is more aggressive than PDVSA, a protected monopoly in its home market that is competing head-on against Big Oil in the U.S. and launching ambitious expansion plans across Latin America. "We believe that the fundamentals of the oil business indicate you should be as integrated as possible," says PDVSA President Luis E. Giusti. Last year, PDVSA became the biggest supplier of crude oil and products to the U.S., knocking Saudi Aramco from the perch it had held since 1987 (chart).
Tulsa-based Citgo, PDVSA's $10 billion U.S. refining and marketing subsidiary, has been growing at double-digit rates for eight years. To add to its six refineries in the U.S., PDVSA says it is discussing ventures with companies such as Phillips Petroleum Co. and Mobil Corp. that could add retailing strength.
Backing up PDVSA's downstream push is a drive to more than double Vene-zuela's upstream production, to 6.07 million barrels per day by 2005, up from some 2.9 million now. To reach those goals, Giusti is counting on help from Amoco, British Petroleum, Mobil, and other big companies that won rights to search for oil on potentially rich blocks PDVSA auctioned off in January.
Now Giusti, who started as an engineer with Royal Dutch/Shell Group, is out to prove that PDVSA can compete with Big Oil across an expanding international empire. PDVSA executives "have a very international thought process," says David C. Griffith, Venezuelan project manager for Conoco Inc., which plans a $1.4 billion joint venture with PDVSA to upgrade heavy oil from vast deposits along the Orinoco River. In Europe, PDVSA has a joint refining venture with Germany's Veba. And as the first move in a drive to carve off market shares throughout South America, PDVSA plans to open 20 gasoline stations in Ecuador this year.
COPYCATS. But Giusti's strategy calls for the lion's share of Venezuela's expanded production to be targeted at the U.S., which already takes 70% of PDVSA's output. With nearly half of its refining capacity of 2 million barrels per day concentrated in six U.S. plants, PDVSA is already behind a raging shakeout in the U.S. refining business, some analysts say. "Refining margins are terrible mainly because Citgo and the Saudis are moving crude oil through the system" to profit from oil production, says a U.S. refining executive who requests anonymity. Low margins recently forced Chevron and BP to sell U.S. refineries at rock-bottom prices or shutter them. PDVSA's full-bore approach to oil production, the executive predicts, will soon force one or more U.S. majors to make PDVSA a partner in their retail network.
Now, PDVSA's strategy of vertical integration is being embraced by other big OPEC members. Facing global market-share losses as non-OPEC production rises, Saudi Arabia and Kuwait are buying into refineries in fast-growing oil markets, such as the Philippines and India. The Saudis also are discussing a major refining venture in China.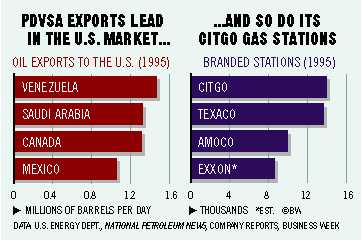 As Persian Gulf producers look to Asia, the Mideast's share of the U.S. market should drop by nearly half over the next five years. The shift could prompt a reappraisal of the U.S. security role in the Mideast. Will Americans willingly foot the bill to guarantee the security of China's and Japan's Mideast oil supplies? "That may pose some significant problems," says James Placke, a former U.S. diplomat who's now the Mideast director at Cambridge Energy Research Associates.
Meanwhile, Big Oil is entrenching itself in Venezuela. If foreign firms find oil, they'll form joint ventures with PDVSA to produce it. The biggest winner could be PDVSA if Big Oil's investments give it more scope to pursue its bold expansion at home and abroad.
Before it's here, it's on the Bloomberg Terminal.
LEARN MORE