Mexico: Crawling Out From Under
Elisabeth Malkin
After last year's economic free fall, some analysts say that a turnaround has begun in Mexico. But any upturn will be modest and slow-going.
Real gross domestic product shrank 6.6% last year. However, seasonally adjusted gains in the third and fourth quarters suggest that the worst times were back in the spring (chart). The monthly data also show the improvement. Both industrial activity and construction, one of the sectors hit hardest in the recession, increased in November.
Mexico's upturn will not be smooth, however. The Finance Ministry admits that with consumer demand weak, first-quarter GDP will drop between 2% and 3% from a year ago. More than 1 million people were thrown out of work last year, and neither government employment plans nor capital-intensive exporters will offset that loss. Workers have lost more than 20% of their purchasing power since the December, 1994, peso devaluation. Private forecasts expect prices to rise an additional 30% in 1996.
Officials are counting on strong exports to achieve the government's 3% growth target for all of 1996. Early data show that exports grew 28% in January from a year ago. That's in line with last year's 29% spurt, which made up for some of 1995's 16% estimated drop in domestic demand. The January trade figures also show a 16% rise in imports of raw materials and components, a sign that industry is planning to lift output.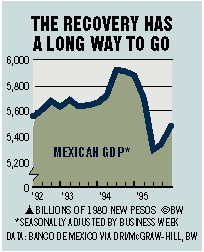 Rising inflation complicates the outlook. The peso, now stable at about 7.5 to the dollar, will likely weaken this year, and the Bank of Mexico will have to keep monetary policy tight. That may prolong the banking crisis by limiting credit as banks struggle to bring past-due loans under control. Only the flow of foreign funds into financial markets will lower interest rates enough to spark internal investment. But that won't come until investors are sure of the recovery's viability. For 1996, Mexico's exports will be about the only bright spot in a fragile economy.
Before it's here, it's on the Bloomberg Terminal.
LEARN MORE