Lord Of The Cyberpress
Thomson charges online with his West Publishing purchase
William C. Symonds
Although Kenneth R. Thomson is Canada's richest man, with a fortune of more than $5 billion, he has long had a reputation as a tightwad. The chairman of Thomson Corp. "acts and looks as if he were a small-town bank teller living near the poverty line," writes biographer Peter C. Newman. Thomson has been known to stock up on hamburger buns when they're on sale, Newman adds. So it's no wonder that jaws dropped when Thomson's company announced on Feb. 26 it would pay $3.4 billion for West Publishing Co., a specialist legal publisher. It was the most ever paid for such a specialty house.
It's also the most dramatic move yet in Thomson's bold plan to remake an empire built on newspapers for the emerging electronic-information age. Over the past year, Thomson has sold 46 U.S. and Canadian papers and all of his British newspaper holdings for a total of $1 billion. That's a remarkable retreat for a man whose title--Lord Thomson of Fleet--reflects the dominant role he once played on London's Fleet Street, onetime hub of the British press.
NICHE MARKETS. Meanwhile, Thomson has been charging into electronic publishing by snapping up companies that provide specialized information for professionals such as doctors, lawyers, and librarians (chart). When the West acquisition is completed, such specialized publishing will account for more than half of Thomson's sales and 70% of its operating profit. In 1995, Thomson earned an estimated $450 million on sales of about $7 billion. The company's goal, says President W. Michael Brown, "is to become the world's foremost publisher" of such information.
So far, the strategy seems to be working. Most newspaper companies are offering online versions of their papers but making little money at it. In contrast, Thomson is targeting niche markets, where professionals are willing to pay a hefty premium. The company is one of the few that have figured out how to "make a lot of money from electronic publishing," says John Morton, a media analyst at New York brokerage Lynch, Jones & Ryan Inc.
West fits right into Thomson's new strategy. Although the privately owned company has been providing court-case reports and other primary legal documents since 1872, exploding online demand has made "the past three years our strongest ever," says West President Vance K. Opperman. Last year brought a record operating profit of $206 million on sales of $827 million.
But last fall, West, looking for more resources to exploit electronic opportunities, put itself up for sale. "Thomson was clearly the best alternative," says Opperman, partly because it already has an $800 million legal-publishing unit that analyzes primary documents provided by companies such as West.
Yet even its admirers worry that Thomson paid too much. Its $3.4 billion bid is more than twice the $1.5 billion that Anglo-Dutch publisher Reed Elsevier PLC paid for rival Lexis/Nexis in 1994, although Reed notes West is twice as profitable. And the deal pushes Thomson's ratio of debt to total capital from 37% to 55%. Citing the "financial risk associated with [such] high leverage," Toronto's Dominion Bond Rating Service slashed Thomson's credit rating by three notches, to A (low). The deal "could cause some short-term indigestion for Thomson," warns Murray Grossner, an analyst at CIBC Wood Gundy. Thomson concedes that interest charges on the $3.4 billion purchase will hurt earnings this year. But over time, "this transaction will stand up extremely well," says Thomson Chief Financial Officer Nigel R. Harrison.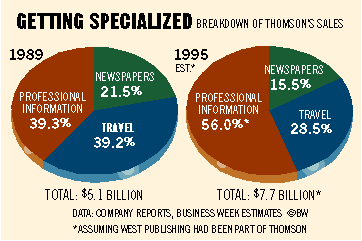 UNPREDICTABLE. In any case, Lord Thomson isn't a man to lose sleep over short-term risks. Indeed, the 72-year-old Thomson, who with his family controls 72% of the stock, thinks about little other than the long term--leaving day-to-day management to Brown. The press lord doesn't see many big opportunities ahead in the mature newspaper business. He's betting on the Information Revolution.
It's hardly a risk-free strategy. These specialized markets are far more unpredictable and competitive than Thomson's traditional bastions in travel and newspapers. But Brown predicts the strategy will enable Thomson to expand its revenues by 11% a year, making it a $10 billion company by 2000. Such growth would be the envy of any newspaper publisher. Then again, that's one reason Lord Thomson of Fleet is looking far beyond Fleet Street.
Before it's here, it's on the Bloomberg Terminal.
LEARN MORE