Commentary: A Free Phone Market In Japan? Don't Hold Your Breath
Steven V. Brull
It's a crucial test of what the word "deregulation" means in Japan. Bureaucrats once again are wrestling with the idea of breaking up Nippon Telegraph & Telephone Corp. (NTT), Japan's rough equivalent of America's old AT&T monopoly. They're reacting to a much-heralded report from a committee that advises the Ministry of Posts & Telecommunications (MPT). And since billions of dollars in equipment orders hinge on NTT's status, foreign companies are also watching impatiently.
The report favors breaking the $58 billion goliath into two regional monopolies handling local calls and a third that combines long-distance and international service. But even if the committee's advice is heeded, it won't lead quickly to a free market that serves consumers. It also won't do much to help foreign suppliers crack the Japanese market. Japan, meantime, is likely to remain far behind the U.S. in terms of reaping the rewards of cyberspace.
While the Japanese public is genuinely concerned that regulatory red tape is stifling Japan's global competitiveness, the NTT breakup script won't solve the problem. Anticompetitive practices will likely continue, with the powerful new regionals finding ways to hamstring entrants to the market.
There's little doubt that NTT's twin hats in local and long-distance markets thwart competition. The most famous example: NTT's control of a nationwide local network lets it charge competitors in the long-distance market high "access" fees for connection to customers' homes. That drives up long-distance charges, which are currently 2.5 times that of the U.S., according to Kyo Ota, an analyst at Nomura Research Institute Ltd. Dedicated corporate lines cost nearly three times as much in Japan. Internet access can run 30 times as high, and the fee for a new line of any sort is an absurd $700.
So where does the blame for this mess belong? It is shared by the MPT and the politicians, because collectively they have failed to police NTT in the 10 years since the company was nominally "privatized." Both groups find it easy to shirk the blame, since there is no clear legal framework for encouraging competition. "Without [real] deregulation, breaking up NTT isn't going to mean much for foreign companies," said Gordon Togasaki, executive adviser to Northern Telecom, the biggest foreign supplier to NTT.
Japanese bureaucrats championing the breakup of NTT bear little resemblance to Americans who called for AT&T's dismantling in the 1980s. Instead of talking about antitrust, they worry about Japan falling behind other countries. It's a valid concern but has nothing to do with NTT. One decade after splitting up AT&T, America has just passed a telecom act that lets Ma Bell, the Baby Bells, and cable TV companies all attack each others' markets.
Why wouldn't the humbling of NTT mean bigger bucks for American and European companies fighting for equipment orders? The reason is that the divestiture as currently planned might close as many doors as it would open. Since 1981, foreigners have benefited from agreements between the U.S. and Japanese governments forbidding NTT from discriminating against American companies in its procurement. Even so, foreign suppliers managed to win just 7% of $18.4 billion NTT spent on capital equipment last year. After the breakup, the same suppliers could get even less, since the new regionals wouldn't be bound by the old bilateral agreements.
POWER PLAYS. Beyond that, a new Japanese player could emerge in global markets. The long-distance unit that might result from the breakup, unlike NTT today, could operate freely overseas. Leveraging its domestic clout, it would quickly outgrow Japan's current international carrier, KDD, and start giving AT&T, British Telecommunications, and Deutsche Telekom a run for their money, particularly in China and Southeast Asia.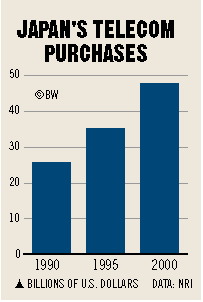 Prime Minister Ryutaro Hashimoto purports to favor broad deregulation throughout the economy. But real action is unlikely this year. With a general election looming, Hashimoto is loath to antagonize NTT's huge labor union. And NTT President Masashi Kojima continues to argue eloquently for the status quo on the grounds that a downsized giant could never bankroll the research projects Japan needs to upgrade its communications infrastructure. Ultimately, the breakup is a sideshow to deregulation. If Japan wants to keep up with trends in the West, it should drop these bureaucratic power plays and allow market forces to spur competition.
Before it's here, it's on the Bloomberg Terminal.
LEARN MORE