What's Feeding The Gloom And Doom Bears
Mike Mcnamee
So you think the fourth-quarter slowdown in profits was bad? Get ready for 1996. "We're clearly on the verge of recession," says Edward E. Yardeni, chief economist at Deutsche Morgan Grenfell. He thinks that 1996 profits will fall 10% below 1995 earnings as a worldwide deflationary cycle takes hold.
Welcome to the dark and dreary world of the recession bears. With the storm-battered economy showing signs of weakness, a small but growing band of experts believes that the U.S. is already in a downturn--or will be by midyear. Although way out of step with the consensus opinion--that gross domestic product will rise at an annual rate of 2.3% in 1996--the bears' stance is gaining favor among those who think that the booming stock market is overdue for a correction. Those investors who remain bullish "must be looking well beyond this year's economy," says David H. Resler, chief economist at Nomura Securities International Inc.
What signs do the bears see that others are ignoring? For starters, the money supply is shrinking at a 2.2% rate, reflecting weakening demand. And the National Association of Purchasing Management's survey of members has shown steady declines in their economic outlook for months, "clearly flashing a recession warning," Resler says.
Certainly, manufacturing is taking a beating. In today's environment, producers can't raise prices (chart), so they must squeeze costs and trim payrolls. Factories lost 250,000 jobs last year. Consumers, too, are retrenching, as the slower-than-expected December retail sales growth of 0.3% shows. And even though government spending usually rises in election years, the budget stalemate will keep Washington riding the brake.
Missing from the bears' tale of woe so far is the shock--from a new round of rate hikes, inventory corrections, inflation, politics, or some unforeseen event--that typically serves as the catalyst for a recession. But pessimists have plenty of candidates. The winter storms could tip the economy, Resler says. Maureen Allyn, chief economist at Scudder, Stevens & Clark Inc., thinks consumers could pull the trigger by slashing total debt, which is at record levels relative to income. She expects 1996 earnings-per-share for companies in the Standard & Poor's 500-stock index to fall 8% below 1995's profits.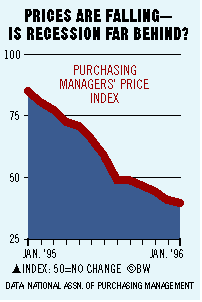 MISSED THE BOAT. Others argue that the rate hikes engineered by the Federal Reserve Board starting in 1994 are taking their toll. They think it's too late to prevent a downturn even if the Fed continues more recent moves to bring rates back down. Yardeni believes the Fed did not do enough last year to reverse the downward move it started. "The best they can do," he says, "is set up a better 1997."
But forecasters with rosier predictions dismiss such a prospect. "Except after the Korean War, the U.S. has never gone into recession without the Fed raising rates--and the Fed quit hiking 15 months ago," insists Roger Brinner, chief economist at DRI/McGraw-Hill. Along with most other economists, Brinner maintains that the U.S. is enjoying a full-employment economy and steady, if slow, growth. For now, at least, the gloom-and-doom bears provide just a faint, though persistent, growl on the horizon.
Before it's here, it's on the Bloomberg Terminal.
LEARN MORE