business
War Of The Web
Waves of upstarts are storming into the no-frills market
Paul M. Eng
No sooner did the Internet's World Wide Web streak onto the scene two years ago than pundits began predicting the demise of commercial online services such as America Online Inc., CompuServe Inc., and Prodigy. After all, if the Internet connects millions of PC users to computers around the world for peanuts, who would pay $9.95 a month plus $2.95 an hour after five hours for a far more limited cyberspace experience?
The pundits were premature. Not only have all three services survived, AOL has experienced its best growth ever. Since 1994, the service (which carries BUSINESS WEEK Online) has doubled, to more than 5 million members, making it No.1. For the quarter ended Dec. 31, AOL reported a record $249 million in revenues, with net income of nearly $10.6 million. That compares with a loss of more than $38 million in the same period the year before, on revenues of only $76 million. AOL's formula: By constantly updating its service with new features and content, it has kept the public logging on.
SELLING OUT? Its rivals, both subsidiaries of large corporations, haven't kept up. But both may be getting ready for rebirth. On Feb. 20, H&R Block Inc. announced plans to split off CompuServe and offer 20% of the company in a public stock offering. Potentially, that gives CompuServe, which now has 4.4 million members and had an estimated $203 million in revenues last quarter, the freedom and cash to go after the lead again.
Just a day later, Sears, Roebuck & Co. CEO Arthur Martinez announced the retailer had finally decided to sell its 50% stake in Prodigy. If IBM buys out Sears, it can pump fresh resources into the flagging service. If IBM sells out, too, Prodigy could set up shop as an independent.
For all three services, the next year or two will bring enormous challenges. While the Web hasn't dealt a death blow, it remains a threat. Forrester Research Inc. predicts that membership in commercial services will probably top 15.8 million in the U.S. by 1998 (chart). While that is more than a threefold increase from predictions made just last July, Forrester analyst William M. Bluestein still maintains that online services as we know them are going to fade. "They won't fall off a cliff, but they'll be put off center stage," he says now.
The spotlight will shift to Internet service providers (ISPs)--outfits that, for a flat, monthly fee, give unlimited access to the Internet and Web. Forrester estimates that ISPs could claim as many as 32 million online subscribers in the U.S. by 2000, vs. 12.7 million for online service providers. It won't be a zero-sum game for the online companies, however. Both AOL and CompuServe now have separate Internet-only services to grab a chunk of the new market, too.
STREAM OF DEFECTORS. The Web market is ripe for taking. Most ISPs are tiny and limited in geographic coverage. The biggest, Netcom Online Communication Services Inc. of San Jose, Calif., mushroomed from just 70,000 to 307,000 subscribers when it started marketing nationwide access in 1995. Many of the new recruits, says John E. Zeisler, vice-president of marketing, were defectors from online services. "What people do online are E-mail, Web-browsing, and chat," says Zeisler. "The economics are cheaper with flat-fee ISPs."
Indeed, what the ISPs sell is cheap, unlimited access. International Discount Telecommunications (IDT) Corp., based in Hackensack, N.J., runs print ads claiming that if a Net surfer spent every hour of the month online with AOL, it would cost more than $2,100, vs. the flat $29.95 fee on IDT. While it's not likely any AOL member would ever run up such a bill (AOL claims the average tab is between $18 and $20), the message has worked. IDT says membership has jumped to 70,000, from 34,000 in October when the campaign began.
The battle for Web access is about to escalate. In addition to AOL and CompuServe, phone giants including AT&T and MCI Communications Corp. are jumping in--with cost advantages and huge marketing budgets. "If [phone companies] can get even 5% of their customers to sign up for Internet access, then all of a sudden they're in the big leagues," says Mark Mooradian, an online analyst with New York-based Jupiter Communications Inc.
And the telcos are ready to roll. In late January, No.2 long-distance carrier MCI backed out of its year-old joint venture with content-rich News Corp. and teamed up with Microsoft Corp., which is now scuttling plans to operate its Microsoft Network (MSN) as a commercial online service. Now, MSN will become a Web access service--with special Microsoft-only areas. "I think it's a smart move for MCI," says Jupiter's Mooradian. "Having all of the MSN traffic going through all of its lines is a good advantage."
Meanwhile, No.1 AT&T has dropped plans to market Interchange, a proprietary online service it bought from publishing giant Ziff-Davis Publishing Co. In March, the company is expected to announce an Internet access service called WorldNet. It will be "competitively priced," says Tom Evslin, vice-president of gateway services for AT&T.
HELPING HAND. In addition to low price, the telcos are throwing in "value-added" features. For example, AT&T New Media Services--remnants of the defunct Interchange--will help businesses develop Web sites and online publications. To convince consumers that it's safe to shop on WorldNet, AT&T says it will cover the cost of any credit-card fraud that consumers may encounter--provided the purchase was made with AT&T's Universal Card. "We're removing the obstacles that prevent the two-thirds of PC owners from going online," says Evslin. "We're going after this in a really big way."
That has ISPs scrambling to beefup technical support and provide fresh amenities such as "filtering" to help members sort through the endless flotsam of information and Web sites. "The next step is not just access but to focus on the service," says Netcom's Zeisler.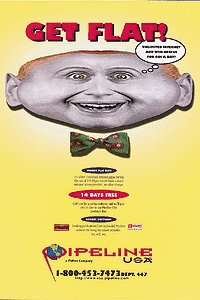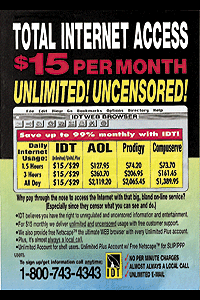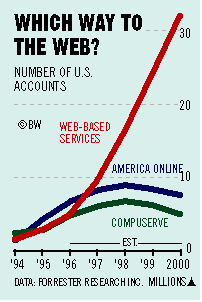 AOL, CompuServe, and Prodigy are also preparing for the onslaught. It has been relatively easy to keep customers so far. But outrunning the likes of AT&T and Microsoft will be harder. So the Big Three are trying to head off the threat, emphasizing the Internet links on their regular networks and pushing new all-Internet services. CompuServe just launched its $19.95-per-month Sprynet, and AOL says it signed 300,000 customers for its GNN service in three months. The price: $14.95 for 20 hours. Prodigy, now No.3, is testing a $1-per-hour Net access service with no monthly minimum. This way, if customers defect to the Net, the Big Three can still catch them.
Before it's here, it's on the Bloomberg Terminal.
LEARN MORE