Vw Is Back But For How Long?
A bloated workforce could undermine ambitious plans
David Woodruff
Three years ago this month, Ferdinand Piech made his first public appearance as chairman of German carmaker Volkswagen. Steely-eyed and intense after three months on the job, he declared that VW was in a state of "emergency." By yearend, Piech vowed, a shakeup would have the company back on course.
Sure enough, Piech's reign at Europe's biggest auto company has been among the most turbulent in its history. He has cleared out top management ranks through a string of firings. He brought in Jose Ignacio Lopez de Arriortua, a remorseless cost-cutter from General Motors Corp., to drive down prices at VW's suppliers. And Piech has gotten results: Although losses totaled $1.35 billion in 1993, VW has pulled back from crisis. At the annual press conference later in March, Piech is expected to report that 1995 profits have at least tripled, to $320 million, on sales of about $61 billion. In the past year, VW's share price has risen 57%, to $364.
But the company's turnaround is far from assured. VW remains one of the world's least efficient carmakers. Margins are razor-thin as aggressive rivals such as Fiat and Ford undercut VW's prices. The European auto market, which contributes 75% of VW's sales, is stalling, with growth expected to be no higher than 3% this year. Even more trouble looms as upstarts such as South Korea's Daewoo Corp. pour billions into plants in Central Europe.
IN THE BLOOD. The 58-year-old Piech, shy about granting interviews, declined to talk to BUSINESS WEEK for this story. But in a written response, he made clear that he is counting heavily on an ambitious plan to shrink VW's dizzying array of 16 platforms down to four by 1998 to solidify the company's recovery. "We are heading in the right direction, but we have not yet turned the corner," Piech wrote BUSINESS WEEK.
To do that, Piech must above all confront VW's expensive German workforce. Some 101,000 strong, it accounts for 42% of the group's 242,000 worldwide payroll and 58% of total wage costs. Piech himself estimates the company has 30,000 more workers than it needs. But VW's structure is extremely resistant to change. Launched by Adolf Hitler in the 1930s to make a "people's car" designed by Piech's grandfather Ferdinand Porsche, VW is still 20% owned by the German state of Lower Saxony. Unions wield huge influence from the factory floor to the supervisory board, preventing the kind of restructuring under way at other German blue-chip groups. Quips a prominent German banker: "VW is the last communist company in Europe."
Piech has done what he can to slash layers of VW management. In his first 13 months on the job, he cut VW's nine-member management board, which is responsible for day-to-day decision-making, down to six. He fired Juan Antonio Diaz Alvarez, longtime head of VW's SEAT unit. Dozens of other managers have subsequently been let go, and some former executives say Piech has created a climate of fear at VW.
Yet Piech has limited clout for cutting the workforce. The same board majority that backed management layoffs opposes any radical measures to furlough workers. And cost-cutting is crucial as car prices drop in Europe and companies scramble for market share. VW's 2% price hike at the end of 1995 failed to keep pace with inflation. Moreover, the company is pouring on incentives. Even so, VW models are often more expensive than rivals'. In Britain, the sticker price on a Ford Mondeo GLX sedan is $22,000, about $1,650 less than a similarly equipped Passat GL.
So Piech is hunkering down to implement his platform consolidation plan. His aim is to have similar-size models from all VW brands--VW, Audi, SEAT, and Czech Republic-based Skoda--share thousands of common parts, from steel floor pans to windshield-wiper motors. Explains Piech: With only four platforms, "we will be able to offer a much greater number of models than before while keeping their designs highly distinctive." Once in place, the strategy could add up to $455 million in pretax profits, or about $150 a car, says Schroder Munchmeyer Hengst & Co., a Frankfurt investment company.
But the one-size-fits-all strategy has risks. It could tarnish the sporty, high-tech image that Audi has worked so hard to create. And for VW's bargain-basement models, the strategy poses the opposite problem. The steel structure that makes Audi and VW handle well on bumpy roads at Autobahn speeds will probably add unwanted cost to the cut-rate cars, say former VW engineers. That could force the brands to raise prices, making it harder to compete with Korean and other rivals.
Lopez' supplier strategy faces roadblocks, too. Using tactics honed at GM's European and U.S. operations, he broke long-term contracts and put nearly every part up for bid. Some components shifted from German suppliers to lower-cost rivals in such places as Spain. But such savings can go only so far. To keep extra workers busy, says Bernd Sudholt, vice-chairman of VW's worker council, management "is under pressure to do more in-sourcing."
While Piech tangles with problems in Germany, he's also trying to clean up after the pell-mell overseas expansion launched by his predecessor, Carl Hahn. The Brazilian subsidiary, which split from a joint venture with Ford Motor Co. in 1995 and earned an estimated $675 million in net income last year, is purring along smoothly, but other regions demand closer attention. The most pressing case remains SEAT, VW's Spanish subsidiary. Losses shrank to $150 million last year, from $1.1 billion in 1993, partly thanks to an accounting shuffle, analysts say. But the unit is saddled with huge interest payments on its new $1.9 billion plant in Martorell.
At Skoda, Piech slashed by 50% Hahn's plans to inject $5 billion to upgrade plants, expand capacity, and freshen the model lineup. Platform consolidation will likely make Skoda models increasingly similar to those at SEAT and VW. At that point, Piech must decide whether it makes sense to keep such a small brand alive.
Meanwhile, thanks to the peso devaluation, stumbling economy, and scarce credit in Mexico, sales in 1995 plunged 79% and losses totaled an estimated $140 million. VW's low-income niche is being eroded by Nissan Motor Co.'s Tsuru and GM's Chevrolet. A new Beetle, code-named Concept One, starts production in 1997. But its $12,000 sticker price will be high for Mexico, and most of the cars will be exported.
BIGGEST PERIL. Even in China, where VW is the market leader with a 55% share, new competitors are gearing up. In 1998, GM plans to begin selling Buicks that will rival VW's somewhat stale $18,000 Santana and $25,000 Santana 2000. VW aims to defend its lead. After sales surged 49% last year, to 221,000, the company decided to expand its main plant in Shanghai and launch a joint venture in Changchun in the north.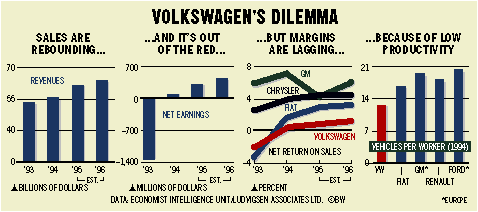 Taken together, VW's challenges abroad and at home illustrate the fragility of Piech's turnaround. Even if all goes well, he needs a few more years of steady sales to carry out his rebound plan. By then, VW reasons, attrition will have pared the workforce by an additional 20,000 or so and engineers will have had time to work the kinks out of the platform-consolidation strategy.
The biggest danger for Piech is that some force beyond his control will upset VW's recovery. If Europe's economy slows and consumers close their wallets, VW may again veer off course. And as competition in the global auto market grows fiercer, he will come under pressure to speed up his deliberate strategy. With his professional reputation and his grandfather's company on the line, Piech's tough strategy and style aren't likely to mellow any time soon.