The Rush For The Diamonds Beneath The Ice
Huge diamond finds in Canada's Northwest Territories could shake the global cartel
William C. Symonds
Few spots in North America are as remote and forbidding as Koala, the mining camp of BHP Diamonds Inc. in Canada's Northwest Territories. Trucks can drive there only during three months in midwinter, crossing frozen lakes and tundra on a treacherous, 475-kilometer "ice road" from the town of Yellowknife. Often they are halted by blinding whiteouts caused by wind-whipped snow. "This is Canada's last frontier," says Don Morin, Premier of the Northwest Territories.
For diamond miners, this frigid landscape also is one of the world's hottest spots. Since the fabulously rich find near Koala in 1991, Canada's biggest-ever mining rush has discovered dozens of "pipes," or deep columns of diamond-bearing kimberlite rock, beneath small lakes in the tundra. Global heavyweights such as RTZ Corp. and De Beers Consolidated Mines Ltd. have joined Australia's Broken Hill Proprietary Co. (BHP) in a race to extract these buried treasures. "Canada will join the ranks of the world's major diamond producers," predicts John Hainey, a mining analyst at Toronto-based Eagle & Partners.
New big-time production could weaken the global diamond marketing cartel run by De Beers, the South African giant, if Canadian miners decide to sell their output outside the cartel. So far, De Beers has flopped in its own search for diamonds in Canada.
TOP QUALITY. Canada's potential is reflected in output estimates for the $900 million Koala project, North America's first world-scale diamond mine. If the Canadian government gives its environmental approval this summer, BHP hopes to begin producing 3 million to 4 million carats annually from five pipes by 1998. That's about 3% of the 111 million carats mined worldwide last year, according to Antwerp-based Terraconsult. But BHP's pipes contain an unusually high percentage of top-quality gem diamonds, so its output should fetch $400 million a year--or about 6% of last year's $6.4 billion global diamond production--predicts mining analyst David R. James at Canaccord Capital Corp.
If RTZ's Kennecott Canada subsidiary brings onstream a promising find near Koala, as expected, "by 2000, Canada could represent 12% to 13% of world production" by value, James figures. That could be just the beginning, with many more pipes still being explored.
For mighty De Beers, that's a galling prospect. Although it was among the first to explore the Northwest Territories, "we haven't found anything that we could take to an advanced stage," says Todd McKinlay, manager of Western Canada for Monopros, De Beers's Canadian exploration arm. "They totally missed the ball by letting the Canadian junior-exploration companies scoop up all the best ground," says Dorothy Atkinson, Vancouver-based analyst for Whalen, Beliveau & Associates. Now playing catch-up, De Beers has signed three joint ventures with small "junior" prospectors.
TIGHT GRIP. De Beers's other worry is that the market clout of its legendary cartel, the London-based Central Selling Organisation (CSO), could be diminished. Terraconsult calculates that the CSO handled just 63% of world gem diamond sales last year, down from its traditional 70% to 80% share, mainly because of Russian and African sales outside the CSO. "Should [Canadian] producers go their own way, we risk a repeat of the situation of yesteryear," De Beers Director George F.H. Burne warned a Toronto diamond conference last fall. He was referring to the market turmoil a century ago until Cecil Rhodes established De Beers's dominance. Erosion of the CSO's price-propping power, Burne implied, would weaken the South African giant's role as the "custodian of the prosperity of the industry."
Ironically, De Beers's near-monopoly is a key reason why it took so long for diamonds to be discovered in North America. Its tight grip "discouraged people from looking for diamonds," says Tom Hoefer, president of the Northwest Territories' Chamber of Mines, adding that geologists trained in Canada and the U.S. typically learned almost nothing about the gems. "Only oddballs were willing to give diamonds a shot in North America," says Mike Waldman, a Colorado-based geologist for Australia's CRA Diamonds.
"Oddball" is how his more charitable peers once regarded geologist Charles Fipke, who ultimately discovered Canada's diamonds. After years of globetrotting, Fipke returned to Canada and formed Dia Met Minerals Ltd. in 1983 to finance his diamond quest. Fipke tracked indicator minerals across hundreds of miles of tundra to the 1991 payoff: his discovery of the huge deposit near Lac de Gras that is now part of BHP's proposed mine.
Fipke's find set off a furious rush by more than 200 companies to stake claims around Yellowknife, a town of 17,000 people, up from 10,000 a decade ago. Much of the best land was snapped up by small Vancouver-based companies such as Aber Resources Ltd. and Mountain Province Mining. Formed in 1986 by Paul Shatzko, a retired radiologist pursuing a hobby, Mountain Province still has a staff of only six. Shatzko contracts out most exploration work, which he finances by selling stock. It's the ultimate business crapshoot, with a payoff that can be staggering. Since Mountain Province found what could be the richest pipe yet in the Territories, its market capitalization has exploded over twentyfold, to some $120 million. And Aber's rich find has sent its stock to around $10 on the Toronto Stock Exchange, up from 25 cents in 1991.
To develop discoveries, though, the juniors must partner with large mining companies. Fipke's Dia Met agreed to give BHP 51% control of its claim in 1990 before it hit diamonds, and Aber sold RTZ's Kennecott 60% control of its project in 1992. Although Mountain Province still must do more sampling to assess its discovery, Shatzko says, he's already being pursued by major companies, including De Beers.
Despite the excitement, "it's still very early days" for many Canadian discoveries, Atkinson warns. A diamond find that looks promising can often turn sour, she notes. In August, 1994, when further sampling dashed high expectations for a find by Aber and Kennecott, Canadian diamond stocks plunged a total of $365 million in a day, with some losing more than half their value.
Ottawa's decision on BHP's project is now anxiously awaited. The project would use a combination of open-pit and underground mining. Diamonds sifted from crushed ore would be flown to Antwerp for sale. But the mine has drawn fire from environmentalists and Indian chiefs who claim royalties for their nations, saying it is on their lands. But if the project is turned down, "you're going to see the [mining industry] pack up its bags and move somewhere else," warns Premier Morin.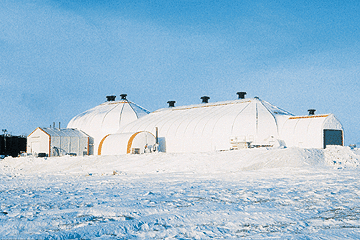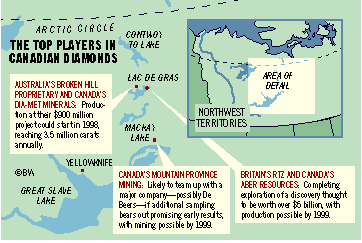 Even if the diamond rush lives up to expectations, Canadian output isn't likely to lower world gemstone prices, although it could erode the CSO's market share. Near term, rising Canadian production will be offset by falling output from Australian and Russian mines. After 2000, Canadian mines could increase the global supply of gemstones. But by then, De Beers expects "substantial increases" in sales in such nascent markets as Taiwan, China, and India, spurred by the company's $180 million annual global marketing campaign. In the late 1960s, when De Beers first targeted Japan, few Japanese women wore diamonds. Today, Japan accounts for 31% of the $45 billion global retail market for diamond jewelry. So, while future brides may cherish diamonds from Canada's tundra, such ice is likely to remain expensive.
Before it's here, it's on the Bloomberg Terminal.
LEARN MORE