The Economic Leash Gets Looser...But Real Freedom Is Far Off
Michael Collins
The Government Employee Cooperative store in Yangon boasts an Aiwa showroom. But shoppers mainly browse in the spacious, neon-lit store, which has been open since July, 1994. "Most people can't afford to buy," laments Than Aung, director of Panavision Electronic Center, which imports Aiwa goods.
No wonder. This largely rural nation of 45 million, called Burma until 1989, is one of the world's poorest: Average per capita income is just over $200. Such destitution stems largely from three decades of a military dictatorship steeped in socialism. True, the 21-general junta in power since 1988 has gradually moved to open the economy, and the results include 165 foreign projects ranging from a $10 million Daewoo Corp. joint venture that assembles washing machines in Yangon to major natural-gas finds offshore. But so far, the opening is only partial, and a key goal seems to be to enrich the elite.
The generals, who call themselves the State Law & Order Restoration Council, do battle with market forces at the expense of the private sector and the masses. A quarter of all imports enter at the official exchange rate of about 6 kyats to the dollar, as opposed to the street rate of 125, thus keeping privileged officials and officers in cheap gasoline and the state sector in subsidized inputs. Rigged land-lease laws--one-year terms if the local partner is private vs. 30-year terms with a government partner--ensure that foreign companies court state enterprises. Some 70% of the 165 foreign-backed projects approved involve state companies. The military's private Myanmar Economic Holdings has 10 joint ventures with foreigners, including a supermarket and duty-free shop with separate Singapore partners. The state monopolizes exports of rice, teak, pearls, and most minerals. "It's not a real market economy. It's only open to some," says opposition leader Aung San Suu Kyi, who won the Nobel peace prize in 1991.
POPPING UP. Still, the junta is a vast improvement on the astrology-driven policies of General Ne Win, who emptied the shelves by nationalizing and isolating the economy during his 26-year rule, which began in 1962. In 1988, Myanmar legalized private businesses, and it now chases foreign investment. 1996 has been dubbed Visit Myanmar Year. Luxury hotels are popping up, including an Australian-run, Thai-owned Sofitel in Yangon. "The stores are full," exults the junta's senior economic adviser, Set Maung. Fifteen private local banks have blossomed to challenge the four money-losing state banks, and 32 foreign banks have opened representative offices. After averaging 4% from fiscal 1990-94, gross domestic product growth shot to 6.8% in the year ended last Mar. 31.
But sustained and balanced private-sector growth is another matter. Banks are hampered by interest rates fixed below inflation of 22.5% in fiscal 1995. The state prints money mainly to fund military spending, which exploded from 30% of the budget to 50% two years later. And despite the vaunted opening, Myanmar has approved only $3.08 billion in foreign projects since 1988, so investors aren't exactly beating down the door.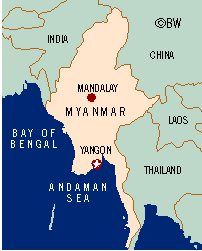 From an investment point of view, Myanmar's curse is the stench of the junta's illegitimacy. Soldiers massacred hundreds of demonstrators in 1988 after Ne Win's retirement. The junta ignored 1990 elections swept by Suu Kyi's National League for Democracy. This led world lending agencies to bar support. U.S. garment makers such as Levi Strauss & Co. stopped buying Myanmar-made items because of threatened consumer boycotts. A natural-gas consortium led by France's Total is under attack because of allegations--denied by the government--of forced labor and relocations along a gas pipeline to Thailand.
Suu Kyi's July release from house arrest is trumpeted as a breakthrough, though other political prisoners remain in jail. Certainly, more foreign executives are scouting. "We have Japanese businessmen coming here in large groups," reports Si Si Win of the Myanmar Investment Commission.
Meanwhile, the junta is rewriting the constitution to enshrine a military role in government. So it may be a long time before most people can afford a stereo from the Aiwa showroom.
Before it's here, it's on the Bloomberg Terminal.
LEARN MORE