business
More Zip From Zapping Hair
By
Palomar Medical Technologies (PMTI) is red-hot. When this maker of laser systems for hair removal and cosmetic surgery was first featured in this column (BW--Sept. 18), its shares had just doubled, from 2 to more than 4. Since then, they have zoomed to almost 10. Some investors have headed for the exits, convinced that the stock has peaked. But others disagree: They see it hitting at least 20 in a year. What's fueling their bullishness?
They're betting that Palomar, awash in red ink for so long, will start making money this year. They think analysts' 1996 earnings estimates of 30 cents to 40 cents a share could be on the low side.
In a month or two, they expect the Food & Drug Administration to approve Epilaser, Palomar's system for hair removal. So they see the company shipping Epilaser to customers faster and in bigger numbers than Palomar's earlier estimates accounted for.
On Feb. 10-15, Palomar unveiled a prototype of Epilaser at a meeting of the American Academy of Dermatology in Washington. "We received at least 500 legitimate inquiries for our laser systems," says Palomar Chairman Steven Georgiev. The company will market Epilaser mainly through dermatologists and cosmetic surgeons.
Thermolase, the only rival that has FDA approval for laser hair-removal, operates one salon--in La Jolla, Calif. Like Palomar, Thermolase has yet to make a penny, but its shares have risen from a split-adjusted 3 in 1993 to 25, for a capitalization of more than $1 billion, vs. Palomar's $145 million.
Palomar has a perpetual worldwide licensing pact with Massachusetts General Hospital to market the hospital's patent-pending technology for laser hair removal. The agreement grants Palomar direct access to the hospital's clinical data on the safety and efficacy of its process.
One analyst says laser treatments have emerged as an important field in health care. That's why, he says, Palomar is trying to link up with a large health-maintenance organization as another outlet for its products.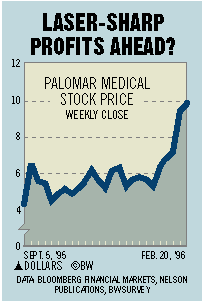 Palomar recently bought privately held Tissue Technologies, which has an order backlog of $20 million for its wrinkle-removal laser. Georgiev notes that Tissue is the only company with a full range of FDA-approved products for laser removal of wrinkles, tattoos, skin lesions, and spider veins.
One big bull on Palomar is Travelers Group, which paid $6 million for a 5% stake. Travelers may "seek a larger slice, depending on Palomar's needs and its continued appeal as an investment in a potential growth company," says Jack Rivkin, senior vice-president of Travelers Group, parent of Travelers Insurance and Smith Barney.
Before it's here, it's on the Bloomberg Terminal.
LEARN MORE