business
Menswear: Is That A Zegna You're Wearing?
Why Italy's hottest fashion house maker is so hot
By
Could Houston Rockets center Hakeem Olajuwon, King Juan Carlos of Spain, and members of O.J. Simpson's Dream Team possibly have anything in common? Maybe just their fashion sense: All wear $1,500 suits and $105 ties made by Italian menswear group Ermenegildo Zegna.
Move over, Giorgio Armani. Zegna, an 85-year-old family-owned company based in Trevero, at the foot of the Italian Alps, is carving out a sizable slice at the top end of the U.S. menswear market, where two-piece suits sell for $1,000 and up. Strictly a textile company for its first 40 years, Zegna still supplies fabric to some of Europe's top fashion houses. But now, it offers its own clothing line as well. "With Zegna's fabrics and Zegna's look, the clothes are half sold before you take them off the hanger," says Murray Pearlstein, owner of Louis Boston, a high-end Massachusetts clothier. "Right now, they are the hottest."
This year, Zegna's three U.S. stores--in New York, Beverly Hills, and Costa Mesa, Calif.--as well as its 20 U.S. in-store boutiques at outlets such as Louis, are set to ring up $100 million in sales, a 30% increase over 1995 revenues. And Zegna has recently edged out rival Armani as the largest menswear supplier to Neiman Marcus. Worldwide, Zegna racked up $500 million in sales last year, making it one of the fastest-growing fashion groups in Europe (chart).
MADE FROM SCRATCH. Zegna has achieved its success by breaking some of the cardinal rules of the rag trade. Armani and most other luxury apparel brands, for example, farm out almost all their manufacturing. But Zegna not only puts together its own clothes--at plants in Italy, Spain, and Switzerland--but also spins the yarn and weaves the cotton, cashmere, and wool fabrics that go into its garments.
While many of its competitors have expanded through franchising, Zegna has aggressively established its own shops in top locations around the world. With new stores opened last year in Barcelona, Lisbon, Vienna, and other places, Zegna currently has 30 of its own outlets, along with around 120 closely managed in-store boutiques. "The fact that they can make their fabrics, produce their clothes, and own their stores gives them an advantage because they can manage the supply chain," says Yoram Gutgeld, a textile consultant at McKinsey & Co. "This is a business where you have a very high degree of complexity."
Unlike Armani or Hugo Boss, Zegna has shied away from licensing its name. Although royalties from colognes, bedsheets, and underwear can bring in easy money--about 30% of Boss's $620 million in sales last year came from licensing--it also can wear down a brand's cachet. Zegna can't afford any erosion: With prices on a par with top-of-the-line Armani and higher than Boss, it serves an exclusive customer segment. "Retailing is still the best way to go for us because licensing takes away from the exclusivity," says 40-year-old Gildo Zegna, part of the third generation of the Zegna clan that runs the closely held company. His father and uncle, who still head the business, oversaw the expansion into apparel in the 1950s. In the late 1970s, they sent Gildo to work in Bloomingdale's in New York for a year to learn about American retailing. Now, he's applying those lessons as Zegna opens its own stores.
STRETCH CASHMERE. Zegna also keeps ahead by using innovative fabrics. Because it has its own $70 million textile division--which was originally the heart of the company--it can be the first to offer novel fabrics such as cashmere corduroy or Microtene, a lightweight water-resistant cloth that it started using last year in its sportswear line. Later this year, it will offer $1,500 sport coats made of stretch cashmere. "Whereas Armani is positioned as style, Zegna is positioned as having the best quality and most innovative fabrics," says McKinsey's Gutgeld.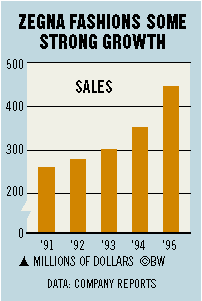 In the U.S., Zegna has been helped by the move away from boxy Ivy League suits. European designers such as Zegna, which offers a sleeker look in suits along with deconstructed "casual Friday" wear, have taken market share away from homegrown outfitters such as Brooks Brothers and Hickey-Freeman, a subsidiary of Hartmarx Corp. And although the total American suit market has shrunk, the upper end is still growing. "We are all benefiting from this trend," says Andreas Kurz, CEO of Hugo Boss USA. Of course, this is still the fashion world, where trends can change overnight. But right now, Zegna is looking sharp.
Before it's here, it's on the Bloomberg Terminal.
LEARN MORE