It's Hot! It's Sexy! It's...Big Blue?
IBM is acting like a high-growth stock
Ira Sager
Move over, Netscape. Step aside, Pixar. IBM is suddenly looking like the hottest tech stock in town. Since Jan. 15, the computer giant's share price has skyrocketed 42%, to around $119. And that could be just the start. Some on Wall Street are betting IBM's shares will hit $140 before yearend.
Why the Big Blue runup? IBM is suddenly facing some of its best growth prospects in years. In January, the computer maker reported that its fourth-quarter earnings shot up 39%, to $1.7 billion, on a revenue rise of 10%, to $21.9 billion. For all of 1995, earnings jumped 38%, to $4.2 billion, while revenues zipped up 12%, to $71.9 billion. "That's revenue growth this company hasn't seen in 10 years," crows Chief Financial Officer G. Richard Thoman.
Behind the euphoria is investor confidence that IBM Chairman Louis V. Gerstner Jr. is finally weaning the company from a too-heavy reliance on slow-growth products. IBM figures that 57% of its revenue last year came from such high-growth segments as personal computers, software, and services--and that those businesses expanded at a 19% rate. Meanwhile, the revenue share of old-line technologies is shrinking by three percentage points a year.
Big Blue is even doing its level best to become an Internet play. By far, its stellar performer is its $12.7 billion services business, which is expanding at a 30% clip annually. IBM sells corporate customers all sorts of consulting assistance, from managing networks of PCs to outsourcing entire computer operations. To boost the business even further, IBM late last year created a division to build Internet products. And on Feb. 20, the unit introduced software programs IBM hopes will transform its mainframe and mid-range computers--and all the corporate data stored on them--into powerful Web "servers." "It will be our ability to help our customers unlock their data that will be our advantage," says Thoman.
Even IBM's aging core businesses are on a roll. Mainframe sales fell off a cliff in 1991, after peaking at about $12 billion. In the past two years, sales of such machines have stabilized at around $7 billion annually. Plus, as companies realize PCs are far costlier to operate than once thought, IBM's mainframes are finding renewed demand--firming margins by making heavy discounting a thing of the past. What's more, IBM moved to new, cheaperto-make machines based on PC-like microprocessor technology ahead of competitors Amdahl Corp. and Hitachi Ltd. Those rivals will not have competitive mainframes until the second half of 1996.
SOFTWARE BET. Other formerly problem-plagued businesses are turning around for IBM, too. Sales of disk-storage devices used with mainframes are up. And a product transition in the highly profitable AS/400 minicomputer line should pick up this year as new models become available. Even the once troubled PC business is coming around. By focusing on higher-margin products, such as high-end home PCs, IBM has rebounded. Merrill Lynch & Co. analyst Daniel Mandresh figures the PC business edged into the black last year, turning a $100 million profit on sales of about $10 billion.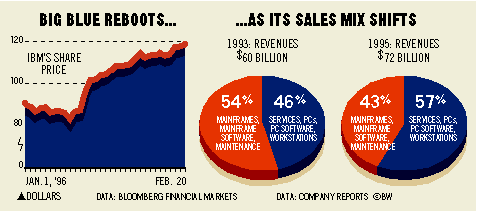 IBM isn't completely out of the woods. Analysts figure Gerstner may try to cut costs, mainly overseas, by another $600 million this year, raising the specter of a write-off. Gerstner's big bet on software also has yet to pay off: In 1995, he plunked down $3.5 billion for Lotus Development Corp., and he recently spent another $743 million for little-known Tivoli Systems Inc., a developer of software to manage computer networks.
For 1996, Wall Street estimates that IBM's revenue will expand by 6%. Insiders say the chairman is demanding a 10% increase. If he gets what he wants, there could be plenty of upside still to IBM's stock.