Italy: Politics Steal The Spotlight
by
Italy's failure to form its 55th postwar government has diverted the financial markets' focus away from economic fundamentals and toward the revolving door that is Italian politics.
Too bad, because Italy has made some progress in taming inflation, pumping up exports, and trimming its public deficit. Using a new basket of items, the consumer price index rose a less-than-expected 5.5% in the year ended in January, and inflation is expected to end 1996 at 4.4%. Thanks to the past weakness in the lira and better growth in Europe, exports have exploded, surging 25% in the first two months of the fourth quarter vs. the year before.
As a result, manufacturing is doing better. Factory orders rose 10.6% in the year ended in November, with domestic and foreign demand increasing. Sales were up 14.6%. Industrial output trended higher throughout 1995 (chart). In December, output increased 3.3% when adjusted for days worked. Export growth is one reason why private economists expected real gross domestic product to rise a modest 2.5% this year.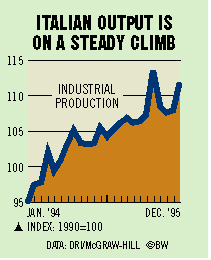 Now, the outlook harbors more risk. The lira should have continued to rise, helped by a commitment in Rome to cut the deficit to meet the criteria of the Maastricht Treaty. The lira hit year highs of 1,061.6 to the German mark and 1,577 to the dollar when Antonio Maccanico was named Prime Minister on Feb.1. Since Parliament was dissolved, the lira has weakened to about 1,094 to the mark and 1,583 to the dollar. The stock market has also dropped on fears that Italy will not meet its goal of a budget deficit equal to 5.8% of GDP in 1996, from 7.3% in 1995.
Moreover, the Bank of Italy has made it clear that interest rates will not fall until an acceptable budget is passed. High rates, along with a 12.1% jobless rate, will continue to hamper consumer spending, projected to edge up just 1.7% in 1996. Now, though, any help for Italy's economy as well as progress on the budget will be on hold until the political chaos settles down, yet again.
Before it's here, it's on the Bloomberg Terminal.
LEARN MORE