Digital Domain: A Star Is Morphed
The ambitious company's special effects outgrow the movies
Larry Armstrong
When this year's Oscar nominations for visual effects were handed out on Feb. 13, little-known Digital Domain Inc. grabbed center stage. The company nabbed its second nomination in a row, for the effects in Apollo 13. So realistic was the movie's Saturn 5 launch sequence that even some astronauts mistook it for file footage.
In just three years, Digital Domain has zoomed to the top ranks of Hollywood's special-effects biz, where it now vies with leader Industrial Light and Magic (ILM). Feisty Digital Domain, though, is just getting started. On Feb. 12, it showed its first CD-ROM, Barbie Fashion Designer, developed jointly with Mattel Inc. The product allows kids to design and make doll clothing. Then, on Feb. 21, Cox Enterprises Inc., the nation's fifth-largest cable-TV operator, announced that it will pay an estimated $50 million for a one-third stake in Digital Domain.
The two events signal Digital Domain's intent to branch out. Until now, special-effects houses mainly have done contract work on movies and commercials. But Digital Domain hopes to become a "content provider," creating and selling its own products and characters --a business it thinks will soar with the advent of interactive entertainment via home PCs and TV sets. Hooking up with Cox, says CEO Scott Ross, "should put us out in front of the pack."
Digital Domain is the brainchild of Ross, who formerly headed ILM, director James Cameron, who created the molten-metal man of Terminator 2, and veteran modelmaker Stan Winston, famous for Jurassic Park's dinosaurs. The fourth founder is IBM, which paid $20 million for a 50% stake; after the Cox deal, it will own a third.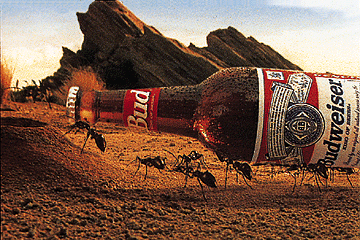 ARNOLD, TOO. Digital Domain worked on a raft of movies due out this year, including the horror flick The Island of Dr. Moreau and a Keanu Reeves thriller called Chain Reaction. Its TV ad business also is booming. The computer-generated ants that make off with cans of Budweiser in an ongoing series of ads are Digital Domain's creatures. It's also doing ads for AT&T's Summer Olympics campaign.
Meanwhile, Digital Domain is churning out new products. For one, Terminator 2-3D, a theme-park show starring Arnold Schwarzenegger that opens May 15 at the Universal Studios Florida park in Orlando. And IBM commissioned two CD-ROMS, due for Christmas release. Lights! Camera! (Digital) action!
Before it's here, it's on the Bloomberg Terminal.
LEARN MORE