Curtains For The Concierge?
Stewart Toy
When Marie Martin died this past fall at age 89, it seemed like the end of an era at the 17th-century house on the Ile Saint-Louis in Paris where I rent an apartment. As its concierge for 35 years, she peered through parted curtains when our massive wood gate creaked open and shrieked like a Roman guard-goose at outsiders. Failing eyesight had ended her formal duties: sorting mail, scrubbing stairs, rolling garbage cans outside. But she clung to symbolic power in her tiny one-room loge, as concierges' lairs are called.
This central-casting concierge, who despite her manner was loved by everybody in the building, seemed likely to be the last I would ever know. Like the baguette and the three-hour lunch, concierges are a fading French institution. Some 60,000 of them growled and gossiped in the Paris of 1950. Only 20,000 remain, and that number is expected to shrink to 12,000 by decade's end. Their work has been usurped. Nowadays, coded keypads let tenants unlatch outside doors at night instead of waking the concierge. The mailman often sorts letters. And maintenance companies are taking over cleaning chores.
So it was a big surprise a few weeks ago when a fresh young face appeared at Madame Martin's window: Nadine Dallier--pretty and eager to please. She couldn't quite believe she was there, either. "I'm incredibly lucky," beams our new concierge. "I'm hoping I can stay here until I retire."
Lucky? To live in a 10-by-10-foot room with rough wood floors, a single fluorescent light, a spartan shower, and nothing but a microwave oven for cooking? Such digs would make anyone grumpy--and I wondered what might happen to Martin's young successor. I also wondered why we need a concierge. Hourly workers had done Madame Martin's jobs quite nicely in recent years.
Smoking a cigarette on a castoff sofa in her new home, Dallier says she craved a concierge's post because of exhaustion after a long string of maids' jobs at Corsican hotels and Parisian homes. Even though some of those jobs paid 50% more and occasionally provided her with caviar and smoked salmon, "at 40, I want to be serene and tranquil." she says. She seems to be. Whenever I pass her loge, she's reading or watching TV.
As for why we need her, I asked Jacques Bacot, a neighbor who evaluates antiques for a Paris auction house and who heads the owners' committee of our 25-unit co-op. "A concierge is the building's grandmother," he says. "She's always there, she says bonjour in the morning and bonsoir when you come home." He likes having a constant presence to screen visitors and deal with emergencies. Dallier was hired without dissent. She is "too young" to have acquired "the real spirit of a concierge," he says, but he thinks she will.
That's what I'm afraid of. During three stays in Paris that began in 1956 and now total 13 years, I've lived under the yoke of four concierges. They have chided me for dirtying the stairs, screamed at my dinner guests, and complained when I tipped them only $100 at Christmas. I've left my door-key with them for visiting friends, but that's the only useful service I can recall.
CHANGING BREED. Yet rental agents say concierges add chic to a building, like poutres apparentes--exposed ceiling beams. Chic matters on the Ile Saint-Louis, a pricey island of 17th-century homes behind Notre-Dame Cathedral. Ours is an hotel particulier, a stone mansion with grand stairways, built for a lesser official of Louis XIV. Most apartments are lavishly furnished with period antiques (with one embarrassing exception--guess whose?) The concierge goes with the decor.
But despite this nostalgia for old-Paris charm, I've learned that the fabled concierges of Paris are a changing breed. For starters, don't call them concierges, at least not the young ones. Dallier makes a sour face: "A concierge is an old gossip," she says. The politically correct name is gardienne--or gardien for men, which hardly any are. And they aren't all French anymore: More than half the gardiennes in France are Portuguese.
What's more, gardiennes have become a well-organized pressure group, to protect and improve their shrinking profession. France has no fewer than five concierges' unions--differing in political and religious persuasion--plus a legal-defense association. There's a monthly magazine, L'Echo des Concierges, with a circulation of 15,000, full of ads asking for work. Offers are scarce.
In a few weeks, the unions will start negotiating a new contract with owners of big buildings. Pay is at the top of the agenda. They want it raised from $1,275 a month, slightly more than the minimum wage, to $1,500 for full-time gardiennes. They'll undoubtedly have to settle for less, given the supply/demand picture. Like all French workers, concierges pay about 20% of their salaries into pension and health plans, so not much is left over. Most of them must also pay a small rent, plus utilities.
Among other hot bargaining issues: Concierges no longer want to wash staircase windows that are higher than 5 1/2 feet. "They have to stand on a ladder and might fall out the window," explains Jeannine Bazile, secretary-general of the Communist concierges' union. Concierges also oppose an ecological trend toward separate trash cans for paper and glass: It means more cans to drag onto the sidewalk every morning. And they want to kill the Sunday morning garbage collection, so they can sleep in.
Old-time concierges sneer at such concerns. "Oh-la-la--they have things so easy nowadays," says Catherine Martinet, 90, who has worked for 63 years as a concierge. In her early years, Martinet rarely slept soundly because night-owl tenants shouted their names on the sidewalk--as the rules required--for her to pull the latch. Nor did she get daytime breaks. Now, the law lets concierges pull down their window shades--a do-not-disturb sign--for two hours at midday and after 8:30 p.m. Martinet also despises her profession's new name, which some old-timers say evokes a dog herding sheep. "I'm not a gardienne," she thunders. "Je suis la concierge!"
France's peculiar institution dates back to the Middle Ages, when châteaus had a comte de l'etable, who took care of the stables, and a comte des cierges, who looked after the "candles"--i.e., the interior. In cramped Paris, only mansions such as mine could afford caretakers, until large apartment houses began rising in the mid-19th century. Emperor Napoleon III encouraged the spread of concierges because they made great police informers. In a later reaction, a 1905 edict forbade concierges to talk with neighborhood servants and declared "all gossip [by concierges] strictly prohibited."
TOUGH LIFE. My new concierge--excuse me, gardienne--says she approves of that attitude. "I'm very discreet by nature," says Dallier. "I take care of myself and don't criticize Monsieur Dupont or Monsieur Durand"--the French equivalents of Mr. Jones and Mr. Smith.
Dallier has had a tough life, which explains why she's so delighted with her new job. Her parents divorced and abandoned her when she was 10. As a teenager she dreamed of becoming a psychiatrist, but had to leave school to support herself at age 17. Romances turned sour. Broke and out of work, she found her new job through a Catholic welfare agency.
As gardienne, Dallier may be able to indulge her psychiatric bent by analyzing her wards. Her formal tasks, though, are limited to rolling three garbage cans in and out every morning, cleaning our courtyard, and sweeping each of the four staircases once a week. Otherwise, she simply needs to be there, to direct visitors, accept packages, and--as she did recently--call the police if a car blocks the driveway.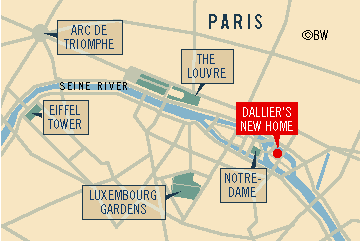 Christmas tips and used clothes from tenants will augment her low pay. "Maybe I'll get Dior dresses in this place," she muses. If she should marry some day, Dallier would bring her husband into her one-room loge. Her late predecessor and her husband managed to raise a child in a previous building.
As my new gardienne sweeps the oak stairs and scrubs around the horse trough in the cobblestoned courtyard, those who love old Paris charm should be happy that young blood is entering this endangered institution. As for me, Paris charm is great, but I'm hoping that the new lady in the loge takes a long time learning to be a "real" concierge.
Before it's here, it's on the Bloomberg Terminal.
LEARN MORE