As Spain Goes, So Goes Europe?
If the conservatives win, they may tame the welfare state
Stewart Toy
Santiago Sebastian de Erice is lucky: The recent Madrid college graduate has a job. Yet the 24-year-old junior manager for retailer Cortefiel still leads a precarious existence. Like many other Spaniards he is a temp, working under a six-month renewable contract that could be canceled with little warning. And with unemployment at a shocking 22%, a layoff is a scary prospect.
Sebastian blames the policies of the ruling Socialist Party for his predicament. "I'll vote for anyone but a Socialist," he says. On Mar. 3, Sebastian will have his chance. That's the date for legislative elections, when, barring a political miracle, the government of Prime Minister Felipe Gonzalez will go down in defeat after 14 years in power.
Ready to take over is conservative Jose Maria Aznar, whose Partido Popular aims to convert a bloated welfare state into a modern free-market economy that can create jobs. Aznar also pledges a clean government to replace a regime that has been dogged by charges of corruption and allegations of state-sponsored terrorism against the separatist Basques.
GROWING CONSENSUS. A turning point for Spain, the elections could also lead to important fallout for the rest of Europe. The entire continent needs to attack the excessive workplace rules and welfare programs that boost deficits and spoil competitiveness. Spain is among the worst offenders. But in contrast to strike-torn France, it's one of the few nations where a consensus for change is growing. Even many labor leaders agree that Spain can't afford its generous benefits. Business executives are hoping Aznar's reforms will free them from heavy taxes and regulations, cut the high cost of borrowing, and put spending money back in consumers' pockets. If Aznar succeeds, his regime could give Europe a valuable "Spanish model" for recasting the welfare state.
These are ambitious tasks for Aznar. Nicknamed El Bigote--the moustache--this former tax collector is short and bland. He cuts a less impressive figure than his brainy and energetic wife, Anna Botella--another civil servant and occasional talk-show host--who may play a government role. "She's our Hillary," says Fernando Gonzalez Urbaneja, editor of business daily Cinco Dias, referring to America's First Lady.
Dull though he is, the 42-year-old Aznar is a firm leader who has assembled a strong team of centrists eager to give Spain an urgently needed dose of free-market economics. His likely economics minister is a convinced free marketer, Rodrigo de Rato Figareda, an MBA trained at the University of California at Berkeley.
Aznar aides say he has learned a lot from the mistakes of the French conservatives, who botched their chance for profound change after coming to power last May. Aznar blames the French failure on lack of consultation with pressure groups, plus slowness to act. He promises meetings with labor leaders the day after he takes office. Aznar plans quickly to merge government ministries and cut state jobs, saving $2 billion this year. He'll change the law to prohibit off-budget state spending--a common practice that often equals 2% of gross domestic product or more. The new regime will speed up privatization, aiming to raise $24 billion over three or four years, including $4 billion this year. Aznar has a secret list of 10 companies, which insiders say include Iberia Airlines and electric utility Endesa Nacional de Electricidad.
TAX CUTS, TOO? These measures are meant to boost Spain's credibility in financial markets, so interest rates can fall. That would spur growth and jobs. And if Aznar can slash spending, he promises a gradual cut in the highest marginal rate on personal income tax from 56% to 40%.
Equally crucial, Aznar is likely to cut unemployment benefits that even unions agree are killing off jobs. Companies are loath to hire permanent workers because layoffs in Spain are Europe's most costly--45 days' pay per year worked. When Gillette Co. closed a Seville plant last year, the average employee took home three years' pay--and started collecting unemployment that doles out up to 90% of his old wages for four years. That's why most companies now hire only temporary employees like Sebastian at Cortefiel. Cortefiel's chairman, Gonzalo Hinojosa, admits this practice is "unfair." He wants Aznar to kill many of the layoff benefits so he can afford permanent hires.
Aznar's plans sound promising. But can "the moustache" deliver? Some observers fear he'll lack power for a broad overhaul. His party is an amalgam ranging from center-left reformers to rightist diehards from the Franco era. Many foresee internal PP feuding. Basque terrorism is another threat: Unlike the Socialists, the PP opposes regional autonomy. Some observers fear a stepped-up wave of assassinations could destabilize the new regime. Aznar's party may also lack a parliamentary majority, since polls show the PP winning 40% of the popular vote and the Socialists 30%. Aznar might need the support of splinter groups, most likely the centrist Catalan Party--which has helped keep Gonzalez in power.
Yet if Aznar can eke out a legislative majority, his chances for a serious attack on Spain's excesses seem strong. Luckily for him, the Spanish economy is among the few in Europe that's still growing, even though growth will likely slow this year to 2.5% from last year's 2.9%. Much of Spain's growth stems from currency devaluations in recent years that cut the peseta's value against the German mark by 26%.
LABOR BOOST. The devalued peseta has offset rapidly rising costs that had started to deter foreign investment and dampen exports and tourism. Four years ago, Ford Motor Co. executives were stunned to learn that a car built at their Spanish plant cost the same as one built in Germany. No more. "Our Valencia plant is our most productive in Europe," with unit costs some 30% below German plants, says Stephen G. Lyons, managing director of Ford Espana. Thus, Ford has picked that plant to make its new Ka, a small car for all of Europe, and is investing $1 billion in a new engine plant. General Electric, BASF, DuPont, Hewlett-Packard, and others all plan new investments.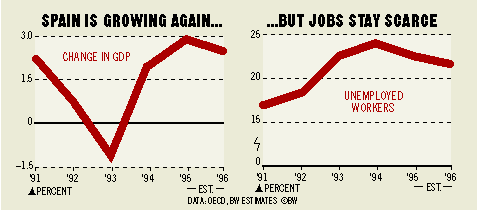 Aznar will get a boost from a labor movement that has turned moderate. The largest union, Confederacion Sindical de Comisiones Obreras, recently elected a bright, pragmatic young boss: Antonio Gutierrez, head of a bank employees' union. He's moving the former communist confederation to the center, backing European Monetary Union, and accepting looser labor rules. Less regulation is acceptable because "it's clear our companies must become more competitive if they're going to create jobs," says Jorge Aragon Medina, the union's economic guru.
It may well be that El Bigote--if he wins--will find Spain just as tough to change as France. Yet "at least we have a chance with Aznar," says Hinojosa of Cortefiel. "The PP means hope." Among those who will be hoping are Spain's hordes of temporary workers. Most of them crave a permanent job in a promising economy--even if it means giving up some of Spain's lush benefits. If Aznar can achieve such a turnaround, he'll be giving Europe a gift as well: an important new role model.
Before it's here, it's on the Bloomberg Terminal.
LEARN MORE