You might think doing business with the cutback-stricken defense Establishment would be a losing game. Untrue. Big operators such as Lockheed Martin and Raytheon are making big bucks, and even some small fry are doing well. Take Signal Technology (STZ), whose shares have rocketed from 3 to 6 since mid-August. Money manager Scott Black sees them hitting 12 in a year, based on Signal's widening profit margins and rising sales. Right now, Signal has an order backlog of $92.6 million, 40% higher than a year ago.
Signal's "secret weapon," says Black, president of Boston's Delphi Management, lies in its technology and its products, which he reckons are well positioned to be a part of Pentagon programs that are sure to be continued.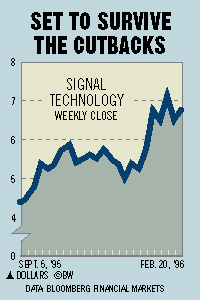 Since last year, its profit margins have risen from 3% to 7%, notes Black, who figures that the company will earn 65 cents a share this year and 85 cents next, vs. a modest loss in 1995. He sees revenues climbing to $116 million next year, up from an estimated $105 million this year and last year's $89.7 million.
Signal's technology for precision control of radio and microwave frequencies is used mainly for ground-based and airborne intelligence and guidance systems for smart missiles. Given the political changes worldwide, the U.S. now relies more on such smart yet lower-priced weapons, says Black.
Before it's here, it's on the Bloomberg Terminal.
LEARN MORE