What's Ge Going To Do With All Those Jets?
A $4 billion bet that aircraft leasing will soon skyrocket
Tim Smart
It's called swooping in, GE-style. Just as the worldwide market for commercial jets shows the first signs of pulling out of a steep nosedive, GE Capital in late January ordered more than 100 Boeing Co. short- to medium-haul 737s and widebody 777s at a cost of $4 billion. That makes GE the world's largest owner and lessor of aircraft. The company also put down reservations on another round of planes that could ultimately add up to a $10 billion transaction.
Why such spectacular confidence in its ability to lease all these new jets? GE is convinced that emerging economies in Asia and Latin America will create huge demand in the next few years. Some independent analysts agree. "There's going to be a shortage of aircraft toward the end of the century," says Terry Moulton, managing director of Airline Capital Associates Inc., a New York consulting firm. "GE, being GE, jumped in with both feet."
GE doesn't think it's getting ahead of itself. The fact that struggling airlines in these emerging markets might not possess sufficient capital to buy their entire fleets means they'll have to lease. Many countries such as Vietnam lack the infrastructure necessary to support a big ramp-up in airline travel, but a wave of airport construction could ease that problem.
The size of GE's bet is even bigger when the company's 1993 purchase of more than $1 billion worth of planes from financially troubled Irish leasing company GPA Group PLC is included. So far, the numbers are on GE's side. New aircraft orders are on a sharp upswing, but it takes years for them to be manufactured in sufficient quantities. Meanwhile, the number of aircraft for immediate sale or lease--which stood at 705 two years ago--will fall to zero, maybe as early as 1997 or 1998. That's what will create a shortage. GE, with most of its planes to be delivered then, would be well-placed to capitalize on it. "This is really multidimensional chess," says GE Capital President Denis J. Nayden.
Before moving its pieces around, though, Nayden and James Johnson, president of GE Capital's Aviation Services unit, did an exhaustive study of all the world's airlines, their fleet composition by age and model of aircraft, and the financial state of potential customers. "We went back over 20 years and analyzed 6,000 transactions," says Johnson, a former Boeing executive.
Their findings? That new airlines will emerge much as they have in the U.S. to augment Asian flag carriers such as Cathay Pacific Airways Ltd. and Singapore Airlines Ltd. Many of these startups and domestic carriers can't borrow enough to buy their planes outright. Garuda, Indonesia's international airline, now leases three MD-11s from GE and could lease 737s from GE as well. Its domestic counterpart, Merpati Nusantara Airlines, plans to double its fleet of leased 737s to six for additional domestic routes. Another GE target: South Korea's emerging No.2 carrier, Asiana Airlines Inc.
RIGHT CHOICE? One key question is whether GE chose the right kind of planes for these customers. GE picked the popular 737 because of its quick turnaround time on the ground and its GE engine's reliability in hot weather. GE's deal includes different 737 models, allowing GE to take planes that will carry anywhere from 100 to 164 passengers. The 737 has become a workhorse for short- to medium-length trips around the world. "There will be a very strong demand for this size aircraft" in China, says Harry Forsythe, vice-president for marketing at Ansett Worldwide Aviation Services.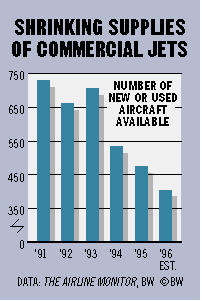 But others think GE may have blundered a bit in betting so heavily on the 737. "The Asian market needs a bigger aircraft," says Jim Eckes, managing director of Indoswiss Aviation Ltd. in Hong Kong. "They should have bought more 777s." Indeed, officials of both Philippine Airlines and Vietnam Airlines favor the Airbus A320 over the 737 because it can be more easily reconfigured for two classes of service. What's more, when airports lack enough gates and runways to accommodate multiple flights, carriers typically fly widebodies and jumbo jets even on commuter routes.
So GE's gutsy charge isn't without risk. Its new orders will leave the company with close to 1,000 planes in its fleet. That will require an impressive burst of global management savvy to place them all. But it's a safe bet that GE will do whatever it takes to keep its jets flying.
Before it's here, it's on the Bloomberg Terminal.
LEARN MORE