Unloading A Rusty Rail System...
Elisabeth Malkin
The lights glare all night in the crowded second-class car of the train to Veracruz. The 22 members of Jose Ines Lazaro Molina's family arrange themselves in the aisle, children wedged among the bundles. Women hawking pulque, a milky maguey liquor, in Coke bottles pick their way through. "We've always looked for economy," says Lazaro, the leather-faced family patriarch. At about $4.25 for the trip from Mexico City, the subsidized train is the country's cheapest form of travel. Taking 11 hours to cover 464 kilometers, it's also the slowest.
That could change. Mexico's creaky state railway is up for sale. "It's the only way. We need a good rail system," says Transport Under Secretary Aaron Dychter. Ferrocarriles Nacionales de Mexico (FNM) now carries about 15% of the country's cargo and less than 2% of its passengers. It cost the government more than $1 billion in subsidies over the past two years. But with the right investment and management, cargo traffic could grow to 35% in a decade, estimates Brad Lee Skinner, an executive at Mexican shipping company Transportacion Maritima Mexicana. TMM has a joint venture with Kansas City Southern Railroad to bid for a 50-year concession. Other potential joint bidders are construction giant Grupo Ica and Union Pacific Railroad; Tribasa, another construction company, and Rail-Tex. The first bid will be launched in April. One insider puts the purchase price for the three main lines at $820 million to $1.5 billion.
What entices investors most are the two regional concessions leading from Nuevo Laredo and Ciudad Juarez on the U.S. border to Mexico City. The government will also sell a third concession for the southeast region and is pondering how to handle the Mexico City area itself. Short lines will be sold separately. And passenger service? The government promises to run the trains in otherwise unreachable areas and will look for private operators to run profitable routes.
Still, the idea of 400-car trains zipping past the maize fields is far off. First the government must negotiate with FNM's 48,000 workers, which some private estimates put at more than triple the number needed. "The rumor is that everyone is going to be fired and just some rehired," says a conductor's assistant. But he admits that FNM's management needs overhaul: "Privatization will clean things up."
"GOOD SHAPE." The new investors will want to run longer trains, which need expanded sidings and strengthened bridges. They will need to spend on signaling and terminals and upgrade FNM's 1,500 locomotives. One positive note: "The track is already in pretty darn good shape," says Skinner. The government will also have to deal with disputes over competition, allowing one operator the right to run its trains and market its services on another's line. "If they don't protect competition, they're going to replace a public monopoly with a private monopoly," says Michael R. Haverty, president of Kansas City Southern. Randy Blackburn, assistant vice-president for Mexico at Union Pacific, is more cautious. "The real competition," he says, "is trucking."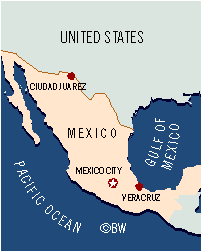 The train snakes through the morning mist of a tropical plain. At a stop between Paso del Macho and Soledad, Lazaro Molina's grandchildren jump off to snatch sugarcane from cars parked on the siding. The Veracruz line was Mexico's first, completed in 1873 after arduous decades spent building bridges and tunnels to cross the mountains. Trains starred in the Mexican Revolution as Pancho Villa's troops took Ciudad Juarez by rail, whole armies lived in railroad cars, and peasant followers of Emiliano Zapata sabotaged tracks. When U.S. forces invaded Veracruz in 1914, they camped in the station.
The soldiers were long ago replaced by Mexico's poorest travelers. For 15 years, they have been customers of Maria Asuncion Sanchez, a soft-spoken woman with a battered wicker basket filled with tacos she makes at home every morning to sell through the aisles. Her wan face clouds on learning the government will sell the railroads. "What if they don't let us work?" she says. They probably won't. If Mexico is to bring its railroads into the modern world, there'll be no room for taco vendors.
Before it's here, it's on the Bloomberg Terminal.
LEARN MORE